Disney has announced that it is rethinking a classic theme park attraction following years of criticism from fans.
The Jungle Cruise ride, where a wisecracking skipper ferries guests along a waterway, is one of the last attractions at the theme parks that was personally overseen by Walt Disney himself. The ride is at both of the US theme parks: Disneyland in California and Walt Disney World in Florida.
However, Jungle Cruise has not aged as gracefully as some other attractions. Although the ride was inspired by nature documentaries, one of the sights along the river route is a scene of "natives," depicting them as wild, primitive and threatening.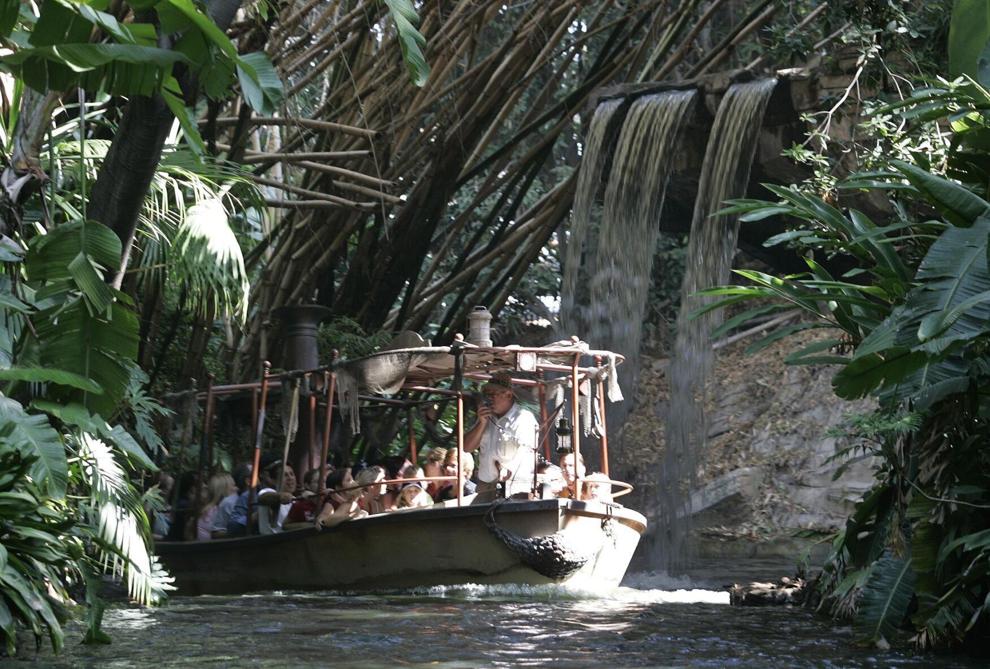 In a press release, Disney confirmed the ride's upcoming overhaul. Among the changes will be a new animated skipper character.
"As Imagineers, it is our responsibility to ensure experiences we create and stories we share reflect the voices and perspective of the world around us," said Carmen Smith, creative development and inclusion strategies executive at Walt Disney Imagineering, in a statement.
A "Jungle Cruise" movie starring Emily Blunt, Jesse Plemons and The Rock (as the skipper) is due out later in 2021. However, Disney has not confirmed whether there will be any overlap between the movie and the ride.
Jungle Cruise is one of several Disney attractions called out in the past few years for distasteful imagery.
The popular Splash Mountain log flume ride originally featured characters from "Song of the South," a story set in the antebellum South whose depictions of Black people have kept it mostly hidden in the company's vault. Last year, Disney announced that it would reconfigure the ride to include characters from 2009's "The Princess and the Frog," the first Disney movie with a Black princess lead.
The Pirates of the Caribbean ride, which inspired the film franchise of the same name, also came under scrutiny for its animatronic scenes of pirates selling female captives. In 2017, the main "wench" figure was converted into a female pirate, and the pirates now auction off non-human loot.
Visiting Disney theme parks during a pandemic
Whether you've already visited the parks post-COVID or you're headed there for the first time since the pandemic began, here are 10 things you need to know before you arrive at the "Happiest Place on Earth."
Make sure you have reservations
Reservations are required to enter Magic Kingdom, Epcot, Animal Kingdom and Hollywood Studios. To enter one of the theme parks, everyone 3 and older must buy a ticket and make a reservation for the day they want to visit the park through Disney's Park Pass system. If you have a multi-day ticket, you will be required to make a park reservation for each date of your visit.
Disney recommends checking if reservations are available for the day you want to visit one of its theme parks before booking your ticket. Once you purchase the ticket, quickly go back and book the reservation because space is limited.
No park hopping ... until January
You can visit only one theme park a day until January. Park Hopper ticket options, which let guests visit multiple parks on the same day, are being sold online, but you won't be able to use Park Hopper until next year. Starting Jan. 1, 2021, guests with the Park Hopper ticket option or an annual pass with Park Hopper benefits will be allowed to visit more than one park per day after 2 p.m.
Disney says park reservations will be required for the first park but not the second, though this may change in the future. To learn more, visit the park's website.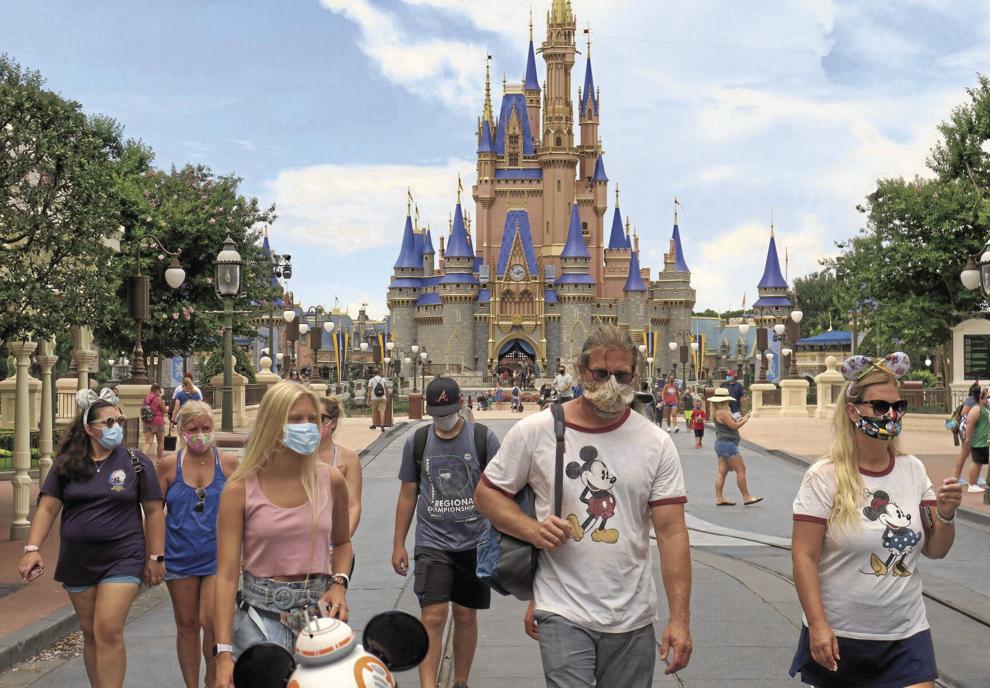 Modified experiences
Parades, nighttime spectaculars and character greetings may be temporarily canceled or modified. Disney says this is to accommodate physical distancing. Playgrounds may also be closed. Dressing rooms inside shops are closed and Disney PhotoPass photographers will not touch your cellphone, camera, tablet or other electronic device. All four parks have small character cavalcades throughout the day for a social-distanced way to see characters and snap a selfie.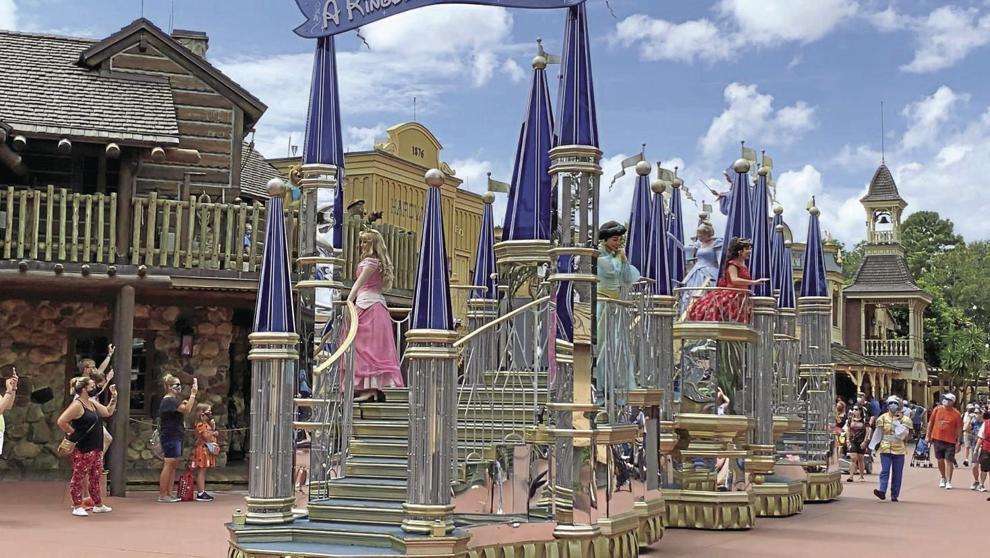 Social distancing
Stay at least 6 feet away from others. Like other places, Walt Disney World has added floor markings, signs and barriers to promote social distancing. Similar measures are also in place on resort transportation, including buses, monorails and watercraft boats.
Disney says it has also enhanced its cleaning of high-traffic areas such as elevators and restrooms and has placed hand sanitizer and hand-washing locations throughout the parks.
Stay contactless with Disney's app
Download the My Disney Experience App for real-time ride wait times and park hours. While the mobile app isn't new, it's useful to have, especially during the pandemic with its contactless hotel check-in capabilities and mobile ordering at select restaurants.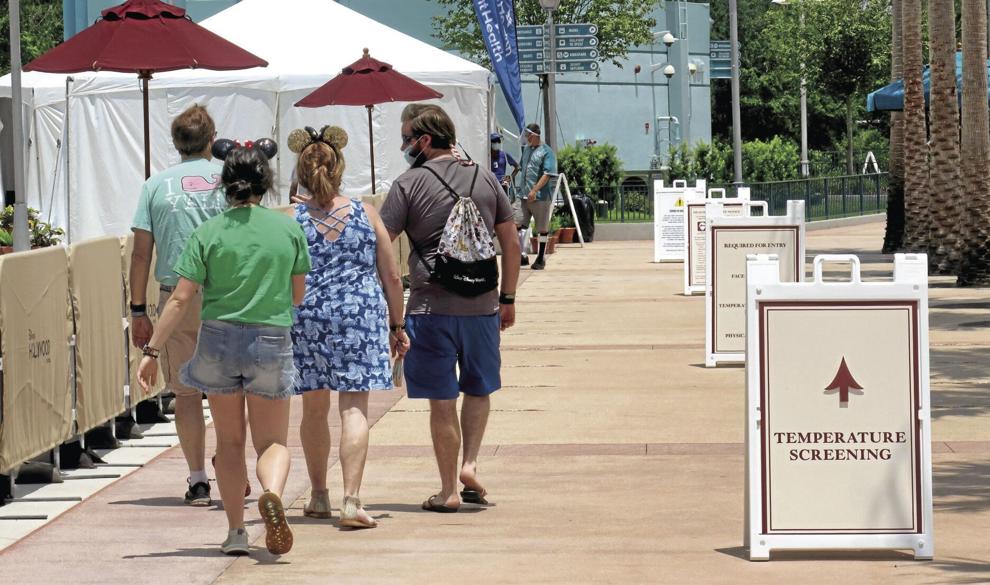 Updated cancellation, modification policies
Review your ticket and hotel cancellation, modification and refund policy. Things happen, especially during the COVID-19 pandemic, and you might need to modify your reservation or cancel it. Disney is not selling annual passes, for example, but is still allowing current passholders to renew them.
No Fastpass+ system
Fastpass+ services are suspended and Annual Passholders are not guaranteed park entry. Fastpass+ lets you reserve access to select Walt Disney World theme park attractions, entertainment and character greetings in advance. The service is suspended to control capacity and maintain social distancing, according to Disney. Also, Disney says annual passes do not guarantee park entry and passholders are still required to make reservations using the new online system.
Everyone needs a mask
Everyone 2 and older is required to wear a mask/face covering except when eating/drinking (must be stationary) or swimming. The mask or face covering must be made with at least two layers of breathable material, fit snugly against the side of your face and under your chin, be secured with ties or ear loops and must fully cover your nose and mouth.
"At this time, based on guidance from health authorities, neck gaiters, open-chin triangle bandannas and face coverings containing valves, mesh material or holes of any kind are not acceptable face coverings," Disney's website reads. "Costume masks are also not considered appropriate and are prohibited from being worn, in alignment with our existing rules."
Temperature checks before entry
Temperature checks with no-touch thermometers will be conducted before theme park entry. Temperature checks will also be conducted at other Walt Disney World Resort locations, including Disney Springs and table-service restaurants at Disney Resort hotels.
Anyone with a temperature of 100.4 F or above will undergo another screening. If you are found to have a temperature of 100.4 F or above, entry will be denied and those in your party will also not be allowed to enter.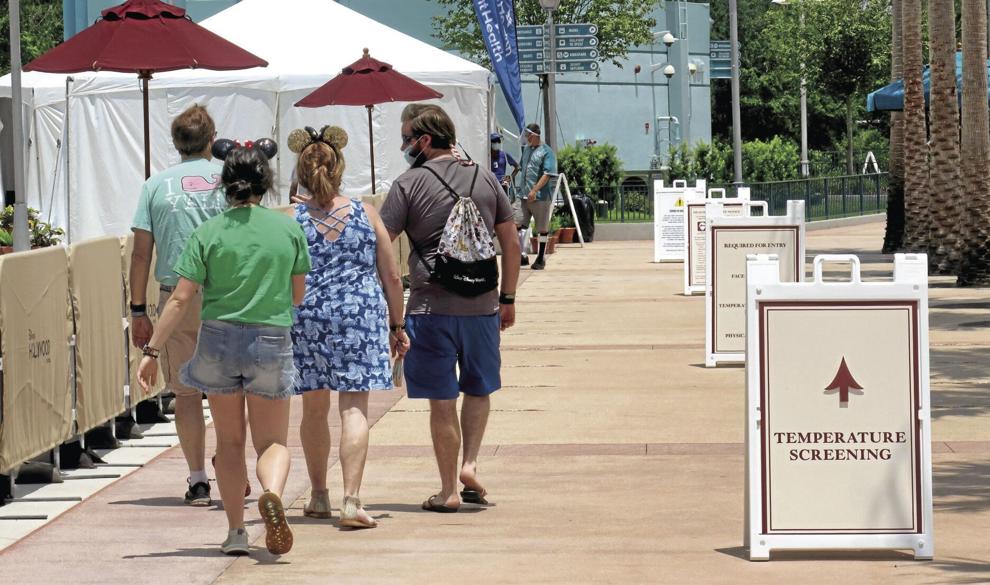 No water parks
Water parks Blizzard Beach and Typhoon Lagoon remain closed. One of the parks is expected to reopen March 7, 2021, though Disney hasn't given any hints which one will reopen first.
The-CNN-Wire
™ & © 2021 Cable News Network, Inc., a WarnerMedia Company. All rights reserved.