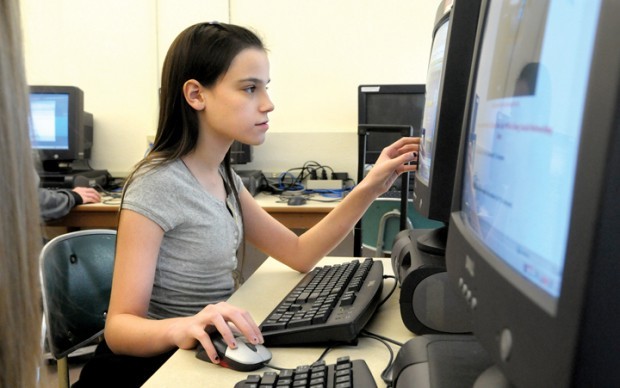 Facebook photos could keep you from a job. Cell phones get viruses, too. Creepy people can and do monitor websites looking for personal information.
Eighth-graders in Cindy Etherton's advanced computer class at Calapooia Middle School have learned all this and more as they put together an all-school assembly on Internet safety to be presented this Tuesday.
The project and its content were Etherton's idea. But the class, which calls itself "CMS Techies," did all the work to make it happen.
"We did a ton of research," said Moriah Hoskins, 13.
Moriah and her classmates created a video for Tuesday's assembly to help teach their classmates about being cyberspace-savvy. They also put together a website with additional information, which can be accessed directly at https://sites.google.com/
site/calapooiacougars.home or from a link on Etherton's page at the Calapooia Middle School website, www.albany.k12.or.us/
"I liked the video a lot," said Rachel Harker-Owens, 13. "I didn't know that we had that in us."
The idea was to teach their peers, but the Techies say they've learned some things themselves.
Rachel said it never occurred to her that someday someone might look at her Facebook page before asking her in for a job or college interview.
"I used to just not care what I put up," she said. "I am now more careful about what I say."
Christian Blicher, 14, said he's stopped using his Facebook page entirely, "because it's really public." He also learned how to delete website trackers known as "cookies" and not to click on "popup" ads or games, because some contain viruses.
Tylaor Price, 13, said he knew most of the basic Internet rules, such as never to give out personal information. He was surprised, however, to find out that people with evil intent really have gone trolling for such information.
"What I didn't know was that some people were willing to get all that stuff, to like, kill you or look for you," he said. "I have just now got a Facebook account, so I'm using some of the stuff I'm learning here to keep my account safe."
Moriah said she didn't need to make many changes.
"I've always been really paranoid," she said.
Det. Micah Smith of the Linn County Sheriff's Office and School Resource Officer Curtis Bell of the Albany Police Department have been on hand as resources for the Calapooia Middle School "CMS Techies" Internet safety project.
Bell will introduce the class presentation at an all-school assembly Tuesday.
"I think it's fantastic," Bell said. "It will reach students so much more effectively than an adult talking-head up there."
Smith said middle-schoolers are the highest-risk population when it comes to potential cybercrimes because so many are just getting into heavy, often unsupervised, use of technology.
He said he tries to get across the idea that technological smarts are really about "reputation management," both now and for the long haul. That includes steering clear of cyberbullying, copyright violation and "sexting," sending suggestive cell phone pictures or messages.
Teaching Internet safety is all about creating "smart, respectful digital citizens," Smith said.