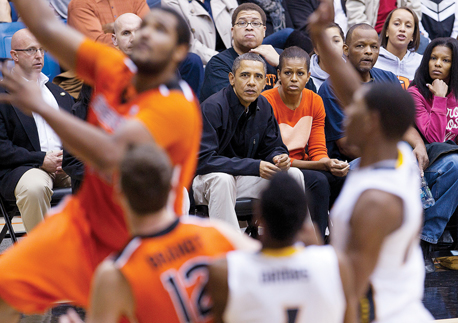 TOWSON, Md. - President Barack Obama watched brother-in-law Craig Robinson guide Oregon State to a 66-46 victory over Towson on Saturday.
The crowd inside Towson's arena erupted in cheers as Obama and first lady Michelle Obama entered and shook fans' hands as they made their way to courtside seats.
Daughters Malia and Sasha sat in the first row of the bleachers. Also attending were Obama's mother-in-law, Marian Robinson, and Education Secretary Arne Duncan, a former professional basketball player and friend of Obama's from Chicago.
Devon Collier scored 13 points for Oregon State (5-1), which bounced back from its first loss of the season Monday night against Vanderbilt. Jared Cunningham, Joe Burton and Roberto Nelson had 12 points apiece.
"When a Pac-12 team comes to a place like this, it's a big game," Robinson said. "Then, my relatives are here, so it's even bigger. We needed an environment like this. It was a true road game."
Towson dropped its home opener for the first time since 2005, falling to 0-5 under first-year coach Pat Skerry. Marcus Damas had 18 points and 10 rebounds for the Tigers.
"It was a great atmosphere today for a college basketball game," Towson coach Pat Skerry said. "Hopefully, that is something that could become the norm here at Towson University. We ran into a very talented, well-coached, ball-moving team in Oregon State. In the first half, they really seized control of things."
Oregon State closed with a 12-2 run to take a 32-20 lead into the break. A layup by Collier increased the lead to 51-34 with 12 minutes remaining.
"We play in a conference that has really good fans so we like to get a lot of pressure," Robinson said. "(Towson) is a good, fan-followed team. You know it's going to be full when the president and first lady are here."
Catching an Oregon State game has become a post-Thanksgiving tradition for the Obamas.
Last year, Robinson and the Beavers came to Washington and defeated Howard. The year before that, Oregon State traveled east and scored a win against George Washington.
"This is my third time doing it and it's always a great feeling having the president come to watch your game," said Cunningham, Oregon State's junior guard. "Other teams are always going to play their hardest because it's on their home court. We did a good job tonight."
At halftime, Obama was surrounded by the entire Towson football team, which was honored for winning the Colonial Athletic Association regular-season title. The team dispersed after coach Rob Ambrose jokingly threatened an impromptu practice. Actor Bill Murray, whose son, Luke, is an assistant coach at Towson, also attended the game and spent several minutes talking with the Obamas. He sat in the third row of the bleachers and posed for pictures with several fans.
Oregon St. (5-1): Burton 4-6 1-2 10, Collier 7-12 1-5 15, Brandt 2-4 0-0 5, Cunningham 4-8 2-4 12, Starks 3-8 0-0 7, McShane 0-1 0-0 0, Barton 1-4 2-2 5, Jones 0-0 0-0 0, Murphy 0-0 0-0 0, Moreland 0-2 0-2 0, Nelson 4-8 2-2 12. Totals 25-53 8-17 66.
Towson (0-5): Damas 5-9 8-9 18, Nwankwo 2-5 0-4 4, Pressley 0-3 0-0 0, Walden 0-6 2-2 2, Jones 3-8 0-0 8, Cook 0-0 0-0 0, Adams 1-2 0-0 2, Collins 1-1 0-0 2, Gumbs 4-7 0-0 8, Blackstone 0-0 0-0 0, Flash 1-1 0-0 2. Totals 17-42 10-15 46.
Halftime - Oregon St. 32-20. 3-Point Goals - Oregon St. 8-21 (Nelson 2-4, Cunningham 2-5, Burton 1-2, Brandt 1-2, Barton 1-3, Starks 1-4, McShane 0-1), Towson 2-6 (Jones 2-4, Damas 0-2). Fouled Out - None. Rebounds - Oregon St. 23 (Collier 5), Towson 38 (Damas 10). Assists - Oregon St. 15 (Nelson 4), Towson 9 (Walden 4). Total Fouls - Oregon St. 14, Towson 15. Technical - Jones. A - 3,119.