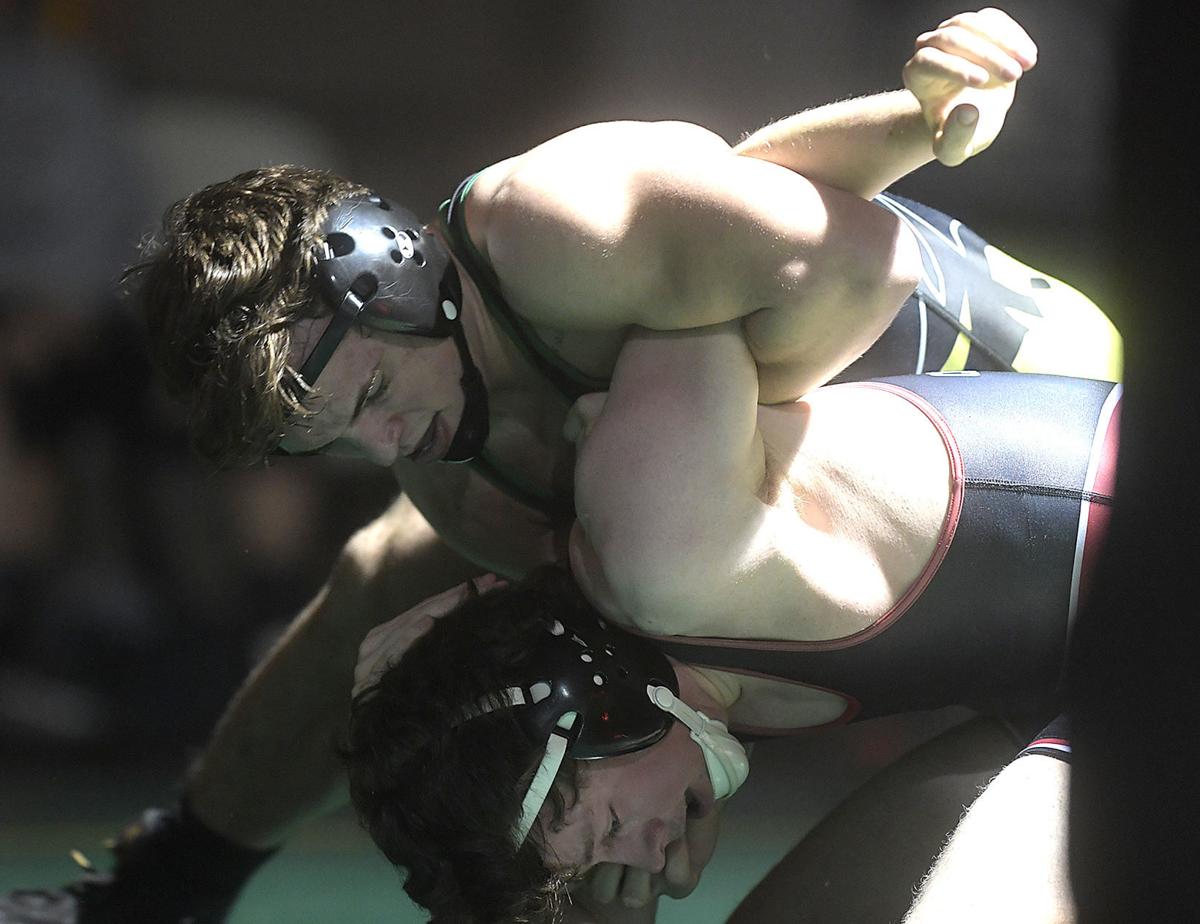 SWEET HOME — Year in and year out, Sweet Home and Tillamook produce some of the top prep wrestlers Oregon and both teams are typically in the mix for a state title. Last season, the Cheesemakers narrowly edged out the Huskies for the 4A crown.
But coming into this year, the last time Tillamook had traveled to Sweet Home for a wrestling meet was 1985 — when current Sweet Home coach Steve Thorpe was a senior for the Huskies and current Tillamook coach Rex Metcalfe was a junior for the Cheesemakers.
On Wednesday, the two schools finally met for a highly-anticipated dual meet that could serve as a preview for March's state meet. This time around, Thorpe and the Huskies got the better of his longtime friend, Metcalfe.
Sweet Home delivered a dominant 55-15 win and lost just three matches to a Cheesemakers team that was ranked No. 3 in the latest OSAA coaches poll. The No. 2-ranked Huskies won the first four matches of the evening by fall, and never looked back from that point.
"We want to make this meet a reciprocal event," Thorpe said. "Because anytime you can go and wrestle with a team like Tillamook it's not going to make you worse. Tonight just shows us that we're doing some things right. But we've got a long way to go, from what I saw and we're definitely not satisfied."
Jake Sieminski (106 pounds) Kyle Watkins (113) Rian Howard (120) and Connor Ford (126) all delivered wins by fall to give the Huskies a quick 24-0 lead. All four wrestlers entered Wednesday ranked in the top-seven of their respective weight classes, and all four finished their matches within the first two rounds.
In the 138-pound match, Sweet Homes' Jackson Royer, ranked No. 1 in the state, was able to grind out a strategic win by major decision over No. 3 Kegan Hagerty. In his first time ever facing Hagerty, Royer emerged with a 10-1 victory.
You have free articles remaining.
"He threw a lot of defense at me, a lot of trying to block my shots," Royer said. "He kind of knew what I was doing already. Towards the end he started trying to throw a little bit… The last week, I've wrestled four guys who could probably be in the semifinals at state. It's really nice to get a feel for where they're at."
Brayden Newport (145) and Travis Thorpe (160) both won by fall, and Jesse Jamison won by an 8-6 major decision at 170 pounds.
One of the more crucial wins of the meet for the Huskies was Nich James' victory over Alex Werner at 182 pounds. James is ranked No. 4 in that weight class, and Werner is ranked No. 2 at 170 but jumped up a class.
"He's bumping up a lot of weight, but he's a pretty tough kid," James said of Werner. "You gotta be able to get up for big matches all the time, so I was happy to get after him… I just had to outwork him.That's kind of our motto — just out-work and out-hustle out-technique them."
Iakona Howerton (195) also scored a win over No. 7 Tieson O'Hagan by a 5-3 decision and David McMullen won by 11-6 decision at 285.
"I think the biggest upset of the night is Iakona Howerton," Steve Thorpe said. "That's a huge win — that's just not quitting. He did a great job."
After the big victory, the Huskies won't get long to rest; they travel to Junction City Thursday for a 6 p.m. dual meet with the No. 6 Tigers.
"I knew we were going to win, but I didn't think it was going to be that big of a deficit," Royer said. "To beat them 55-15, that's a big deal."