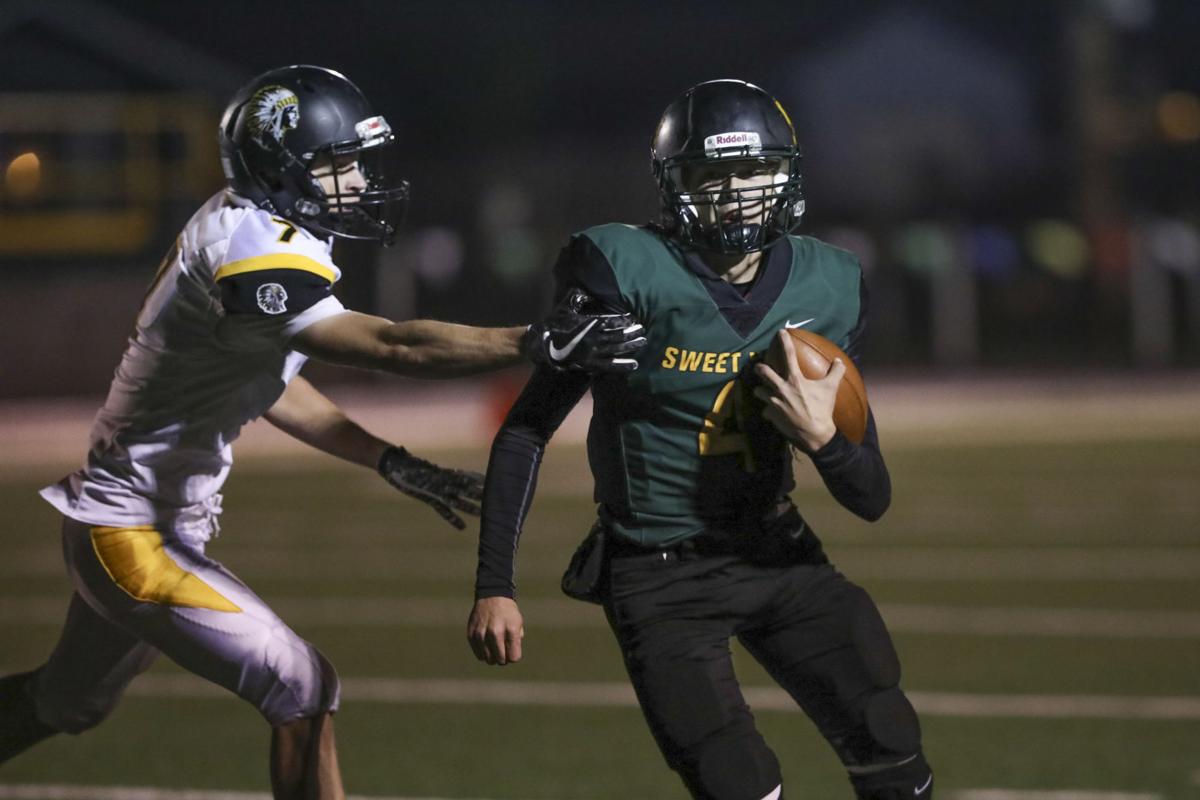 For local athletes who aspire to play sports in college, the recruiting process has been anything but easy during the coronavirus pandemic. 
With high school sports having been suspended in the state since last March, local athletes have faced an uphill battle getting noticed by colleges when they aren't able to put their talents on display. While sports are already up and running in many other states, the only resume most Oregon seniors have is the stats and highlights from their junior or sophomore seasons. 
When Sweet Home quarterback Aiden Tyler realized his senior football season was not going to happen before the Feb. 3 National Signing Day, he decided to take a proactive approach to the recruiting process. 
Tyler wasn't getting invited to prestigious 7-on-7 camps, and he had no way for college coaches to see him play. So he began creating highlight videos out of film from his junior season and sending them to coaches. 
"It was definitely frustrating, basing my whole recruiting game off of my junior year film," Tyler said. "It's not the ideal situation. It was very stressful. I had to get things done on my own and just show coaches I was willing and wanting to play at the next level. I had to contact coaches first and I was not known around the state. So I had to make myself known."
The hard work paid off. On Wednesday, Tyler signed a National Letter of Intent to play football at Western Oregon University. 
"I've been looking forward to this day forever," Tyler said. "It's been a goal of mine to play football at the next level for as long as I can remember. Today's huge. I couldn't be more excited."
In addition to Tyler, a plethora of other athletes from the area have signed to continue their careers in college. With help from area athletic directors, Mid-Valley Media has compiled a list of students from the class of 2021 who have committed to continue playing in college.
Central Linn 
Josie Nealon — Chemeketa Community College (volleyball)
Crescent Valley 
Sunitha Black — Boise State University (track and field and cross-country)
Chance Lamer — University of Michigan (wrestling)
Ana McClave — Western Oregon University (basketball)
East Linn Christian
Brandon Williams — George Fox University (track and field and cross-country) 
Jaren Bowler — Multnomah University (soccer)
Lebanon
Keith Brown — University of Oregon (football)
Dane Sipos — University of Oregon (football)
Cole Weber — Pacific University (football)
Monroe
Ashley Sutton — Linfield University (softball)
Santiam Christian
Emily Bourne — Oregon State University (volleyball)
Joe MaQatish — Northern Arizona University (football)
Audrey Miller — Lewis-Clark State College (basketball)
South Albany 
Jadah Schmidtke — Corban University (volleyball)
Sweet Home
Teja Abbott — Bushnell University (beach volleyball)
Bailey Hartsook — Western Oregon University (volleyball)
Savannah Hutchins — Linn Benton Community College (volleyball)
Shelbey Nichol — Linn Benton Community College (volleyball)
Aiden Tyler — Western Oregon (football)
Graci Zanona — Linn Benton Community College (volleyball)
West Albany 
Ellie Babbitt — Portland State University (softball)
Allie Bates — George Fox University (swimming)
Presley Jantzi — University of Montana (softball)
McKenzie Kosmicki — Mount Hood Community College (softball)
Aiden Paul — Stanford University (track and field)
Hannah Stadstad — Southern Oregon University (volleyball)
Emily Stefan — Boise State University (track and field)
Jarrid Denney can be reached at 541-521-3214 or via email at Jarrid.Denney@lee.net. Follow him on Twitter @jarrid_denney