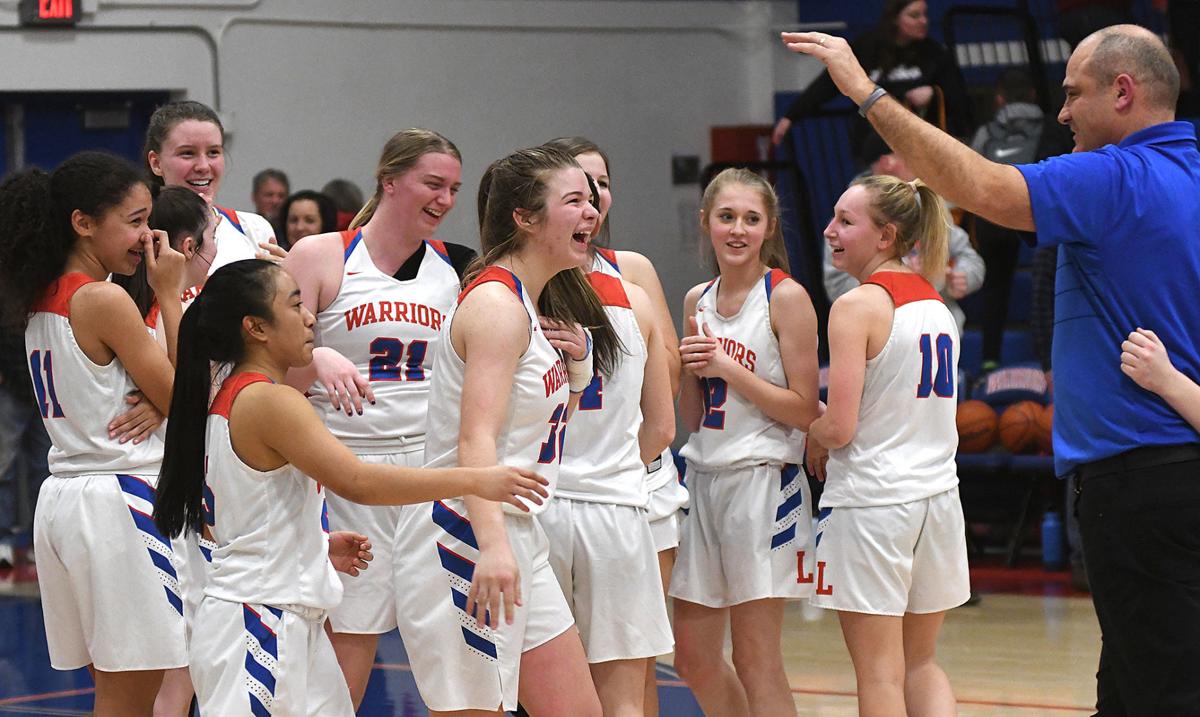 LEBANON — Experience allowed Lebanon High to handle the pressure of knowing its season was over with a loss.
The Warriors have veterans who played on last year's state tournament team but also two freshmen in the regular rotation who didn't. Friday's loser-out game wasn't too much for any of them.
Sixth-seeded Lebanon used an 18-0 first-half run to pull away from 11th seed Pendleton, then cruised to a 55-27 in an OSAA 5A girls basketball round of 16 game at Bud Page Activity Center.
Seniors Ellie Croco and Mary Workman will lead the Warriors (18-6) back to the state tournament, where they will face third seed Wilsonville in a 6:30 p.m. Tuesday quarterfinal at Gill Coliseum. Wilsonville (23-3) defeated visiting Willamette 73-42 Friday.
"Our biggest goal coming into tonight was just be us and not make the game any bigger than it was or any smaller than it was," said Workman, a guard who had a game-high 20 points, including six 3-pointers.
That was similar to the message delivered by several of last year's Lebanon seniors three days earlier during the celebration of this year's seniors.
Croco added 11 points and Haley Hargis, one of the two freshmen, had seven. Freshman Hallie Jo Miller, the other first-year player in Lebanon's regular rotation, had three points. Both freshmen were heavily involved on both ends of the court.
"Our two freshmen played great. I was pleasantly surprised," Croco said. "I remember when I was a freshman and I would not expect myself or Mary to play like they did today. So they did great."
Daisy Jenness had eight points for Pendleton (16-7), which fell one win short of the tournament for the fourth straight season.
Lebanon coach Mardy Benedict said Croco and Workman showed they were ready to lead, having gone through the same situation last year.
"They've seen it and talked about it and were able to be a part of it," he said. "They were leaders and did a great job, kept us stable and let those other girls feed off of it."
Afterward, Benedict and the Warriors celebrated with jumping jacks spelling out the mascot after Craig Swanson, the school's principal, earlier in the day told the student body that would happen if 200 students attended the game.
It was the second meeting of the season for Lebanon and Pendleton. The Warriors won 65-50 on Dec. 7 in tournament at Ridgeview in Redmond.
Friday, Lebanon had 10 3-pointers in all, and half of those came between the final minute of the first quarter and the midway point of the second in the game-changing 18-0 stretch, which included Kylie Steiner's two 3s.
Workman had one deep ball earlier in the first, one during the run and another after Pendleton finally scored, helping the Warriors to a 35-9 halftime lead.
Pendleton was able to get no closer than 20 after the half, while Lebanon led by as many 28, the final margin.
At state, the Warriors will try to improve on last year's 0-2 departure after entering the tournament as the No. 2 seed.
"Each time there's learning lessons from last year, from the year before that we kind of take on," Benedict said. "We're just trying to say 'let's go be us, let's go play our game.' I think it was really good for the younger kids to see it and be able to have that confidence with it is awesome."
Next week's trip to Corvallis will be made as an underdog.
Benedict said his seniors will be ready for the atmosphere and the nerves that come with the spotlight. Croco added that time will be spent making sure the freshmen are prepared.
"I definitely feel like the underdog makes you work harder and not take anything for granted," Workman said.
Friday's win was the 11th in 12 games for the Warriors, with the only slip-up coming two weeks ago at home against Central, another state playoff team.
Workman points to where his team is now compared to the beginning of the season, when she says players were trying to accomplish more individually.
"At the end of the season we have this amazing chemistry and we just play so well together," she said. "I'm just super excited to see what we can do."
Get in the game with our Prep Sports Newsletter
Sent weekly directly to your inbox!