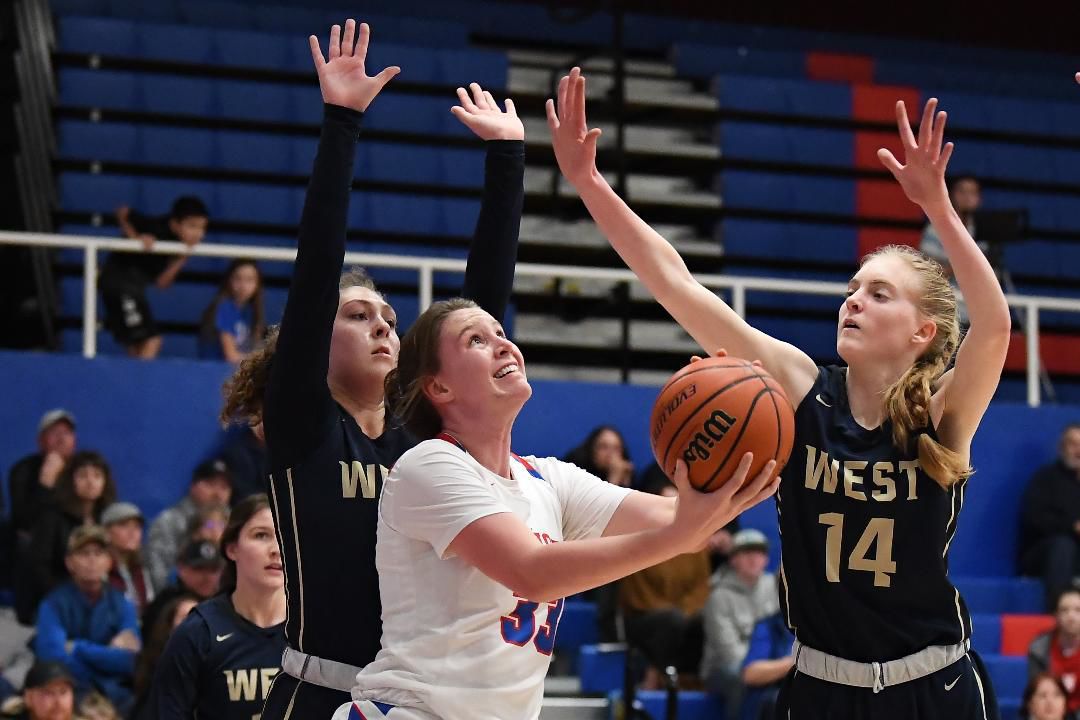 LEBANON — In three minutes of game time, Lebanon went from battling back from a small deficit to being in full control.
Eighth-ranked West Albany had served notice that it wasn't going away, opening the third quarter with a 9-3 run to go ahead by three.
But the Warriors had other ideas.
Junior guard Hollie Johnson found her shooting touch, scoring eight straight points in a 16-0 run Friday in No. 7 Lebanon's 66-52 win in a Mid-Willamette Conference girls basketball game at Bud Page Activity Center.
Johnson didn't score in the first half but hit the first of her four 3-pointers in West's quick run. She sank two more deep balls in her team's game-changing stretch, sandwiched by her own transition basket.
"It was really good," Johnson said of the feeling of hitting her first shot of the game. "It just fired me up and it fired the team up, so it was good for the team."
Haley Hargis opened the 16-0 run with a 3-pointer, one of 12 in the game for the Warriors (8-5, 4-2 MWC), and Johnson scored the next eight. Mary Workman added another 3 and Hallie Jo Miller finished it with a steal and basket for a 50-37 lead with 1:03 left in the third.
The Bulldogs (10-5, 4-3) got no closer than 11 from there.
"We've been working on trying to fill the gap on the dribble drive, and I think we got a little excessive with it because then we were leaving shooters," West coach Shawn Stinson said. "We've got to figure out where the happy medium is there and be there and still be able to get out."
Johnson had a team-high 16 points, with Ellie Croco adding 14, Workman 13 and Hargis nine. Hargis and Workman had three 3-pointers each.
You have free articles remaining.
West's Carley Robb also had 16 points with three of the Bulldogs' six deep balls. Lyndsey Bailey chipped in 10 points and Brooklyn Strandy nine.
Both teams are home Tuesday, Lebanon against Crescent Valley and West Albany versus Dallas.
Hargis hit two 3s and Croco and Workman one each in the first quarter as the Warriors jumped out to leads of 10-2 and 18-15.
Lily Ruiz scored off a McKenzie Kosmicki assist and Bailey followed with a 3-pointer and a transition basket as West went ahead 22-20 in the second quarter.
The teams traded scores before Workman got to the basket for a layin and Croco found room inside, helping the Warriors to a 31-28 halftime lead.
Croco and Robb each had 11 points to lead their respective teams at the break.
West's Sarah Ball and Bailey were heavily involved in their team's fast start in the third.
Bailey found Ball for a layin, Robb nailed a 3-pointer and Bailey drove for a basket before Ball's offensive putback gave the Bulldogs a 37-34 advantage with 4:17 left in the third.
Then came Lebanon's fast finish against West's zone defense.
"We wanted to share the ball and look for the best opportunity," Johnson said of one of her team's goals for the game. "To find the best opportunity, they pressure a lot, so drive in and pass and keep swinging the ball to get it."
The Warriors were looking to bounce back from Tuesday's 57-53 loss at Central. Lebanon had a good start Friday, something it was missing on the road earlier in the week.
"You lose a game you know you've got a chance to win, it just gives you that little different taste in your mouth," Warriors coach Mardy Benedict said. "So hopefully the girls can believe in themselves and know that we can play with anybody."