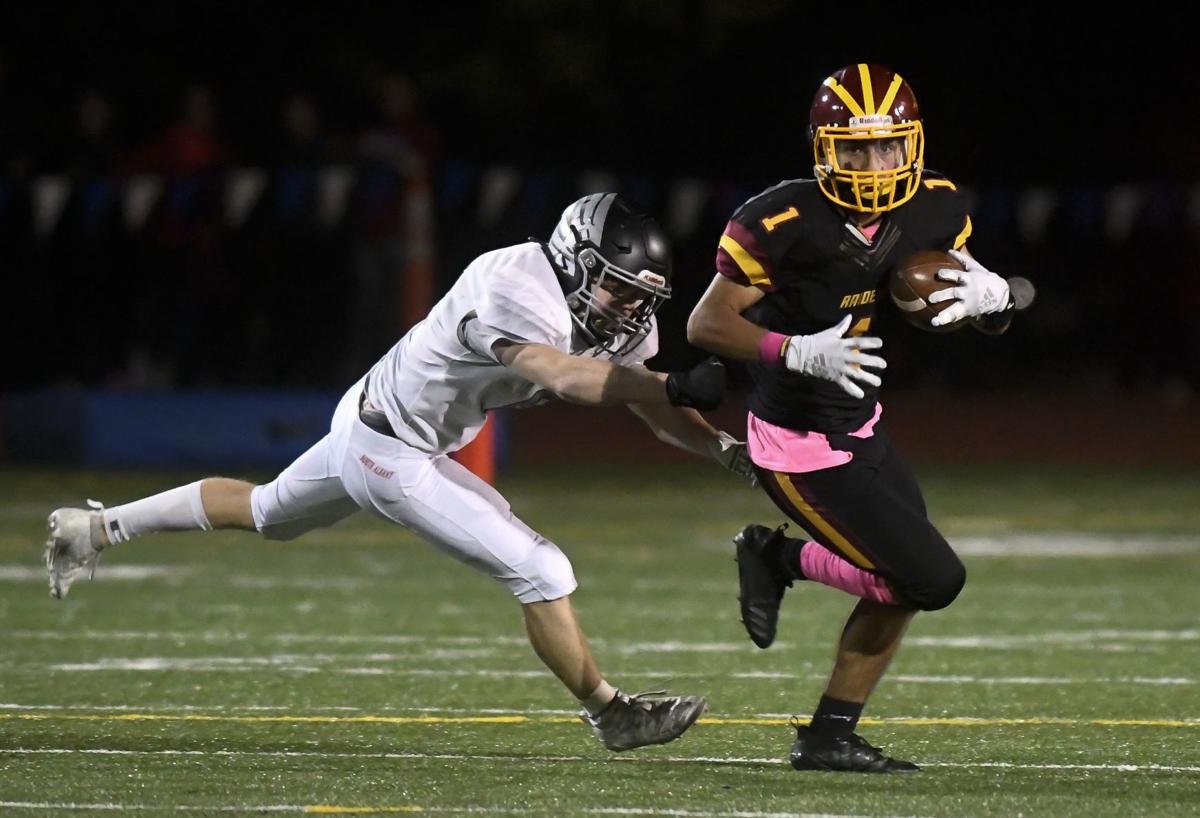 Two weeks remain in the Mid-Willamette Conference football schedule and there is only one certainty.
West Albany (7-0 overall, 7-0 MWC), ranked second in this week's OSAA 5A coaches poll, third-ranked Silverton (7-0, 7-0) and seventh-ranked Dallas have qualified for the 5A state playoffs, which get underway Nov. 8 with round-of-16 games.
The Mid-Willamette's final two spots are still up for grabs, with all seven remaining teams still mathematically alive.
Tenth-ranked Lebanon (4-3, 4-3) and Crescent Valley (3-4, 3-4) have a leg up on those spots.
Those teams meet Friday as CV plays the first varsity football game on its new turf field. The result could clear up the playoff picture or further muddy it. Lebanon would clinch a playoff spot with a win. CV, with a victory, would be in good position as the Raiders travel to McKay next week to close the regular season.
Both teams finish on the road, with Lebanon at North Salem (1-6, 1-6) and Crescent Valley at McKay.
Central, Corvallis, McKay and South Albany all sit at 2-5, 2-5.
Corvallis, with Central and South left, and South (North Salem and Corvallis remaining) have the easiest remaining schedules of the four. Central plays at Dallas next week and McKay hosts Silverton on Friday.
Corvallis coach Chris McGowan said after last week's home loss to West Albany that he hadn't talked to his players about playoff possibilities.
"But they know," he said, adding that the focus would be on trying to get better every day.
If two teams tie for fifth, the playoff berth goes to the head-to-head winner.
Crescent Valley holds the tiebreaker with South Albany, while Corvallis has the tiebreaker on CV based on head-to-head results.
It seems unlikely that there will be a three-way tie.
But if three teams tied at fifth, an attempt to break the tie is first made by looking at results between the three teams. If the records are the same, results against the rest of the league, starting at the top of the final standings and moving down, are used to create separation. If the three teams are still tied after that scenario, the OSAA power rankings are used.
The only team outside the current top four (West, Silverton, Dallas, Lebanon) with a win against that group is McKay, which beat visiting Lebanon 42-41 in overtime on Sept. 27.
Many unlikely results would have to occur the next two weeks for McKay to get into a tiebreaker scenario. The Royal Scots host Crescent Valley after playing Silverton.
After the 16 playoffs teams are decided, they're placed in the bracket using the OSAA power rankings.
The Mid-Willamette's rankings entering Friday's games are: Silverton 3, West Albany 6, Dallas 10, Lebanon 14, Crescent Valley 19, South Albany 21, Corvallis 22, Central 27, McKay 29 and North Salem 30.
The OSAA rankings are a combination of the rating percentage index, or RPI, and Colley systems.
According to the OSAA, "the RPI rating is primarily a measurement of strength of schedule and how a team does against that schedule. The Colley rating is a measurement of teams' success rates marked against opponents within the same classification and (plus or minus one) classification away."
West Albany's RPI ranking is seventh best in 5A, but that would likely change dramatically with wins against Dallas and Silverton. As the OSAA rankings stand now, West and Silverton could meet in the state quarterfinals for a second straight season.
Thurston, the 2018 state champion, was seventh in the power rankings at the end of the regular season last fall after two losses to league rival Churchill and another to 6A state runner-up.
Thurston beat second-seeded Churchill 49-48 in the state quarterfinals before getting past third-seeded Pendleton and top-seeded Wilsonville to claim the championship.