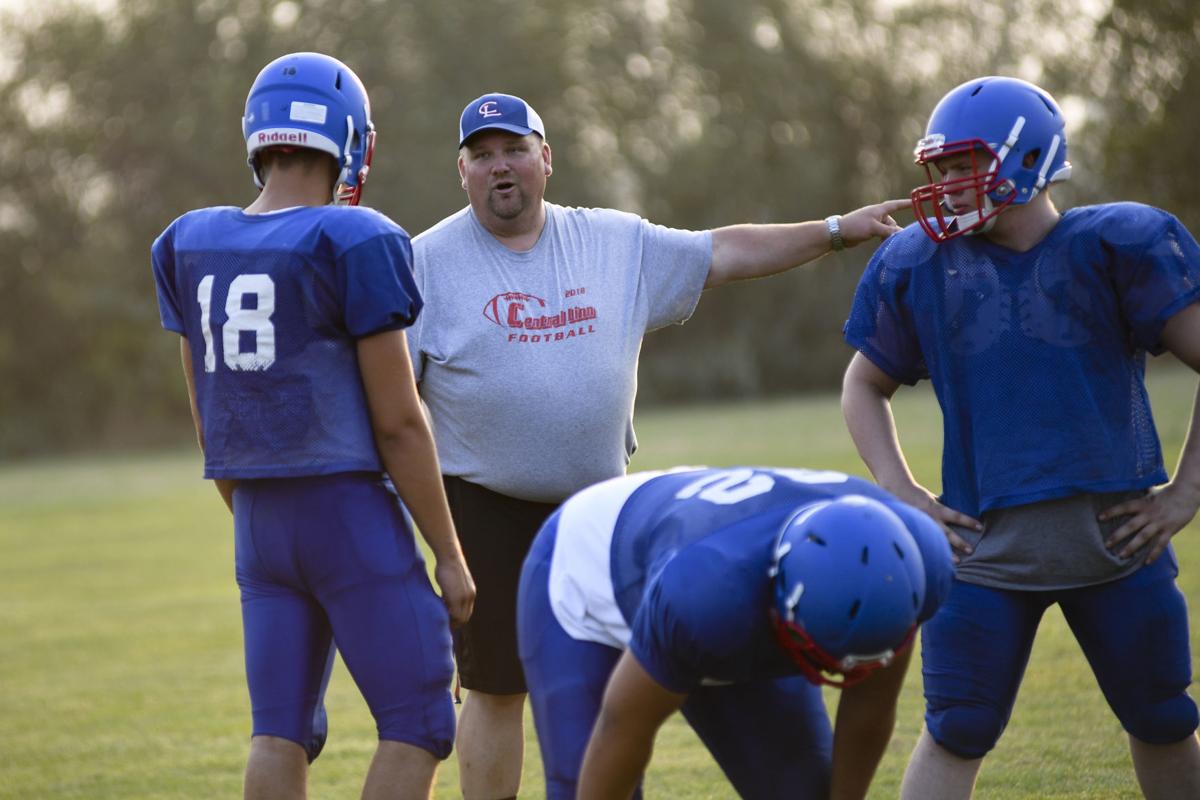 HALSEY — Summer football workouts can be a grueling process under any circumstances.
Conditioning during the hottest part of the year is hard enough as is, but for most Central Linn High players, those workouts are the most fun part of the day. Because prior to 7 p.m. practice, the Cobras' players are scattered throughout Linn County, working long shifts in the fields.
"If you want a summer job around here and you want to get paid well, you go to work in the fields," Central Linn coach Mark Watt said. "Everybody around here knows that."
As Watt says that, he is still waiting for four of his players to get off work and arrive for a two-hour workout that is set to begin in 20 minutes. If players are 18 years old, they are able to work up to 80 hours a week, which means they typically drive straight from work to the football field and begin practice.
"One of the nice things from a coaching standpoint is these guys come in and they just get to work," Watt said. "There isn't any of this, 'I can't do this.' They just want to go to work. We teach and they learn and they keep going until they get it right. The level of perfection keeps rising with these guys every year."
That gritty mentality perfectly epitomizes the Cobras' group of seniors, who are hungry to host a home playoff game for the first time in their high school careers. With a strong nucleus of talent returning from last year's squad that finished third in the league, they believe they are capable of making a push to the top of the league.
"I don't think anything really changed," senior fullback and linebacker Hayden Holbrook said. "I think we've been working hard this whole time. I think the mentality is to go out and get it and just get a higher spot. We know that we're one of the top dogs in the league and we're just going to play hard and compete."
Central Linn finished third in the league with a 5-4 overall record a year ago, but its players believe that they are physically and athletically capable of competing for even more. Where they may have lacked last year was in confidence leading up to big games.
"I think mentally we need to be a little stronger," senior Dylan Day, who will take over the starting quarterback role this season, said. "One of our biggest problems last year was belief. We had a big conversation during practice yesterday about believing in ourselves. Because we do have a high-talent squad. We just have to believe that we can do it."
Watt served as co-head coach with the Cobras last year alongside Mike Day, until Day accepted a role as the school's athletic director following the end of the 2018 season. Central Linn's school board prefers that administrators do not also serve as a head coach to avoid potential conflicts of interest, so Day stepped down and Watt took over as the Cobras' lone head coach.
But even with the transition — Day had worked on the Central Linn staff for over 10 years — much of Central Linn's identity will remain the same. The Cobras will still run a modified Wing-T offense and the mentality will still be, "four yards and a cloud of dust."
"Mike has been with this group of guys since way back when," Watt said. "I expect to see him a lot on our sideline and talking with us and because he's still going to get in on film — he's still going to do those things. So we're not losing him. We're just not seeing him every day."
Dylan Day will have the keys to the offense after starting at offensive tackle last season. Watt believes the transition will be a seamless one due to Day's high football IQ and ability to run hard and hit quick throws.
"I've been around football for so long that I kind of just picked up skills at different positions," Dylan Day said. "Having the support of all the seniors and support of the team overall, that helps the transition."
In the backfield, Holbrook will be the starting fullback and share time with sophomore Drake Madison. The wing backs will be Dustin Baze and Lane Jeppsen, and Watt believes the plethora of ball carriers will keep teams off balance.
Starting offensive guards Jim North and Luke Schaffroth are both athletic linemen who love creating big hits and will be instrumental in springing those running backs for big plays.
All of those players will also play large roles on the defensive side and work to create a frenetic, blitz-heavy defense that dictates the tempo of the game.
"That's kind of our mentality this year is is we're going to come at you and you don't know where we're coming from or how it's coming," Watt said. "But you know it's coming. And it's hard to prepare for that as an offensive mind, figuring out where the blitz is coming from."
Central Linn will kick off its season on Sept. 6 when it hosts Weston-McEwen at 7 p.m.
Get in the game with our Prep Sports Newsletter
Sent weekly directly to your inbox!