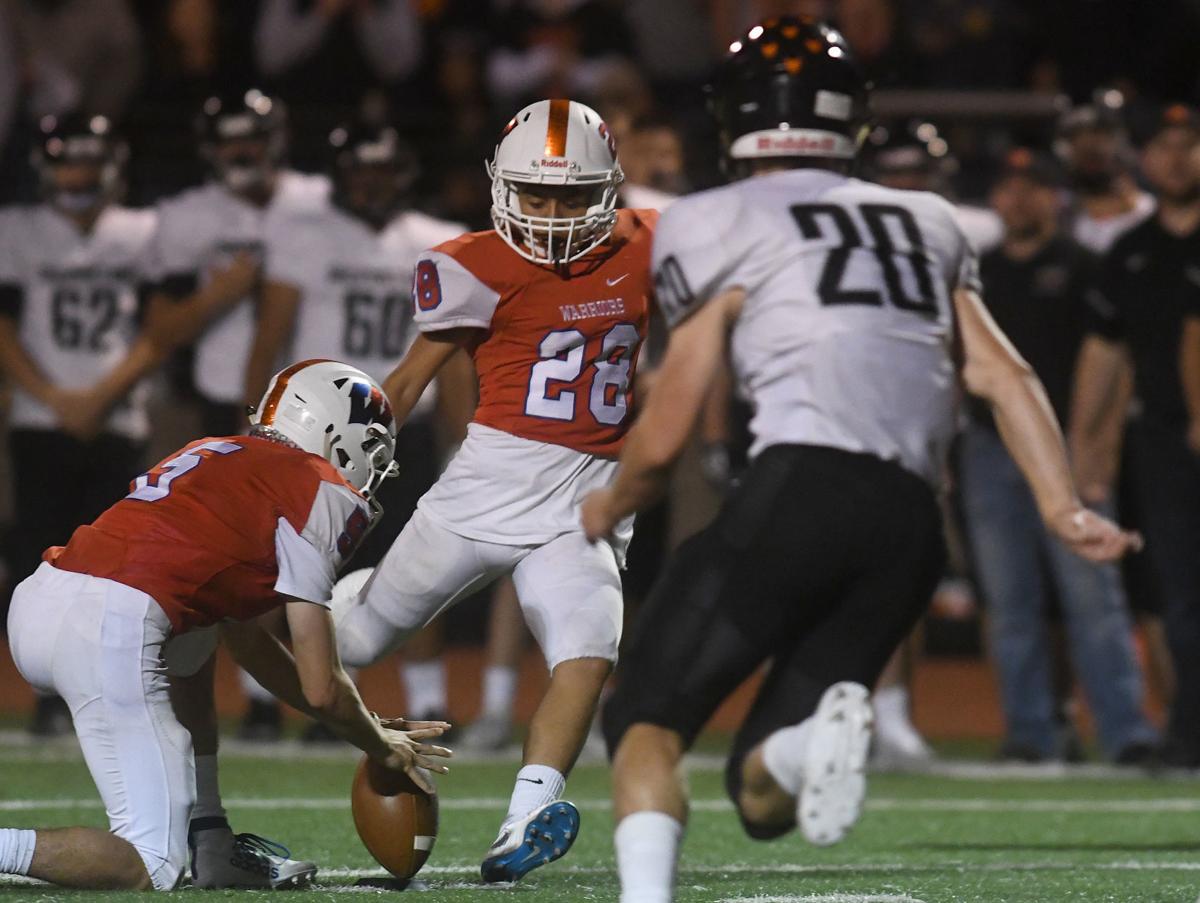 All games start at 7 p.m. unless notes; OSAA coaches poll rankings in parentheses
(2) West Albany at (9) Lebanon
Records: West Albany 4-0, 4-0 5A Special District 3; Lebanon 2-2, 2-2 SD 3
One team hopes to keep its momentum going while the other tries to get back on track after two straight defeats.
West Albany, coming off a 49-0 win against rival South Albany, should see its defense get its best test of the season. The Bulldog defense has allowed seven points this season.
Minus two starters for disciplinary reasons, Lebanon saw a 35-14 third-quarter lead disappear and a two-point conversion fall short in a 42-41 overtime loss at McKay. That came after the Warriors 29-25 at home to Silverton.
After Friday, Lebanon's four remaining opponents have a combined five wins. 
Crescent Valley at (10) Dallas
Records: Crescent Valley 2-2, 2-2 5A Special District 3; Dallas 3-1, 3-1 SD 3
The Raiders got in the win column last week with a 33-14 victory against Central and now will try to slow down a team that's scored more than 40 points per game.
The Dallas defense has scored 28 points, with four touchdowns and two interceptions. 
(3) Silverton at Corvallis
Records: Silverton 4-0, 4-0 5A Special District 3; Corvallis 1-3, 1-3 SD 3
The Spartans are well within reach of the Mid-Willamette's fifth spot and a 5A playoff berth with wins against the three-one-win teams remaining on their schedule. But not before they run head-first into one of the state's top teams.
Outside its close game against Lebanon, Silverton has outscored three opponents 137-13. 
Central at South Albany
Records: Central 1-3, 1-3 5A Special District 3; South Albany 1-3, 1-3 SD 3
RedHawks coach David Younger says the goal remains the state playoffs. If South wants to keep those hopes alive, that has to start with a victory this week.
Central has 28 offensive points this season and South 29. 
Sweet Home at (6) Cascade
Records: Sweet Home 1-3, 0-1 4A Special District 3; Cascade 3-1, 1-0 SD 3
Sweet Home has allowed 32 or more points in three of four games, and the defense gets another test versus a team that's scored 32 or more three times.
Cascade's last three games have been decided by eight or fewer points. 
Stayton at Philomath
Records: Stayton 2-2, 0-1 4A Special District 3; Philomath 1-3, 0-1 SD 3
The Warriors have scored just 49 combined points this season, but they're also keeping games close by allowing no more than 28 so far.
Stayton, coming off a 47-39 home loss to Cascade, is averaging 35.5 points per game. The Eagles' head coach is former West Albany coach Randy Nyquist. 
You have free articles remaining.
Harrisburg at Siuslaw
Records: Harrisburg 2-2, 0-0 3A Special District 2 North; Siuslaw 3-1, 0-0 SD 2 North
The Eagles will try to get off the alternating win-loss train in the league opener after last week's 28-12 home win against Douglas.
Siuslaw, a 4A school playing 3A football, averaged 36 points per contest. The Vikings defeated McLoughlin 48-46 last week. 
Scio at Salem Academy
Records: Scio 2-2, 0-0 3A Special District 1 East; Salem Academy 0-4, 0-0 SD 1 East
The Loggers ended a two-game losing streak with a 33-32 win at Regis last week.
The first league game comes against a team that's scored six total points and has been shut out three times. 
Pleasant Hill at (4) Santiam Christian
Records: Pleasant Hill 2-2, 0-0 3A Special District 2 North; Santiam Christian 4-0, 0-0 3A SD 2 North
The Eagles finally gave up some points in a 51-15 win against Blanchet Catholic in their final nonconference game. SC has scored no fewer than 39 points in any game this season.
Both teams have beaten Dayton, with the Eagles winning 39-0 at home in the season opener and the Billies taking a 48-14 home win two weeks ago. 
(6) Oakland at Jefferson
Records: Oakland 3-1, 0-0 2A Special District 3; Jefferson 0-4, 0-0 SD 3
The Lions face another uphill battle in the league opener after last week's 22-0 loss at Gaston.
Oakland has won its last three games by a combined 103 points after falling 40-26 at Coquille on opening night. 
Central Linn at Regis
Records: Central Linn 1-3, 0-0 2A Special District 3; Regis 0-4, 0-0 SD 3
The Cobras, also playing their league opener, are coming off their best offensive output so far in a 46-21 home loss to Toledo.
Regis has struggled on defense the past three contests, giving up a combined 129 points. 
(5) Monroe at Creswell
Records: Monroe 3-1, 0-0 2A Special District 3; Creswell 1-3, 0-0 SD 3
The Dragons play their third straight road game to open league play. Monroe has scored 44 or more three times, including last week's 49-8 victory at Willamina. 
Gilchrist at Alsea
Records: Gilchrist 3-1, 3-0 1A Special District 4 (6-man); Alsea 2-2, 2-2 SD 4
The Wolverines got their second shutout of the season last week, winning 20-0 at Crow.
Gilchrist edged visiting McKenzie last week, 54-50.