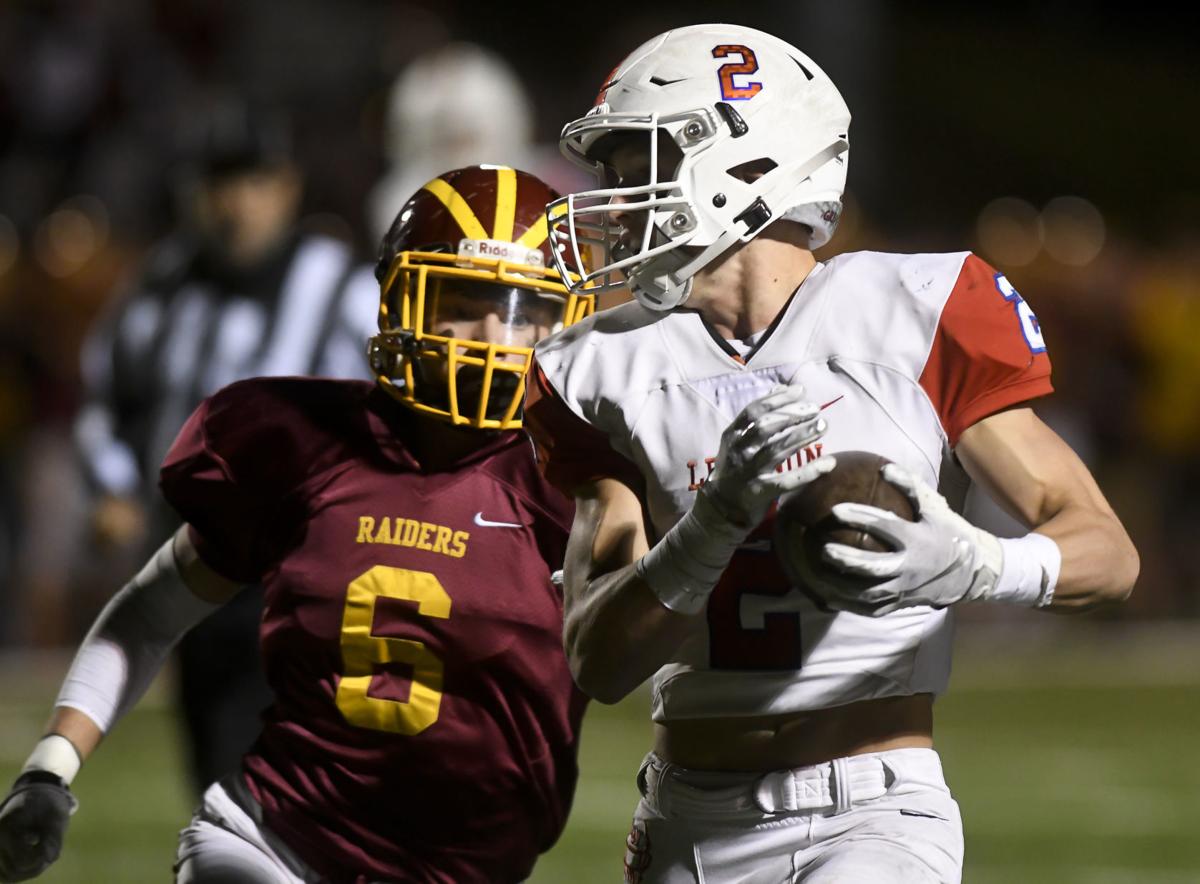 The 16-team high school football state playoff brackets for all of Oregon's six classifications have been set.
The Democrat-Herald and Gazette-Times coverage areas includes six teams in the mix, with several looking like strong candidates to reach their respective state championship games.
Here's a look at first-round contests involving area teams.
All games at 7 p.m. Friday unless noted; OSAA coaches poll rankings in parentheses
5A
Redmond at (2) West Albany
Records: Redmond 6-3, West Albany 9-0
The third-seeded Bulldogs' playoff run at a state title starts at home against Special District 2 North's second-place team.
No. 14 seed Redmond has won three straight games, against North Bend (36-24), Springfield (52-27) and Springfield (35-20). The Panthers are 1-2 against other playoff teams, with the North Bend win and losses to top-seeded Thurston (60-20) and sixth-seeded Ashland (33-7).
Redmond played one game outside Special District 2 in a 44-7 win against St. Helens (2-7).
West's schedule was backloaded, with four of the Bulldogs' last five games again state playoff teams.
Last Friday night at Silverton, West shined when tested late into a game for the first time this season. The Bulldogs took the lead for good on a Porter Phillips 1-yard touchdown run in the final minute of the first half then made enough plays on both sides of the ball after halftime to close out a 28-21 win.
They stopped the Foxes on a fourth-down play at the West 32 then ran out the clock with two runs for first downs by Phillips.
The winner gets 6 seed Ashland or 11 seed Dallas. 
Corvallis at (1) Thurston
Records: Corvallis 4-5, Thurston 9-0
Spartans coach Chris McGowan knows all about facing a top-seeded team in the first round. Five years ago, Corvallis knocked off No. 1 Mountain View on the road, 42-28, in the round of 16.
The Spartans won their last two regular-season games — and three of their last four — to clinch the program's first playoff berth since 2014.
Their reward is a matchup with the top-seeded and top-ranked Colts in Springfield. Outside wins against 6A Sheldon (34-19) and 5A second-seed Crater (31-20), Thurston has won its other games by 26 points or more.
The winner takes on 8 seed Wilsonville or 9 seed North Bend. 
(9) Lebanon at (5) Parkrose
Records: Lebanon 6-3, Parkrose 6-2
The Warriors haven't played a state playoff team in more than a month, and they took advantage with four straight wins to move up to the 10th seed in the bracket. Lebanon scored 202 points in that stretch.
Seventh-seeded Parkrose has won seven straight since losses to Prairie (52-33) of Washington and Hood River Valley (30-27). The Colts had a week two bye between the two defeats.
Parkrose's only games with 5A playoff teams have come the past three weeks, with wins against Pendleton (30-19), La Salle (41-16) and Wilsonville (28-19).
You have free articles remaining.
This is one of just two first-round matchups between top-10 teams in the 5A coaches poll. The winner plays 2 seed Crater or 15 seed Hillsboro. 
3A
Nyssa at (2) Santiam Christian
Records: Nyssa 5-3, Santiam Christian 9-0
Will the Eagles finally be challenged late into a game? Maybe, maybe not.
Second-seeded Santiam Christian has defeated its three opponents in the 3A playoffs by a combined 132-22.
Eastern Oregon teams like Nyssa are sometimes a mystery because they often have no games against teams east of the Cascades, instead playing Idaho teams in nonleague contests. That's the case with the 15 seed Bulldogs, who will travel 400 miles — or more depending on the route from the Oregon-Idaho border — for Saturday's game.
Nyssa is 0-3 against Oregon playoff teams with losses to 4A Baker (40-0) 3A Vale (27-21) and 3A Burns (35-6).
Three of the top four teams in the final 3A coaches poll, including Santiam Christian, are in the bottom half of the 16-team bracket.
The winner gets 7 seed Yamhill-Carlton or 10 seed Vale. 
Scio at (4) Burns
Records: Scio 5-4, Burns 9-0
The Loggers wrapped up their playoff spot with a 24-6 win at Corbett last week.
The 14 seed, Scio is 0-4 against 3A playoff teams, but two of those defeats came by eight points or fewer. The Loggers have allowed an average of 15.2 points the past five games.
Third-seeded Burns played one western Oregon team in its regular season, beating 4A Sisters, which finished 2-6, 24-6 in week one. The Hilanders dominated Special District 3, winning five games by a combed 206-33. That included wins against playoff teams Nyssa (35-6) and Vale (27-8).
The winner takes on 6 seed Clatskanie or 11 seed St. Mary's. 
2A
Colton at (4) Monroe
Records: Colton 5-3, Monroe 8-1
The fourth-seeded Dragons made quick work of Special District 3, winning five games by a combined 247-39. Monroe has given up 11 total points in its last three games.
Colton, the 13 seed, won two in a row to end the regular season and got in the playoffs with an at-large berth based on its power ranking (13).
The Dragons and Vikings have a common opponent in Sheridan. Monroe beat visiting Sheridan 44-16 in the season opener. Sheridan got past visiting Colton two weeks later in their league opener 43-26.
The winner plays 5 seed Toledo or 12 seed Lost River.
The Dragons would probably look forward to a rematch with Toledo after a 52-49 road loss to the Boomers on Sept. 20 in which they played without quarterback Brody Ballard (injury). Monroe hasn't had a competitive game since.