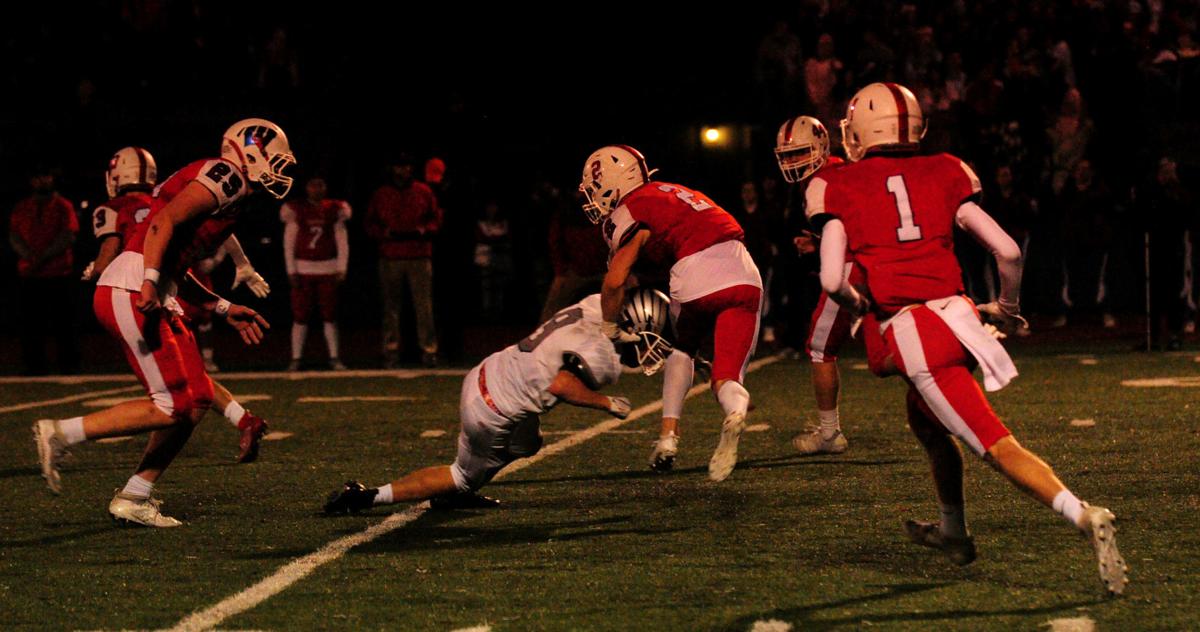 LEBANON — For months, Keith Brown has had a swarm of the nation's top college football programs vying for his talents.
The Lebanon star junior — a consensus 4-star recruit who is considered by many to be the best middle linebacker in the country for the class of 2021 — bust onto the scene with a stellar sophomore season and has only increased his stock this fall. But he admits that he underestimated just how draining the recruiting process can be.
"I really didn't think it would be that bad, but I was getting 50 to 60 texts a day," Brown said. "My Twitter was blowing up. I had calls coming in all the time. It was non-stop."
So finally, he stopped responding — stopped replying to every text from every coach, stopped spending time on Twitter and tried to just enjoy football and his time with his teammates. On Friday, when the Warriors badly needed a win to stay in the mix for a playoff spot, Brown put on a stellar display and helped Lebanon to a blowout victory.
The Warriors topped South Albany 63-12 to improve to 4-3 in Mid-Willamette Conference play. Brown led a versatile rushing attack with 193 yards on nine carries and finished five total touchdowns. He also led a tenacious defensive effort as the Warriors held the RedHawks to just one touchdown from scrimmage.
"Honestly, that sort of looked like the old Keith that I remembered from last year," coach Ty Tomlin said. "I think he's felt a lot of pressure — like he has to do more than what he really needs to be doing. It was sort of fun watching him today, because it just looked like a kid having fun and running and playing. I hope that this lifts everything off his shoulders and he gets to be loose, be a kid and enjoy the moment."
With the win, the Warriors (4-3) kept pace in the battle for the fourth Mid-Willamette Conference playoff spot. They jumped ahead of Crescent Valley, which lost 33-0 at Silverton on Friday, and now are in sole possession of fourth place.
You have free articles remaining.
Lebanon entered the season with aspirations of a league title, but a three-game losing streak in September torpedoed its chances and left the Warriors looking for a way to bounce back. A halftime speech by Tomlin during last week's win at Central has been the spark plug the Warriors' players needed, according to Brown.
"We got yelled at pretty hard," Brown said. "I really think that's the turning point; everything since then has been different. We needed it. With the talent we have and how hard we worked in the offseason, we should be a top team in the state, but we were playing down to our opponents. … It just takes us coming together as a team to get these big wins."
The Warriors wasted no time on Friday taking hold of the game. Cole Weber hit Brayden Currey for a completion on fourth-and-9 to keep Lebanon's opening drive alive, and two plays later Landon Kisling scored a 5-yard rushing touchdown to make it 7-0 Warriors.
Lebanon then blocked a South Albany punt and Brown took advantage with a 1-yard touchdown run up the gut to push the lead to 14-0. The RedHawks answered back with a 30-yard touchdown pass from Hans Laufer to Isaiah Gilliam that cut the lead to 14-6, but that was as close as South Albany would come.
Brown uncorked a 73-yard touchdown run on the ensuing Lebanon drive and by halftime the Warriors had pushed the lead to 28-6. Brown opened the second half with a 34-yard touchdown grab, and Dane Sipos broke loose for a 49-yard run later in the third quarter to make it 42-6.
"We've really been challenging our kids to put it all together," Tomlin said. "We haven't really played a full game like we can. Second half of last week, they really played to their abilities and we told them after that, 'Look, guys, let's put it together for four quarters.' They had a really, really great week of practice and they were really self-motivated today."
South Albany scored its second touchdown of the night when Tyler Seiber returned a kickoff 82 yards to cut the Lebanon lead to 49-12.
The Warriors will hit the road to face Crescent Valley next Friday, while South Albany (2-4) will host North Salem.