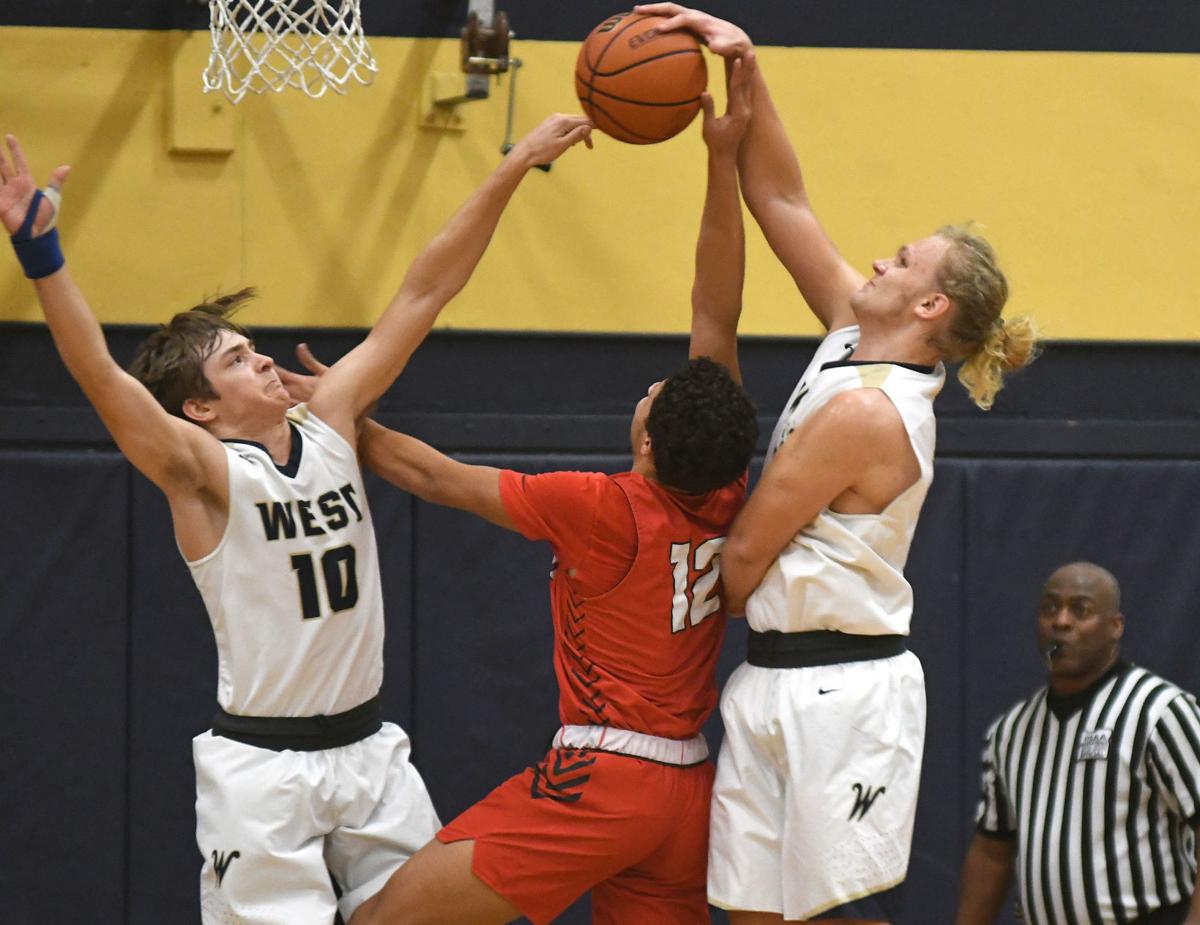 There was no secret Tuesday night where West Albany wanted to get the ball.
South Albany did its best on defense, throwing every size and shape of player and combination of defenders it had to try to slow down the Bulldogs' junior big men in Justin Henderson and TJ Zimmermann.
But it proved to be a futile effort, as the two combined for 41 points in West's 73-61 home win in Mid-Willamette Conference boys basketball game.
"We know me and Hendo have some pretty good chemistry going on," said the 6-foot-4 Zimmermann of his 6-5 teammate. "They have (Ayden) Foster and they have some big long dudes, we just wanted to be more physical, crash the boards and be physical inside."
The eighth-ranked Bulldogs (8-4, 3-1 MWC) accomplished that. Zimmermann had 23 points, Henderson 18 and the ninth-ranked RedHawks (8-3, 1-2) had three players foul out trying to slow down the steamrolling under the basket.
West had its own difficult task of trying to stay in front of South junior guard Isaiah Gilliam, who scored 20 of his game-high 31 points in the first half.
"We knew that Zay was their dude and we did some things in practice to see if we could slow him down. Execution wasn't the best," Zimmermann said.
For the second straight game, the RedHawks were in a battle at halftime with a ranked team. Last Friday, it was Silverton and South tied at the break before the Foxes used a 15-2 run in less than four minutes to pull away for a 23-point victory.
Tuesday, Henderson and Zimmermann had four points apiece in a 13-2 run out of halftime. Koby Ruiz found Henderson off an inbounds play to put the Bulldogs ahead 48-34 with 3:59 left in the third quarter.
The RedHawks got no closer than seven from there.
South coach Tim Matuszak said it was too many individual breakdowns on defense that were costly.
You have free articles remaining.
"We really got caught here or there and they just took advantage of it. That's what good teams do," he said.
When the RedHawks made second-half adjustments on Zimmermann, he got the ball to his teammates and they were able to create other scoring opportunities.
West junior guard Luke Killinger scored 13 of 19 after halftime, and Henderson had 10 of his 18 after the break. Koby Ruiz added eight points.
"Hendo are TJ are just tough kids and tough matchups for other teams. They draw a lot of attention … but really proud of how everybody played tonight," Bulldogs coach Derek Duman said. "When we needed guys like Koby, Austin (Stanaway) and Luke to step up they would. But when (Henderson and Zimmermann) are playing well and they're getting rebounds and they're sharing the ball with each other, they make us really good and they make us really tough to guard."
Added Gilliam: "That was our whole game plan right there, stop Zimmermann and Henderson. We knew Zimmermann was going to be one of the top posts we're going to see this year, very fundamental. Same with Henderson, he can extend out."
McGlothan finished with nine points, Foster six and Benson five for South.
The RedHawks, who have now lost three straight after starting 8-0, chipped into a 19-8 deficit with the last six points of the first quarter, with four from Gilliam. Then the visitors got the first six in the second, all from Kenyon McGlothan to take a one-point lead. But Zimmermann got hot, scoring 10 of his team's final 14 points before halftime.
After the Bulldogs' big third-quarter run that followed, South scored the first four points of the fourth on layins by Arbey Mercado and McGlothan to close within seven.
West came back with the next six points, all at the free-throw line, five from Killinger and one from Zimmermann as the RedHawks' foul trouble started to add up.
The Bulldogs were 15 of 21 at the line in the fourth period and 19 of 28 for the game. South was 15 of 25.
West was playing its third of five straight conference home games. The Bulldogs host Corvallis on Friday.
Tuesday's game was moved to West because the RedHawks' gym is still not cleared for use following an early December fire on the South campus that caused extensive smoke damage in the gym.
South was playing the first of four consecutive MWC road games. Assuming the RedHawks get back in their home gym by their next home game, Jan. 28 against North Salem, they will play seven of eight games at home starting with North Salem. That includes hosting West Albany on Feb. 14.
Get in the game with our Prep Sports Newsletter
Sent weekly directly to your inbox!