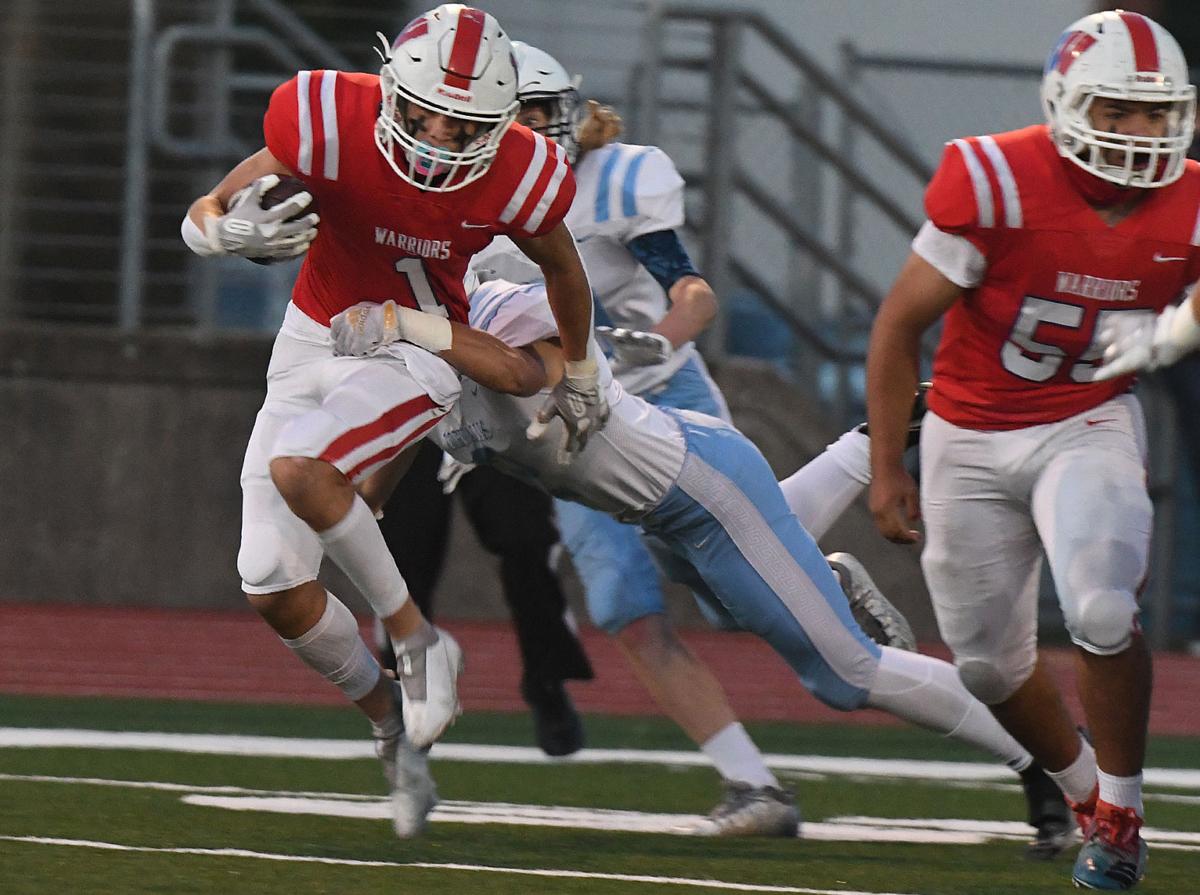 All kickoffs at 7 p.m.; OSAA coaches poll rankings in parentheses
Lebanon at (3) West Albany
Records: Lebanon 2-3, 2-1 5A Special District 3; West Albany 5-0, 3-0 5A SD3
Lebanon showed last week that it's still right in the middle of the 5A state playoff chase for one of the Mid-Willamette three automatic berths with a 37-27 home win against Corvallis.
West continues to play close games, as the Bulldogs got past host Central 21-14 last week.
With seven teams in the top 20 in the OSAA power rankings, the conference appears to be in good position to get at least one of the four available statewide spots — based on the final power rankings — in the 16-team 5A bracket.
Central Linn at (9) Toledo
Records: Central Linn 1-3, 1-1 2A Special District 3; Toledo 2-3, 2-1 2A SD3
The Cobras get back to the field after last week's game against Monroe was forfeited as a precaution due to widespread absences at Central Linn for contact tracing.
Toledo has consecutive league wins against Monroe (44-36) and Oakland (22-20).
Scio (2-4, 0-2 3A Special District 1 West) has had to forfeit a second straight game due to a COVID situation in its program. The Loggers were scheduled to host Amity (3-2, 2-0 3A SD1W). Scio is slated to play at Dayton next Friday.
Support local news coverage and the people who report it by subscribing to the Albany Democrat-Herald.
Crescent Valley at (10) Dallas
Records: Crescent Valley 1-4, 0-3 5A Special District 3; Dallas 2-3, 1-2 5A SD3
The Raiders still have a chance to turn around their season but need to do it soon. CV lost 48-8 at co-No. 3 Silverton last week.
Is Dallas the third-best team in the Mid-Willamette? After losses to West Albany and Silverton, the Dragons made that argument last week with a 35-12 win at South Albany.
Corvallis at South Albany
Records: Corvallis 3-2, 2-1 5A Special District 3; South Albany 3-2, 1-2 5A SD3
This game matches two teams looking to bounce back after disappointing defeats.
Corvallis, which has scored at least 19 points in all five games, had its three-game winning streak end in a 37-27 defeat at Lebanon. South couldn't find any second-half offensive rhythm in the home loss to Dallas.
Stayton at Sweet Home
Records: Stayton 1-4, 0-0 4A Special District 3; Sweet Home 3-2, 1-0 4A SD3
Five-team Special District 3 gets two (possibly three) state playoff berths, so this is a big one for both teams.
The Huskies opened league play last Saturday with a 47-21 win at Newport. Stayton has played a difficult schedule, including last week's 57-0 loss at No. 1 Marshfield.
The Eagles' head coach is Randy Nyquist, who won three 5A state titles as West Albany's head coach.
(10) Philomath at Willamina
Records: Philomath 4-1, 1-0 3A Special District 1 West; Willamina 1-3, 0-1 3A SD1W
The Warriors haven't played in two weeks after taking a forfeit win against Scio last week. They'll try to get closer to a state playoff berth (achieved by a top-two finish in the division) in their fourth road game of the season.
Willamina has taken consecutive losses to Corbett (60-7) and Dayton (44-6).
(6) Junction City at (9) Santiam Christian
Records: Junction City 3-0, 2-0 3A Special District 2; Santiam Christian 3-1, 1-0 3A SD2
Both teams have the playoffs in sight, and the winner here takes a big step forward.
The Eagles have rebounded from their loss to 2A No. 2 Kennedy with wins against Sisters (41-0) and Elmira (23-8). Junction City has defeated North Eugene (39-13), Pleasant Hill (52-6) and Sisters (27-18).
Lowell at Monroe
Records: Lowell 2-2, 1-2 2A Special District 3; Monroe 3-1, 1-1 2A SD3
Monroe is another team that didn't play last week after taking a forfeit win against Central Linn. The Dragons have had no problem scoring this season, averaging 39 points a game.
Lowell played Monday for the first time since Sept. 10, defeating visiting Oakridge 51-0.
Alsea at Crow
Records: Alsea 3-1, 3-1 1A Special District 3 (6-player); Crow 1-1, 1-1 1A SD3 (6-player)
Alsea, which hasn't played since its 49-6 win against Siletz Valley on Sept. 24, competes in its final game of the season.
Last week, Crow lost 49-14 at Eddyville Charter, which defeated host Alsea 26-13 on Sept. 10.
Jefferson (4-2, 2-2 2A Special District 3) is receiving a forfeit win against Oakridge (0-6, 0-4 2A SD3).
Oakridge, which has scored six combined points in three games, was to play its second game of the week after Monday's 51-0 loss to Lowell. But the Warriors apparently didn't have enough healthy players for Friday's game.
Jefferson is still hopeful for a 2A state playoff spot despite two straight losses — 42-30 at Oakland and a defeat by forfeit to No. 4 Creswell last week.
Instead, the Lions will play at 2A fifth-ranked Bandon (4-1, 2-1 2A Special District 4) at 7 p.m. Friday.
The Tigers have allowed 19 combined points in its four wins. Bandon lost 26-20 at home to 2A No. 3 Lakeview two weeks ago.
Harrisburg's game at 2A fifth-ranked Bandon was canceled. 
Harrisburg, a 3A school, is 1-4 this season and playing an independent schedule. The Eagles broke through last week with a 26-12 home win against Gervais.
— Compiled by reporter Jesse Sowa