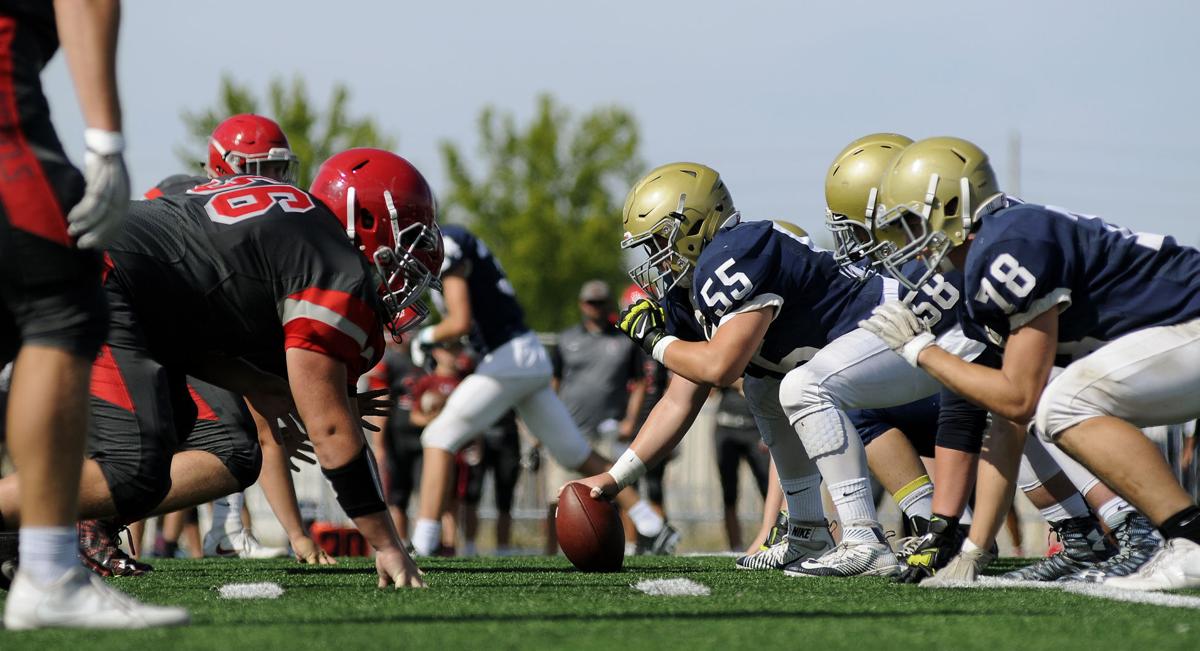 All kickoffs at 7 p.m.; OSAA coaches poll rankings in parentheses
South Albany at (4) West Albany
Records: South Albany 4-2, 2-2 5A Special District 3; West Albany 6-0, 4-0 5A SD3
This is an intriguing rivalry matchup.
West hasn't allowed more than 20 points in any game and is allowing 13.5 points on defense. South's defense against Corvallis last week was its rushing offense, as the RedHawks literally ran the final eight minutes off the clock on one possession.
The Bulldogs, who have played a relatively tough schedule, are undefeated but have just one lopsided win (42-20 at Crescent Valley). Four of South's six games have been close ones.
"The rivalry game to me is a little bit about bragging rights, but it's a lot about community," current RedHawks co-head coach Jeff Louber said in 2018. Louber is a South alum who played football at the school and spent 10 years as a West assistant before joining the South football staff in 2014.
"It's more or less coming together as a community and understanding that we have two programs in this community that deserve a lot of support and a lot of attention because we're each special in our own ways," Louber added.
Louber, co-head coach David Younger, West head coach Brian Mehl and Bulldogs defensive coordinator Cole Pouliot (a West alum) were all assistants on Randy Nyquist's Bulldogs teams in 2010 and 2011.
West has won 15 straight games against South and leads the all-time series 29-17. The schools' football teams played each season from 1971, when South opened, through 2013. They didn't play in the four years West spent in the 6A classification. In three games since returning to 5A in the fall of 2018, the Bulldogs have defeated the RedHawks by a combined score of 120-9. West won 37-6 last year.
South's ability to run and score the ball won't allow West the opportunity to look ahead to next week's game at co-No. 2 Silverton.
Support local news coverage and the people who report it by subscribing to the Albany Democrat-Herald.
Sweet Home at North Eugene
Records: Sweet Home 3-3, 1-1 4A Special District 3; North Eugene 2-2, 1-1 4A SD4
After a 42-28 loss at Stayton, the Huskies dip back into nonleague play before going to Woodburn next week.
North Eugene, a 5A school playing 4A football, has a win against Crook County (35-14) and a forfeit win versus Elmira last week.
Central Linn at Lowell
Records: Central Linn 1-5, 1-3 2A Special District 3; Lowell 2-3, 1-2 2A SD3
The Cobras struggled in a 36-0 loss at Toledo last week. They get a Lowell squad coming off a competitive 38-28 defeat at Monroe last week.
(10) Dallas at Lebanon
Records: Dallas 3-3, 2-2 5A Special District 3; Lebanon 2-4, 2-2 5A SD3
It's put-up time for the Warriors after two losses in three weeks. Wins in the next two weeks (Crescent Valley to follow) could have Lebanon still within reach of the state playoffs.
Joining Lebanon, Dallas is one of the Mid-Willamette's four teams at 2-2 trying to claim one of the top three spots and a playoff berth. Senior running back/defensive back Logan Person is one of the conference's top players.
(2) Silverton at Corvallis
Records: Silverton 5-1, 4-0 5A Special District 3; Corvallis 3-3, 2-2 5A SD3
The Spartans, losers of two straight with 70 points allowed, have their hands full against the Foxes.
Silverton's defense has given up 22 total points in four league games.
Central at Crescent Valley
Records: Central 1-5, 0-4 5A Special District 3; Crescent Valley 1-5, 0-4 5A SD3
Lacking depth, the Raiders just haven't been able to get the offense untracked since scoring 28 in the season-opening win against Lincoln. Central has had similar shortcomings, but the Panthers have played competitive games against Lebanon (32-21), Corvallis (19-14) and No. 4 West Albany (21-14).
(10) Philomath at Amity
Records: Philomath 5-1, 2-0 3A Special District 1 West; Amity 3-3, 2-0 3A SD1W
Philomath plays its biggest game in about six years (with another big one against 2-0 Dayton next week), also the last time the varsity team was 5-1. Philomath rolled over Willamina, 35-0, last week.
Amity was no match last week for 4A No. 6 Banks in a 56-22 road loss. The (other) Warriors picked up the Banks game after Scio forfeited to Amity.
Amity defeated Philomath 34-6 last March.
(9) Santiam Christian at (8) La Pine
Records: Santiam Christian 3-2, 1-1 3A Special District 2 North; La Pine 2-3, 1-1 3A SD2N
The Eagles need to finish in the top three in their division to make the state playoffs, and two wins in their final three games will achieve that. This game and the regular-season finale at Pleasant Hill (0-5, 0-3) are the best opportunities to get there. SC hosts Siuslaw (5-0, 2-0) next week.
La Pine played a close game in a 34-26 loss at Siuslaw last week after a 42-6 win at Pleasant Hill. Last week was the first time the Hawks allowed more than 20 points.
(8) Monroe at Jefferson
Records: Monroe 5-1, 3-1 2A Special District 3; Jefferson 4-3, 2-2 2A SD3
Jefferson is fighting to stay in the state playoff hunt after taking a forfeit league loss to Creswell two weeks ago. After Oakridge forfeited to the Lions last week, Jefferson traveled to No. 3 Bandon on short notice and was defeated 51-18.
Monroe has won two straight, including 38-28 against Lowell last week, since its league loss at No. 6 Toledo. The Dragons are tied for first with Creswell and Toledo and can move closer to one of the league's three state playoff spots with a win.
Scio has been forced to forfeit Friday's game at 3A co-No. 10 Dayton, the Loggers' third such results in as many weeks due to a COVID situation in the program.
Scio (2-5, 0-3 3A Special District 1 West) is scheduled to play at Taft next Friday.
— Compiled by reporter Jesse Sowa