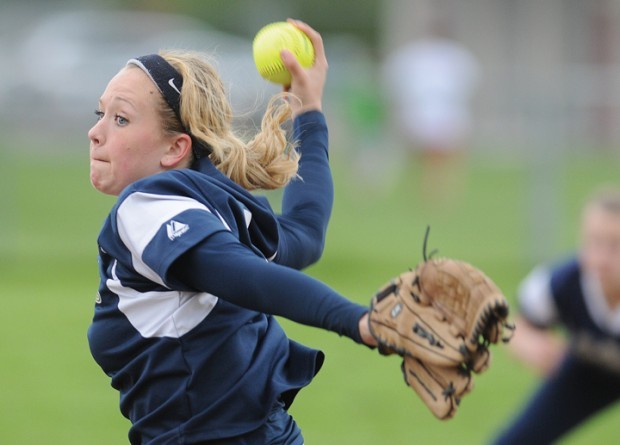 Heather Connelly wasn't particularly satisfied with her pitching performance against South Albany in the series opener.
On Tuesday of last week, Connelly allowed just four hits and one run against the Rebels, but the junior right-hander felt she struggled with her location.
Connelly's command was much better on Monday as West Albany defeated South Albany 17-0 in five innings at South Albany High School in a make-up game.
"Heather stepped up from what she did in the first game. She definitely brought her command tonight," said West coach Rocky Erner.
Connelly began that game by striking out the first two Rebel batters. In five innings, Connelly struck out 11, walked none, and did not allow a hit until the fifth inning.
"I think I did great because I had the defense behind me backing me up. A lot of it is being mentally tough and to do to that you need a defense that can help you out," Connelly said.
West's (15-5, 15-3 Mid-Willamette Conference) pitching staff is more than a one-person show. Anne Diercks has a vastly different approach in the circle, but is also a dominate starter for the Bulldogs.
Diercks, who was 3 for 3 including a solo home run in the second inning, is a control pitcher with a lot of downward movement. Connelly is a classic power pitcher, giving opponents two vastly different looks.
Erner has great confidence in both hurlers, and usually allows each to throw complete games.
"If that pitcher is throwing well, we keep them in the whole game. If we see a team putting hits together, we will do a switch right away," Erner said.
Connelly is more than happy to share the spotlight with Diercks.
"It is a relief knowing that I don't have to pitch every game. I know that (Anne) is going to do great when she is out there," Connelly said.
South (1-17, 1-17 league) coach Tony Matta was impressed with Connelly's ability to shut his club down. The Rebels accumulated only two hits, both in the fifth inning.
"I thought that Heather pitched really well. She was consistently getting strikes on the outside corner and we did not adjust to that," Matta said.
The Bulldogs are in second place in the conference and end their league season with a series against Crescent Valley.
West is two games behind league-leading Silverton.
South Albany will battle last-place Woodburn this week. Winning the three-game series would allow the Rebels to host a first-round play-in game.
"I think it is really important for us to finish the season by hosting a play-in game. It would be good," Matta said.
West Albany 17, South Albany 0 (5 innings)
West Albany . . . . . . . . . . . . . . . . . . . . . . . . . . 039 50 - 17 13 1
South Albany . . . . . . . . . . . . . . . . . . . . . . . . . 000 00 - 0 2 5
Connelly and Gary. Edmiston and Dodd. W: Connelly. L: Edmiston. 2B: WA, Connelly, McAnally, Ganta. 3B: WA, Bellis. HR: WA, Diercks.
Be the first to know
Get local news delivered to your inbox!