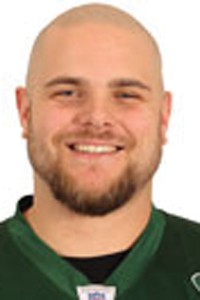 New York Jets guard Matt Slauson is happy the NFL lockout is over, but the labor situation actually worked out pretty well for the former Sweet Home High School athlete.
Slauson, his wife Cami, and their infant son Montgomery got to spend a lot of time with family over the past few months and he filled his time working out at the University of Nebraska, where he played collegiately.
"I had plans to come back out to Oregon this summer, but it ended up not working out," Slauson, 25, said in a phone interview Thursday. "I trained in Nebraska, spent a lot of family time, did a lot of fishing."
Montgomery, born Dec. 31, is the first grandchild on either side of the family, so the absence of offseason minicamps was welcomed by his grandparents.
Slauson, who is entering his third year in the NFL, was concerned about getting too much time off.
"There were times I thought none of this would get figured out," Slauson said.
He credits union leadership for helping players plan ahead and save their money. Players contributed to a lockout fund and had been receiving payments over the summer.
That helped the players stay united as the lockout wore on.
"I feel like from a player's standpoint, it wouldn't have been a problem," Slauson said.
But when an agreement was reached on Monday, he was ready to go right back to work.
"The day the facility was opened (Tuesday) I was there. I was the first one in the building," Slauson said. "I wanted to make sure I had all my ducks in a row.
You have free articles remaining.
"I've gone in the last three days to get a jump start on my physicals, get a couple of workouts in."
The Jets officially open training camp on Sunday. The team usually goes to upstate New York for camp, but management decided to simplify things this year and hold camp at its practice facility in New Jersey.
Veteran players are even being allowed to stay in their homes if they like.
Slauson said he will take advantage of that offer on occasion.
"I'll stay in the hotel where the team is going to put up all the young guys four or five nights a week. I want to make sure that I'm getting adequate sleep," Slauson said.
One change in the new labor agreement is the elimination of two-a-day practices in pads. The change was made for safety reasons, but Slauson said players are ambivalent about the end of a tradition.
"I know the importance of two-a-days," Slauson said. "Potentially, if you go to the Super Bowl, you could play 24 games. Those practices harden you for all those games."
The Super Bowl certainly is the Jets' goal. The team has reached the AFC Championship game two years in a row, falling to the Indianapolis Colts to end the 2009 season and losing to the Pittsburgh Steelers last season.
"We feel like we've come so close ... and the only thing holding us back is that the last two years, we haven't had any home field advantage at all," Slauson said. "A goal of ours is to win as many games as we can and get that home field advantage in the playoffs."
Slauson played for Sweet Home up through his junior year of high school. He then attended Air Force Academy High School in Colorado Springs, Colo., before choosing to play for Nebraska.
He said that not a day goes by he doesn't think about his good fortune playing in the NFL.
"Coming from small-town Oregon ... my dream was just to play Division I," he recalled. "Obviously, when you are a kid you watch football on Sundays and think that would be awesome.
"When I got to high school, my biggest dream was playing college ball. This, this is something else. I look at this every day and I think, 'I can't believe this is my job.'"