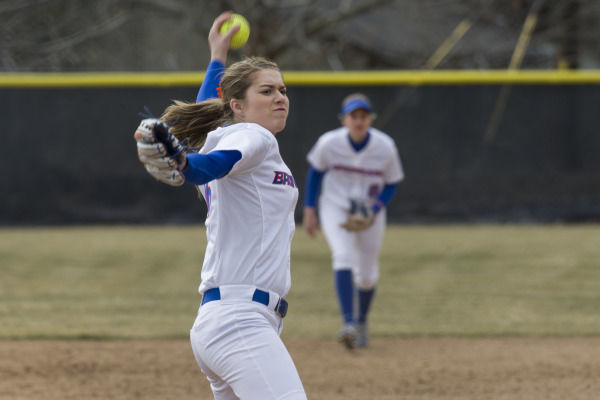 Softball
Kelsey Broadus (West Albany) was named the Mountain West Conference pitcher of the week after pitching 12⅔ scoreless innings and collecting three wins in the three games she pitched.
Broadus allowed one hit and no walks with nine strikeouts in a complete-game effort Saturday in the Broncos' 8-0 five-inning win against Cal State Santa Barbara in Sacramento, California.
Friday, she went 3⅔ innings of relief, giving up two hits and a walk with three strikeouts in a 9-3 win at UC Davis. She allowed two hits and three walks with seven strikeouts in four innings Feb. 6 in a 4-0 win against St. Mary's in Davis, California.
Kaylee Buhrkuhl (Santiam Christian) was a combined 2 for 6 with a triple, two RBIs, two runs scored and a stolen base Sunday in Corban's two-game tournament split in Lake Elsinore, California. The Warriors lost 9-6 to Marymount California and defeated St. Katherine 9-0 in five innings.
Saturday, she was 1 for 4 with a run scored in a 5-4 tournament loss to Vanguard in eight innings.
Friday, Buhrkuhl was a combined 5 for 8 with two doubles, two RBIs and four runs scored in a two-game tournament split. Corban lost 9-8 to Hope International and beat Arizona Christian 5-4.
Kelsie Sullivan (Corvallis) was a combined 2 for 3 with a run scored Sunday in Puget Sound's two losses at Whittier (California). Game scores were 5-4 and 11-3 in five innings.
Friday, she was a combined 1 for 5 with a walk and a run scored in a doubleheader split at Pomona-Pitzer in Claremont, California. The Loggers lost the first game 8-4 and won the second 7-4.
Concordia junior Kennedy Jantzi (West Albany) is batting .286 with three home runs, six RBIs and four walks in 10 games this season.
Ashton Phillips (Scio) was 0 for 3 in both of Oregon State's final two games in Las Vegas. The Beavers defeated host UNLV 3-1 on Saturday and beat CSUN 5-3 on Sunday.
She was a combined 1 for 4 with a walk and a run scored Friday in two wins. OSU defeated Southern Utah 5-0 and UNLV 1-0.
Julia Smith-Harrington (West Albany) was a combined 2 for 5 with one RBI and a run scored as Towson split two games in Spartanburg, South Carolina.
The Tigers lost 9-1 to Bucknell on Friday and defeated St. Francis 4-3 on Sunday.
Men's track and field
Idaho senior Zack Short (Lebanon) was named the Big Sky Conference field athlete of the week for the second time this indoor season.
He won the shot put at Friday's Idaho Team Challenge in Moscow with a season-best 63 feet, 11½ inches.
Utah Valley's Isaac Manning (Philomath) tied for third in the pole vault at 16 feet, 6¾ inches at Friday's Air Force Team Challenge.
He was also 12th in the shot put (38-6) and 14th in the 60-meter hurdles (9.00 seconds).
Men's basketball
Seth Cullison (South Albany) had 15 points, 11 rebounds, one assist, one steal and two blocks Feb. 5 in Linn-Benton's 73-63 home loss to Chemeketa.
You have free articles remaining.
Tariq Harris (Crescent Valley) had 12 points, six rebounds, one assist, two steals and one block Feb. 5 in Portland CC's 105-102 home loss to Clackamas.
DyShawn Hobson (Corvallis) had six points, three rebounds, three assists and a block Saturday in Northwest Christian's 87-82 home win against Oregon Tech in Eugene.
Friday, he had four points, four rebounds, one assist and one steal in a 94-66 home loss to Southern Oregon.
Zach Baugher (Santiam Christian) had three points, one rebound and one assist Saturday in Western Oregon's 80-52 win at St. Martin's in Lacey, Washington.
He had three points and two assists Feb. 6 in an 83-82 loss at Seattle Pacific.
Women's basketball
Rose Gwillim (Monroe) had 18 points, 18 rebounds, one assist, one steal and one block Saturday in Mt. Hood's 54-39 home win against Chemeketa in Gresham.
Chemeketa's Paige Wombacher (Lebanon) had four points and a steal.
Gwillim had two points, nine rebounds, two assists and two steals Feb. 5 in a 70-44 home win against Clark.
The same day, Wombacher had one rebound and one assist in a 58-44 loss at Linn-Benton.
Madison Ballard (Monroe) had six points and four assists Saturday in Willamette's 80-75 home win against Whitworth in Salem.
Friday, she had six points, two rebounds, two assists and a block in a 72-54 home loss to Whitman.
Kim Ortiz (Scio) had four points and four rebounds Saturday in Umpqua's 93-48 home win against Portland in Roseburg.
Cali McClave (Crescent Valley) had two points, six rebounds and a steal Feb. 6 in Western Oregon's 87-75 overtime loss at Montana State Billings.
Katie Mayhue (South Albany) had four points and two rebounds Saturday in Texas Arlington's 80-62 home loss to Coastal Carolina.
She had two points and a steal Feb. 6 in a 63-44 home win versus Appalachian State.
Men's wrestling
Brawley Lamer (Crescent Valley) got an 8-5 decision at 157 pounds Sunday in Cal Poly's 29-14 loss at Air Force in Colorado Springs, Colorado.
Tanner Sallee (Lebanon) lost by technical fall at 174 pounds Saturday in Southern Oregon's 29-12 home loss to Eastern Oregon in Ashland.
Women's wrestling
Southern Oregon's Marissa Kurtz (Sweet Home) went 1-2 at 123 pounds at the McKendree Bearcat Invitational in Lebanon, Illinois.