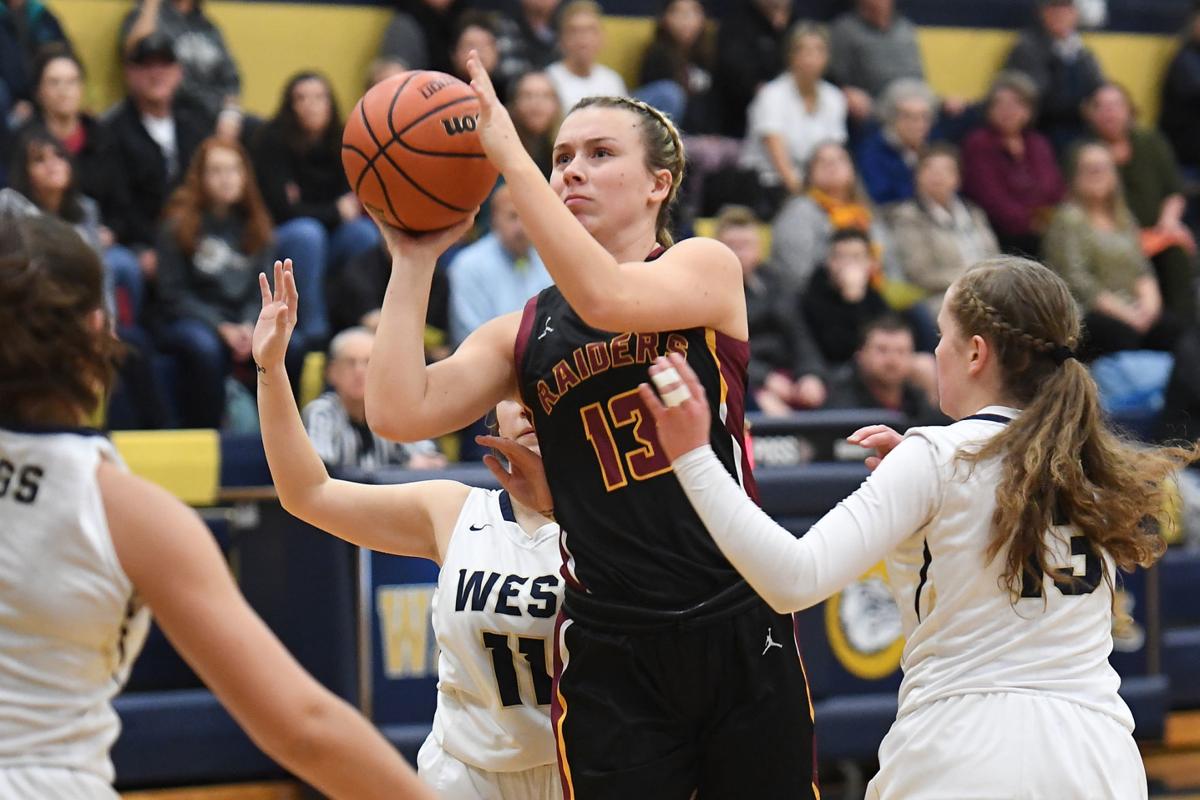 Volleyball
Emma Ryan (Lebanon) had 25 digs and one assist Tuesday in Southern Oregon's four-set, pool-play win against Indiana Kokomo in the NAIA tournament in Sioux City, Iowa.
Teammate Hannah Bogatin (Corvallis) had 20 assists, three aces and three digs.
Bogatin had 32 assists, two aces and three digs Wednesday in a five-set win against Bellevue in pool play. Ryan added 17 digs and an ace and Kya Knuth (Lebanon) one dig for the Raiders.
Corban's Jacquelyn Clark (West Albany) had eight kills and one dig Tuesday in her team's four-set win versus Lawrence Tech in tournament pool play.
Wednesday, Clark shared team-high honors with 13 kills along with recording two digs, three block assists and a solo block in a four-set win against Martin Methodist in pool play.
Haylie Bennett (Philomath) was named to the all-Pac-12 honorable mention this week.
She had 10 kills, two block assists and four digs Friday in Oregon State's four-set loss at Oregon. Teammate Taylor Quinn (Corvallis) added 17 digs.
Bennett had seven kills, two assists, one block assist and one dig and Quinn five digs Nov. 27 in a three-set loss at Utah.
Linn-Benton's Mitra Aflatooni (Crescent Valley) and Ally Tow (Sweet Home) and Southwestern Oregon's Madeline Trippett (South Albany) received Northwest Athletic Conference academic excellence awards.
Award winners are sophomores in eligibility with a minimum of 36 credits earned and a 3.25 cumulative grade-point average.
Women's basketball
Cali McClave (Crescent Valley) had a team-high 18 points — including three 3-pointers and was 7 of 7 at the free-throw line — plus three rebounds and one assist Saturday in Western Oregon's 70-62 home loss to Southwest Minnesota State in Monmouth.
She had eight points, two rebounds, one assist and three steals Friday in a 51-42 home loss to Texas A&M International.
Madison Ballard (Monroe) had three points and a steal Friday in Willamette's 49-31 loss at Whittier (California).
She had 15 points, including three 3-pointers, three assists, one rebound and one steal Nov. 27 in a 59-47 win against Caltech in Pasadena, California.
You have free articles remaining.
Molly Hendricks (West Albany) had five points, four rebounds, one assist and one block Sunday in Linn-Benton's 80-43 win at Green River in Auburn, Washington.
Katie Mayhue (South Albany) had four points, two assists and a rebound Friday in Texas at Arlington's 91-54 tournament loss to Oregon in St. Thomas, U.S. Virgin Islands.
Kim Ortiz (Scio) had two points, three rebounds and an assist Saturday in Umpqua's 87-23 tournament win against Portland in Oregon City.
Megan Miller (Lebanon) had one rebound, one assist and one block Saturday in Linfield's 65-61 tournament loss at College of Idaho in Caldwell.
Friday, she had one rebound in an 85-62 tournament loss to Eastern Oregon in Caldwell.
Football
Omar Speights (Crescent Valley) had a team-high 10 tackles, including six solos and a sack, Saturday in Oregon State's 24-10 loss at Oregon.
Teammate Keegan Firth (Crescent Valley), the long snapper, had one tackle.
Ryan Galovich (Crescent Valley) punted once for 36 yards Saturday in Wyoming's 20-6 loss at Air Force.
John Bates (Lebanon) had one catch for minus-1 yard Friday in Boise State's 31-24 win at Colorado State in Fort Collins.
Men's basketball
Zach Baugher (Santiam Christian) had three points and three rebounds Saturday in Western Oregon's 75-72 tournament win against Stanislaus State in San Francisco.
Friday, he had eight points, four rebounds and two assists in an 88-76 tournament win at San Francisco State.
Dyshawn Hobson (Corvallis) had two points, three rebounds, three assists and a block Tuesday in Northwest Christian's 79-78 win at Corban in Salem.
He had five points, five rebounds, six assists, one block and two steals Nov. 26 in a 102-55 home win against Northwest Indian College in Eugene.