AMES, Iowa — Jaren Holmes matched his season high with 23 points as No. 12 Iowa State held on to beat No. 5 Kansas State 80-76 on Tuesday night.
The Cyclones (15-4, 6-2 Big 12) moved into a three-way tie atop the conference standings with the Wildcats and Texas.
Gabe Kalscheur added 19 points for Iowa State. Osun Osunniyi finished with 16.
Markquis Nowell led Kansas State (17-3, 6-2) with 23 points.
A 3-pointer from Holmes gave Iowa State a 59-49 advantage with 8:12 remaining. Kansas State responded with a 10-1 run to trim the margin to 60-59.
Caleb Grill's 3-pointer steadied the Cyclones and pushed the lead back to 63-59 with five minutes left.
Free throws by Osunniyi, Grill and Holmes sealed the victory in the final 24 seconds.
The first half featured eight lead changes and ended with Kansas State up 33-31.
A 3-pointer by Kalscheur ignited an early 9-0 run for the Cyclones and helped them build a 19-14 lead. Iowa State made just one of nine 3-point tries in the first 20 minutes.
NO. 10 TEXAS 89, OKLAHOMA ST. 75: Marcus Carr scored 21 points and host Texas earned a regular-season sweep of Oklahoma State.
Timmy Allen scored 17 points and Brock Cunningham scored 15 for Texas (17-3, 6-2 Big 12), which improved to 10-2 under interim head coach Rodney Terry. He took over the team in mid-December when Chris Beard was suspended and then fired three weeks later. That surge has the Longhorns in the thick of the Big 12 title chase.
Kalib Boone and John-Michael Wright each scored 18 points to lead Oklahoma State (11-9, 3-5).
NO. 11 TCU 79, OKLAHOMA 52: Mike Miles Jr. scored 23 points and host TCU led throughout in a victory over Oklahoma. The Horned Frogs followed up their 23-point win at then-No. 2 Kansas by scoring the game's first 11 points back at home. Damion Baugh and Micah Peavy added 13 points for 16-4 TCU. Emanuel Miller 10 rebounds. C.J. Noland had 11 points for the 11-9 Sooners, who lost their third game in a row. TCU also scored the first 11 points after halftime to extend their lead to 55-27.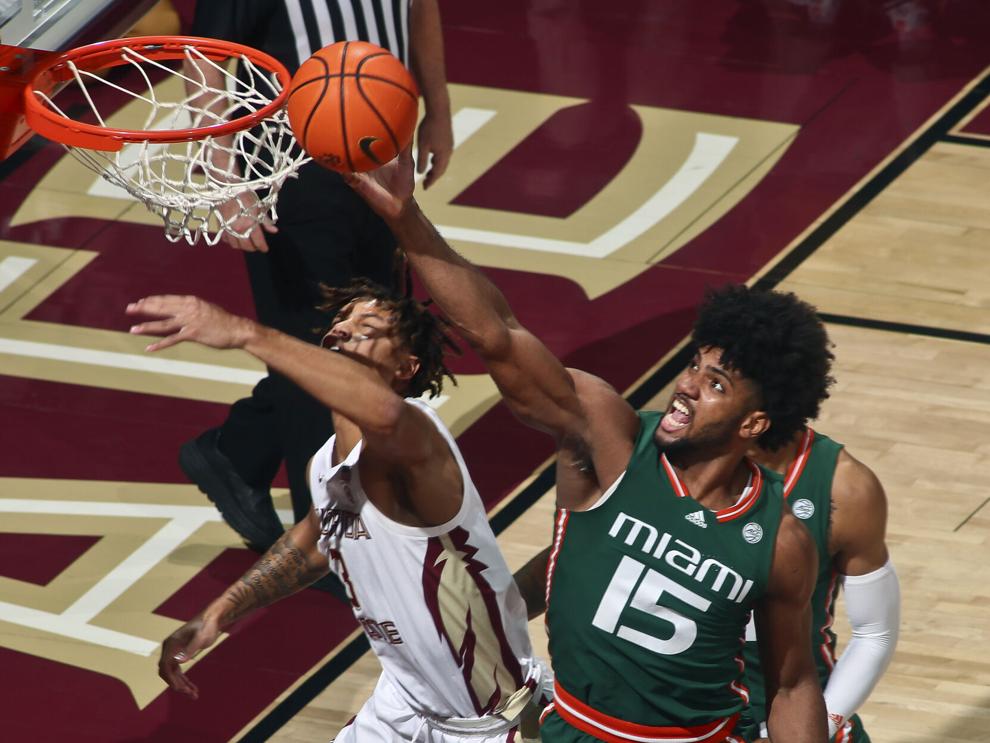 NO. 20 MIAMI 86, FLORIDA ST. 63: Nijel Pack and Isaiah Wong scored 18 points apiece as Miami cruised to a road victory over Florida State. Norchad Omier had 12 points and 11 rebounds for the Hurricanes (16-4, 7-3 Atlantic Coast Conference), who halted a nine-game slide to the Seminoles. Caleb Mills scored 12 points, the 12th straight game he has scored 10 or more points for Florida State (7-14, 5-5).
NO. 24 CLEMSON 72, GEORGIA TECH 51: PJ Hall scored 17 points and Brevin Galloway had 14 as host Clemson used a fast start to put away Georgia Tech to continue its surprising run atop the Atlantic Coast Conference. The Tigers are 9-1 and in first place midway through the league season. They were picked to finish 11th in the preseason. Instead, they came out quickly to take a 15-2 lead on the Yellow Jackets.