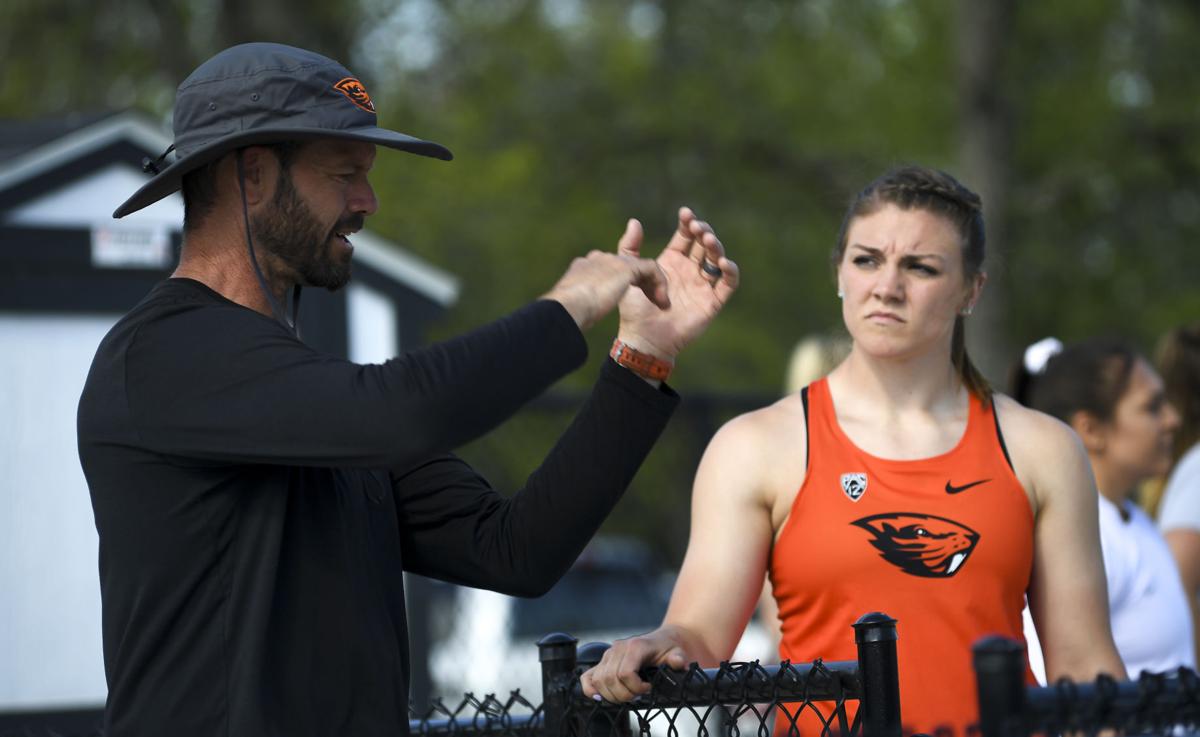 Oregon State has had its breakthroughs in women's cross-country, making the NCAA national meet as a team twice in the past three seasons.
The Beavers finished fourth in the Pac-12 championships and 16th in the nation last month, both all-time program bests.
Next on the long-term check list is team success in outdoor track and field, which has finished 11th in the conference meet the past five seasons. The last four years, OSU has scored between 17 points and the 23.5 total in 2016, the most since the program was reinstated in 2005.
Louie Quintana, the Beavers head coach in cross-country and indoor and outdoor track, says there's desire that the spring track season can produce results similar to what cross-country has accomplished.
"But with so many moving parts it just takes a little bit longer," Quintana said. "Typically in track it takes a formative athlete that will change everything."
Quintana, in his fourth year at Oregon State, speculated that such an athlete could be Kaylee Mitchell or Grace Fetherstonhaugh in the 3,000-meter steeplechase at the Pac-12 championships, to be held May 14-16 in Los Angeles.
They are 19th and 30th, respectively, on the NCAA West Region 5,000 season list and will make their season debuts in the steeplechase — their primary event — Friday at the OSU High Performance Meet at Whyte Track and Field Center.
"How do we assemble some transformative kids that will mean big numbers at the conference meet? But at the same time, under the surface we're creating depth," Quintana said.
The coach says he has no delusions that his team will win the conference team title. The goal is to get as many athletes as possible to the NCAA championships.
Quintana expects the Beavers to again finish near the bottom of the team standings in Los Angeles. But with a young, talented squad, and the majority of the roster to remain intact for the next three years, he sees an opportunity to build the program and make a climb.
Support local news coverage and the people who report it by subscribing to the Corvallis Gazette-Times.
OSU track and field returned as primarily a distance program in its first few years back.
But the Beavers have also made strides recently in field events, led by redshirt senior Lindsay McShane. McShane, from Amity, broke her only school record in the hammer with a toss of 208 feet, 3 inches at the Hayward Premiere in Eugene earlier this month. The mark has her 15th in the NCAA West Region.
McShane was part of the OSU school-record eight-athlete contingent for the NCAA West Regional in 2019. Her decision to return for a fifth year was big for the program, and she showed a lot of progress in her fall and winter training.
"I was hoping for 63 or 64 meters, which is right where she's at," said Beavers throwing coach David Dumble. "I think she's still got a lot more in there. Obviously it just takes more practice and more reps to get that out."
Dumble said those bigger throws could be coming soon as McShane tapers her weight room workouts leading to the end of the season.
OSU senior Sydney Guthrie-Baker is also chasing a regional berth in the hammer, currently 29th at 195-7. Dumble said her improvement has been a surprise.
"She's been training well, but I didn't expect her to have such a big jump in the hammer. Maybe for her, being a fifth-year senior, she was excited for another year of competition and took full advantage of it and has done very well in that event," Dumble said.
Making the regional meet — May 27-29 in College Station, Texas — currently means being in the top 32 of your event after conference championships. The NCAA Competition Oversight Committee on March 17 reduced that number from 48, where it had been for many years. 
"It's really frustrating to see it drop, especially for a lot of kids in track and field who missed last year that were granted that extra year of eligibility. A lot of them put their lives on hold," Quintana said.
There are few full-ride scholarships in the sport and many athletes are paying a lot in order to compete. It's a difficult situation for seniors who delayed graduate school, job offers or other opportunities to return to compete.
Oregon State currently has four potential regional entries seeded up to 32 and five more in the 33 to 48 range, "and they just need that experience of being in an NCAA-type meet to be able to pay that off for years to come," Quintana said.
UPDATE: The committee reversed its decision and announced late Thursday that the fields would return to 48 competitors per event and that the two regional meets would be held over four days instead of three in order to better manage health and safety and testing logistics with an additional day of competition. Relay entries will remain at 24, the same number as in pre-pandemic years.
Quintana and his staff have many second-year college athletes who they are seeing for the first time this spring because there was no 2020 outdoor season due to the pandemic.
Because so many are taking advantage of an additional year of eligibility, the Beavers are expected to have smaller recruiting classes the next two years.
But Quintana likes the direction his programs are heading and the depth that can be developed with the athletes currently on the rosters.
"Our women's team has made a huge ascent in cross-country. Now we're starting to see it translate to the track," Quintana said.