Fans of Oregon State football can be thankful that quarterback DJ Uiagalelei is a patient young man.
Uiagalelei spoke after practice Thursday about the process of transferring from Clemson to Oregon State and confirmed that he reached out first. He said it then took a couple of weeks for coaches at OSU to get back in touch with him.
When asked if he was worried about the lack of a quick response, he said he wasn't because he knew the coaching staff was busy getting ready for the bowl game.
"I think the biggest thing was they were in bowl prep so they were preparing … for the Las Vegas Bowl. So after that happened I got in contact with them," Uiagalelei said, adding that the delay "didn't matter to me."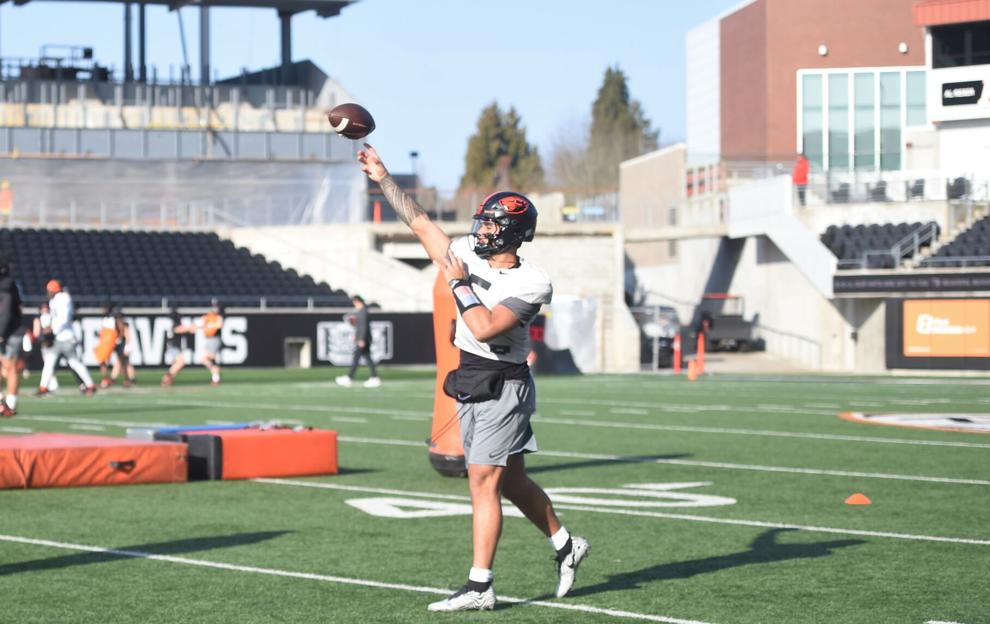 After spending three years at Clemson, including two years as the starter, his goal was to find the right setting to help him prepare for the NFL. He took a very deliberate approach to identify the right schools and the coaching staff and offensive scheme were the most important factors.
"I watched a lot of film, Oregon State, watched a lot of their games, probably every single game, and I liked what they did on offense. Feel like they had a really good team coming back. Defense, offensive weapons, feel like they had good receivers coming back, good O-line coming back and I feel it would be a good fit for me to come here," Uiagalelei said.
He grew up in California, so this move is a return to the West Coast. In addition, his brother, Matayo Uiagalelei, has signed to play at Oregon. DJ Uiagalelei said it has been nice to be able to see his brother, but none of that played a role in his decision. That was also why he did not feel the need to visit the Oregon State campus before committing because that was not relevant to his goals.
He joked that he would have signed with a school in Alaska if he thought it was the best fit.
Support local news coverage and the people who report it by subscribing to the Corvallis Gazette-Times.
"For me, it was kind of like a business decision. I wanted to go somewhere to put me in a good position to put my best foot forward," Uiagalelei said. "For me, the biggest thing I wanted to talk about was scheme, coaches, where they were planning to use me, how they were going to make me a better quarterback, and how they're going to push me to be the best player I can be."
Coming out of his own film study, Uiagalelei said he was impressed with offensive coordinator Brian Lindgren and his play-calling. He liked that Oregon State quarterbacks line up under center in a pro-style offense and he saw similarities with the systems used by Los Angeles Rams coach Sean McVay and San Francisco 49ers coach Kyle Shanahan.
This was the fifth practice of spring camp and there is one more session on Saturday before the team takes time off for spring break. He started studying the playbook and terminology as soon as he arrived in early January and he took part in informal throwing sessions with the other quarterbacks and some of the wide receivers. These practices have been his first opportunity to get together with the whole team.
"Every day I feel like it's getting better and better. … Learning a new install, then going back, watching the film and learning from it. Ultimately, you're going to make mistakes every day, so the biggest thing is not trying to make the same mistake twice. Learn from mistakes and keep going, keep pressing," Uiagalelei said.
Stadium update
Thursday's practice was held at Reser Stadium and sound of construction was constant throughout. The most noticeable progress since the last stadium tour was the installation of all the seats on the lower section of the west side. In addition, much of the glass for the club seating areas has been installed. On Thursday, workers were active on the upper level where the coaching boxes and press rooms will be located.