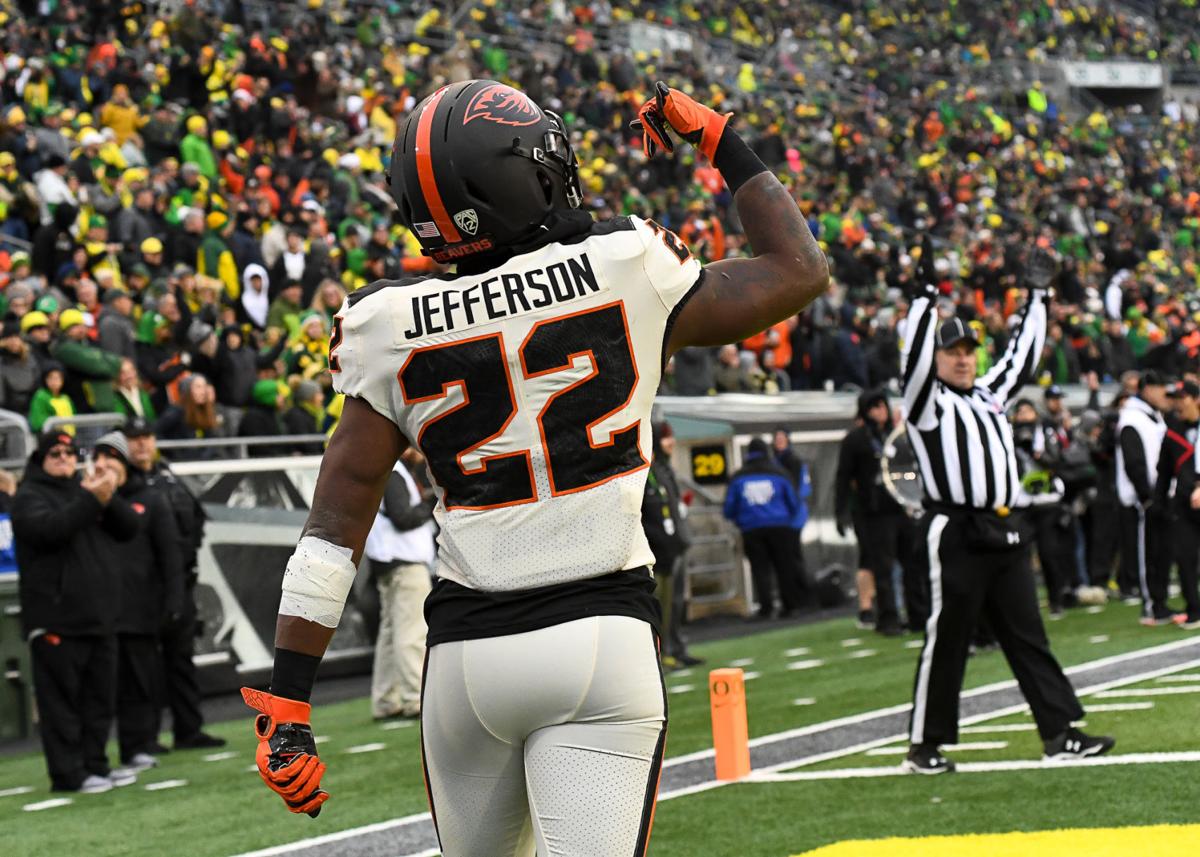 The Pac-12 on Friday unveiled its revised plan for the 2020 college football season. 
Teams will play a conference-only schedule, with each school slated to play 10 games — five home, and five away — with a bye week scheduled in as well. The conference schedule is set to begin Sept. 26. 
For Oregon State, that means carrying over the conference opponents the school was scheduled to play prior to the coronavirus pandemic, while also adding Colorado to its schedule. The Beavers will open the season at home against California on Sept 26 and host UCLA the following week. Kickoff times have not yet been announced. 
"We have built a scheduling model that is flexible but today's announcement is not a guarantee that these games will be played," Oregon State vice president and director of athletics Scott Barnes said in a press release. "As has been the case, we will continue to look to the local health authorities to guide our decisions on all practices and competitions." 
The scheduled bye week for each team is also intended to serve as a "flex" date for any potential games that need to be rescheduled.
Of note, for the first time since 2003, Oregon State will not finish its regular season schedule against Oregon. The Beavers and Ducks will instead face off at Reser Stadium on Oct. 17.
The Pac-12 championship game, which was originally scheduled to take place at Allegiant Stadium in Las Vegas as part of a two-year agreement, will not be held at a neutral site, and the agreement to play in Las Vegas will be delayed. Rather, the championship game will take place on the campus of whichever team ends the regular season as the higher seed and be held either Dec. 18 or 19.
The Pac-12 also announced Friday that starting Aug. 3, teams will transition from voluntary workouts to 20-hour weeks of mandatory workouts. During those hours, coaches are able to work directly with players during meetings, workouts and walkthroughs. Barnes said the Beavers will begin mandatory practice and meetings next Monday and begin walkthroughs on Wednesday. 
Barnes also said Oregon State is "working towards" beginning its training camp on Aug. 17 — the first date teams are allowed to do so. That would leave the Beavers with 25 days between their first day of training camp and their season-opener against Cal. 
"We're continuing to have conversations with the local health authorities on that and feel like we'll be moving forward there," Barnes said. 
While there is now a road map for when and how a Pac-12 football season could take place, those in charge of making it happen still admit there is a long way to go before games are actually played. 
In a conference call with reporters Friday, conference commissioner Larry Scott said he is "cautiously optimistic" that there will be a season and says he feels obligated to give the Pac-12's student every chance of having one. 
The conference has not yet determined a defining standard for if and when teams would need to cancel a game in the case of an outbreak, according to Oregon State senior associate athletic director of sports medicine Doug Aukerman. 
Barnes admitted that if Oregon State is not able to have fans at home games, the school will be facing a large revenue hit. The school has projected losses of anywhere from $8.5 million, to $50 million in revenue depending on the severity of lost ticket sales and television revenue — the later of which could occur if the school did not play any games at all this season. 
"Without fans, it's a multi-million dollar hit on top of what we've already taken," Barnes said. "There are things we're doing to — if we aren't playing with fans — try to generate some other revenues."
Even with the most thorough of plans in place, much of what occurs this season will be outside the control of the AD's and conference powers-that-be. 
"It will be a challenge," Barnes said. "We'll take it one day at a time and hopefully get to the end of this. All of the protocols in place, we're gonna need a little luck along the way."
The Pac-12 CEO Group also approved conference-only scheduling plans for men's and women's soccer, women's volleyball, and men's and women's cross country, with competition to start no earlier than the weekend of Sept. 26. The first permissible date of practice for these conference-sponsored sports will be Aug. 15.
Be the first to know
Get local news delivered to your inbox!