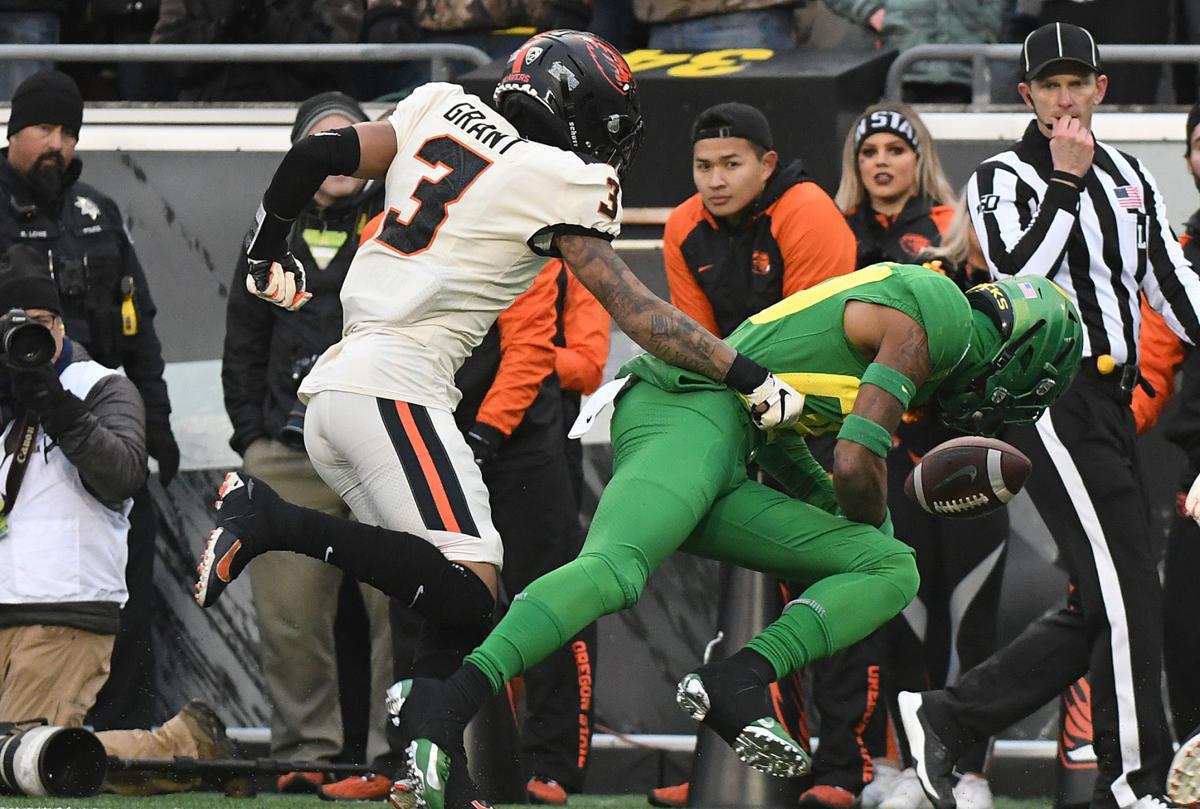 Saturday will be a big step for Jonathan Smith and his staff as they evaluate the Oregon State roster in the early part of the season. 
"I'm anxious to see what it looks like tomorrow." Smith said. "It's going to be pretty similar to other scrimmages we have. Try to get turns for really everybody."
The Beavers are exactly a week into fall camp, and having been practicing in full pads since Wednesday. Smith was complimentary of his team's physicality on Friday and said he is particularly pleased with the way the defense has been flying to the ball. 
This weekend will give him and his staff a more in-depth look at where the Beavers are at physically.
"Actually putting the ball down and making it live, that changes things a little bit," Smith said. "So I want to see us be able to tackle. Break some tackles. Ball security is always something new the first time you're really going live. We'll see where some of these young guys fit in. This will be an opportunity to take that next step in evaluation."
That will include a few live reps on special teams. 
The Beavers had a shorter practice on Friday than they did during the rest of the week, and introduced some two-minute situations. 
When asked which players have looked noticeably more athletic this fall, Smith quickly noted Jaydon Grant as someone who has stood out. 
"I think Jaydon Grant looks more physical," Smith said. "I think he's in a pretty good space in regards to his weight, strength, and explosiveness."
On Thursday, Grant talked about OSU's improvement in the secondary — and his optimism with the Beavers' ability to generate more turnovers this season. 
"Every single day we're working on taking the ball away. Every single meeting, we're talking about how we can take the ball away. Improving ourselves in certain places where we can take the ball away, then capitalizing on our opportunities to take the ball away. This year we should definitely see a lot more takeaways from our defense, specifically our secondary."
Smith also mentioned Kolby Taylor and BJ Baylor as players who look more athletic this fall. 
No news on Lowe or Harrison
The Beavers are still awaiting word on whether Trey Lowe or Tre'Shaun Harrison will be eligible to play this year. Both have applied for eligibility waivers. 
Lowe, who transferred from Washington, and Harrison, who transferred from Florida State, each joined the Beavers in January 2020. 
"We're definitely anxious to find out," Smith said.  "I think we're confident that we should have an idea here before our first game, which would help us in our planning purposes."
Opt-out updates, or lack thereof 
When asked which players have elected to opt out of playing this season, Smith said OSU will not be disclosing names of players who do so. The school wants to allow those players to share the news themselves. 
"Our stance is that we're here to support everybody who has opted out and everybody who has opted in and is playing," Smith said. "The number is not very big. We've got 95 percent of our roster out there. But there are a few select guys who for different reasons have made that choice and we support them."
Jarrid Denney can be reached at 541-521-3214 or via email at Jarrid.Denney@lee.net. Follow him on Twitter @jarrid_denney
Be the first to know
Get local news delivered to your inbox!