It didn't take Oregon State football coach Jonathan Smith long to make his move after running backs coach AJ Steward announced in mid-January that he would be taking on a similar role at Baylor.
Within days, Keith Bhonapha was announced as the new assistant head coach/running backs coach at Oregon State. Smith and Bhonapha had experience working together as assistants at Boise State and at Washington, and the former colleagues are together again in Corvallis.
Bhonapha, who spent the 2022 season as an assistant at Boise State after serving from 2014 to 2021 at Washington, said it wasn't an easy decision to leave the Broncos for a second time. He had previously been the running backs coach at Boise State from 2009 to 2013.
"It's not just cut and dried that you're coming to Oregon State because it's the Pac-12 or anything like that. Obviously for me, getting the opportunity to work with coach Smith again and knowing some of the stuff that they were able to do here at Oregon State this past season and the culture that was built. Because this didn't just start last season. This started when coach Smith got here, I think in 2017. At that time, I was at the University of Washington and I've seen this team, this program, get better year after year," Bhonapha said.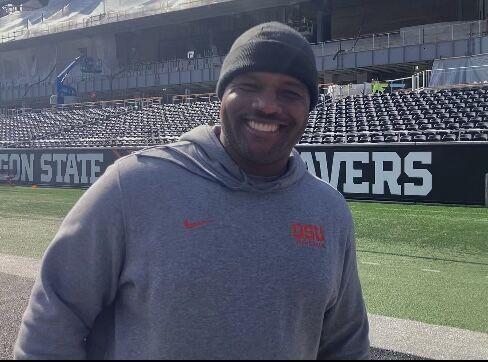 Smith is excited about the opportunity to have Bhonapha join the staff at Oregon State.
"I've known Keith for a long time, worked with him for six years at Boise and at Washington," Smith said. "I think Keith brings some added dimension on the special teams side, leadership-wise he's going to be an assistant head coach around here because again, I've got background with him, I know what he's all about when it comes to culture, development, coaching and developing players."
Bhonapha takes over a running back group which is loaded with talent and experience. Damien Martinez ran for 982 yards as a freshman despite not moving into the starting position until midway through the year. He almost certainly would have crossed the 1,000-yard mark had he not suffered a minor injury early in the Las Vegas Bowl and been limited to just three carries before sitting out the rest of the game.
Deshaun Fenwick decided to return to Oregon State for his redshirt senior season after running for 553 yards last season on an average of 4.9 yards per carry. Redshirt junior Jam Griffin (488 yards, 5.7 average) is also back, along with redshirt senior Trey Lowe and redshirt sophomore Isaiah Newell. Lowe missed almost all of last season to injury.
Bhonapha was asked about his approach to distributing playing time and carries with such a deep group. He said it is far too early for him to have any specific plan in place, but his belief is that you can never have too much depth.
"You do want to make sure you can keep guys healthy. One thing everybody thinks about is 'I want to be the guy.' But guys get tired. You want guys to hold onto the ball. You want guys to stay healthy. You want to wear defenses down. So to have the depth that we have and the bodies that we have and the experience that we have is really fun," Bhonapha said.
Martinez said Bhonapha quickly established a good relationship with the players.
"Coach Keith, he's really himself. He lets everyone be themselves. You want to be better and work for somebody like that," Martinez said. "He's definitely reinforcing what we already have but he's definitely trying to make some new keys, stuff we can do. He's worked with a lot of agility backs and stuff like that, so he's definitely trying to get that part of our game up."
After last season, Martinez was named to the All-Pac-12 First Team and was listed as a Freshman All-American by numerous organizations. He said this success did help him believe in himself and his ability to play at this level.
"Going into the season, I wouldn't say I didn't believe in myself but I didn't think I could do the things I was doing. So just having more belief in myself and knowing I can do those things," Martinez said.