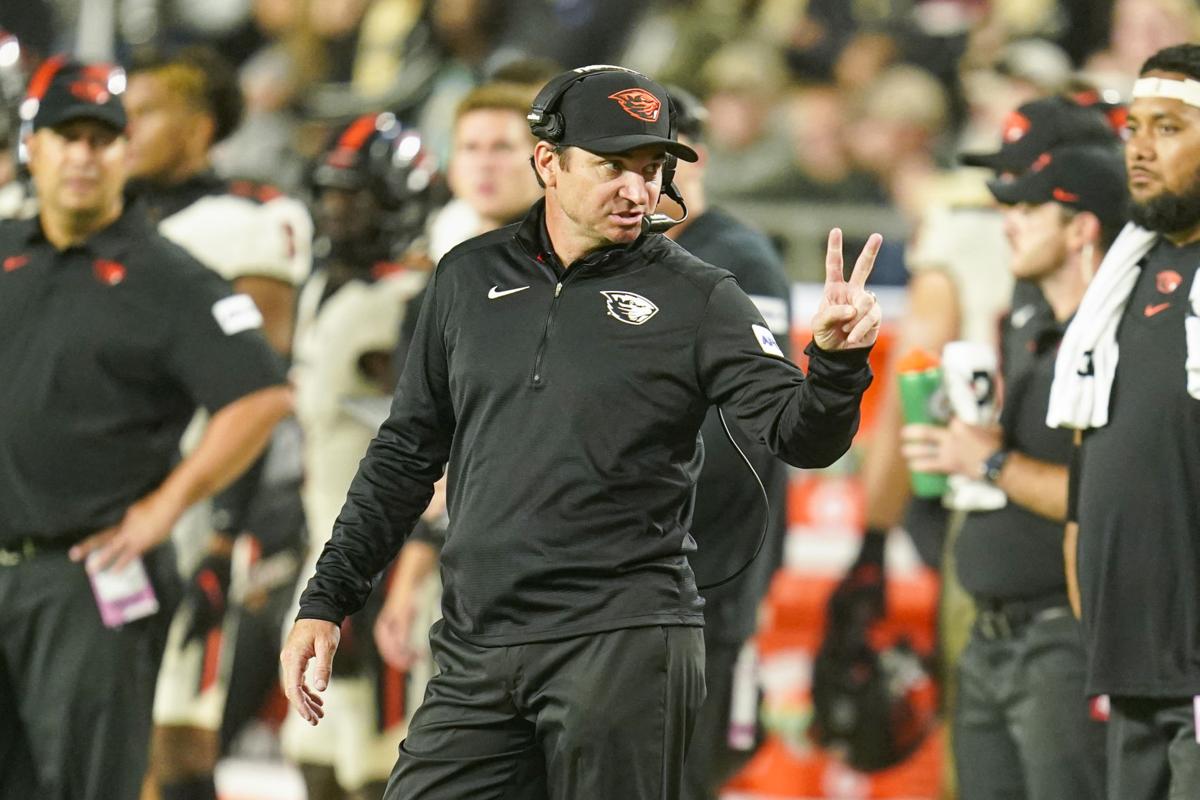 Oregon State has picked its starting quarterback for Saturday night's football home opener against Hawaii, but you might have to wait until kickoff to find out who will be taking those first snaps.
Beavers coach Jonathan Smith said after Thursday's practice that the starter has been announced to the team.
"I'm just like, a small advantage? Maybe, maybe not," Smith said on holding back on publicly naming the starter. "But we know what we're doing. That's where it's at."
That's likely to be Sam Noyer, who started in last week's loss at Purdue, or Chance Nolan, who entered the game late in the third quarter and led the team to 14 points in the 30-21 defeat.
Tristan Gebbia, who started the first four games last season at quarterback, continues to recover from a hamstring injury that held him out of part of training camp and took him out of the competition, which also included true freshman Sam Vidlak. Gebbia had surgery on the hamstring after being injured last year. Nolan started the Beavers' final three games in 2020.
Smith said Gebbia participated in a limited fashion at the start of Thursday's practice.
"We're trying to progress it. It's not a lack of effort, but he's not that close," the coach said.
OSU outside linebacker Addison Gumbs, who has struggled to stay healthy in his three seasons with the Beavers, remains out indefinitely after a training camp injury.
Smith said defensive lineman Keonte Schad (knee) will play against Hawaii. Defensive back Elijah Jones has a chance to play after missing the last few weeks with an injury.
"We're going to kind of watch it a little bit. He got more and more reps through the week," Smith said. "So not 100% certain, but potentially Jones plays."
Support local news coverage and the people who report it by subscribing to the Corvallis Gazette-Times.
Early start to season
Hawaii (1-1) already has two games under its belt, with a 44-10 loss at UCLA on Aug. 28 and last Saturday's 49-35 home win against Portland State.
Smith was asked whether the Rainbow Warriors might have an edge because they've played one more game, or maybe Oregon State has the advantage because it has more game film to study of this week's opponent.
"I think there's a leg up when one team has played a game and the other hasn't played," the coach said. "We've played one game, they've played two. I don't know if that's a huge advantage either way."
Back at home
Oregon State is looking for some momentum after starting the season 0-1. The potential path to a bowl game would likely have to include a win against the Hawaii.
A fast start Saturday would be a big step in getting the Beavers headed in the right direction.
"It's always big, and yeah, coming off a disappointment the previous week. I will say, we talk to our guys a lot, college football is a long game," Smith said. "Whether we start fast the way we want or not, you've got to play four quarters. But definitely, get back home in front of a great crowd and the excitement and enthusiasm to get the game started right would be awesome."
Smith said it's been "a long time coming" having home fans in Reser Stadium. Oregon State last played a home game in front of its supporters on Nov. 16, 2019, against Arizona State, nearly 22 months ago.
"Looking forward to it, because it makes a difference when you get your home crowd going," he said. "The noise, the energy, third down and the chainsaw's going, that's what college football is all about."