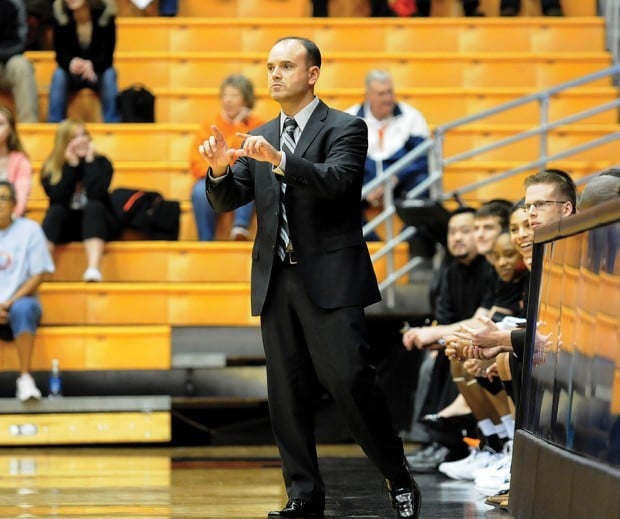 Scott Rueck had a monster job ahead of him when he took over the reigns of the Oregon State women's basketball program back in June 2010.
The Beavers had fired coach LaVonda Wagner after a pattern of player defections that left Rueck basically starting from scratch.
Shoot, he and his staff were still trying players out for spots on the team just prior to the start of his first season.
The Beavers, obviously, were in for a long season. And they had one, finishing 9-21 overall and 2-16 in the Pac-10 Conference.
But the foundation was forming.
Despite the numerous losses, that negative feeling that had surrounded the program the previous season had dissipated.
The Beavers, at 12-7 overall and 3-5 in the Pac-12, have made huge strides again this season as they head into Saturday's 4 p.m. Civil War game against Oregon in Gill Coliseum.
Those records could be even more impressive if not for a couple near misses.
While the Beavers have already surpassed their win totals of a year ago, the biggest change is in the atmosphere that surrounds the program - from the inside.
You can see how hard they play for themselves and their teammates.
It all starts with the way their coaches interact with them.
"I think one of the deepest things that's at the core of humanity is wanting to be known as a person and feel like you have a purpose," junior Sage Indendi said. "And everybody on this team feels like they have a purpose and they're here for a reason and are contributing."
That goes for the five players who have started all 19 games, as well as the players on the bench.
"Even if you're not getting 40 minutes a game, you're a role player, you feel like you matter," Indendi said. "It's really hard not to go places with a program when you bring that kind of style and philosophy to the game."
It was a style and philosophy Rueck incorporated at George Fox, where he compiled a 289-88 record over 14 seasons. That includes a 32-0 campaign and Division III national title in 2008-09.
Indendi was a member of that team before deciding to step away from the game.
She said Rueck has brought the same atmosphere to OSU. It's a reason that helped make returning to basketball a lot easier for her.
"That's why I always wanted to make sure I was playing for Scott Rueck, because I knew that I mattered, knew that I was going to get better," she said. "He never lets you feel like you're not going places. Even if the win and loss record doesn't show that, that's not important right now because he's building a foundation for this school."
Rueck isn't doing it all on his own. Assistants Mark Campbell, Eric Ely and Megan Dickerson, who was with Rueck at George Fox, have also played key roles in the turnaround.
They follow in Rueck's footsteps in all facets.
"I feel like they actually believe in us and they care," senior Earlysia Marchbanks said. "They care about us and I think that's really important to instill that confidence in us as a player. They always set you up for success. This is your best shot, we're going to run this play so you can get that shot off.
"They know everyone's strengths, know everybody's weaknesses and they work to make you better."
Indendi couldn't agree more. She said the staff works well together.
"Everybody just compliments each other and when you're not hearing Scott, you're hearing Megan, and when you're not hearing Megan, you're hearing Mark, and when you're not hearing Mark, you're hearing Ely," she said.
"Everyone is always contributing all the time. That's what the culture is becoming with this team: everybody contributes."
Treating the players as if they matter and working with a positive atmosphere are all well and good, but there does come a time when you need to find success on the court to continue to buy in to that philosophy.
And the Beavers have been able to find that success this season.
They are coming off a huge win at USC last Saturday, the first time the Beavers have defeated a conference team with a winning record under Rueck.
"They believe 100 percent that we can be in every single game and that just kind of rubs off on everybody else," sophomore Alyssa Martin said. "We know that no matter who we're playing it's going to be close, whether it's Stanford or Oregon, which are two totally different teams, you know that you have a chance to win every single one of them."
It was the Stanford game this season that may have helped the most, even though the Beavers lost a 67-60 heartbreaker to the fourth-ranked Cardinal at Maples Pavilion.
"To be able to play with the best in the country, in order to do that you have to do the dirty work and so that means spending long days on the road, lots of recruiting," Indendi said. "That's why it's cool because you know you're part of something that's going places. To be in the first couple years of that is really cool to say. It's an honor and privilege to be able to play for Scott again, and for all the coaches."
Ah, recruiting. The coaches have searched far and wide to find players who will fit in both on and off the court. Before the season began, several players mentioned just how well the team had already jelled with six new players.
And next year's incoming recruiting class was ranked in the top 30 in the country at times.
That shows the players how hard the coaches are working and gives them extra incentive to bring their best performance each day in practice.
"Whenever we see a coach gone you kind of feel like there's a loss," Indendi said. "You notice that there's somebody missing because they contribute so much and it's so important that their presence is there but you know they're out there doing what they need to do."
And for this program, that has been changing the feeling inside as well as with the fan base.
It began with a no-nonsense approach of saying this is who we are, come be a part.
So far it has worked and received rave reviews.
"You could just tell all the coaching staff is sincere and that this is how things we're going to run and that was the way it was going to be," Martin said.
"They all compliment each other. It's just a great coaching staff."
Be the first to know
Get local news delivered to your inbox!