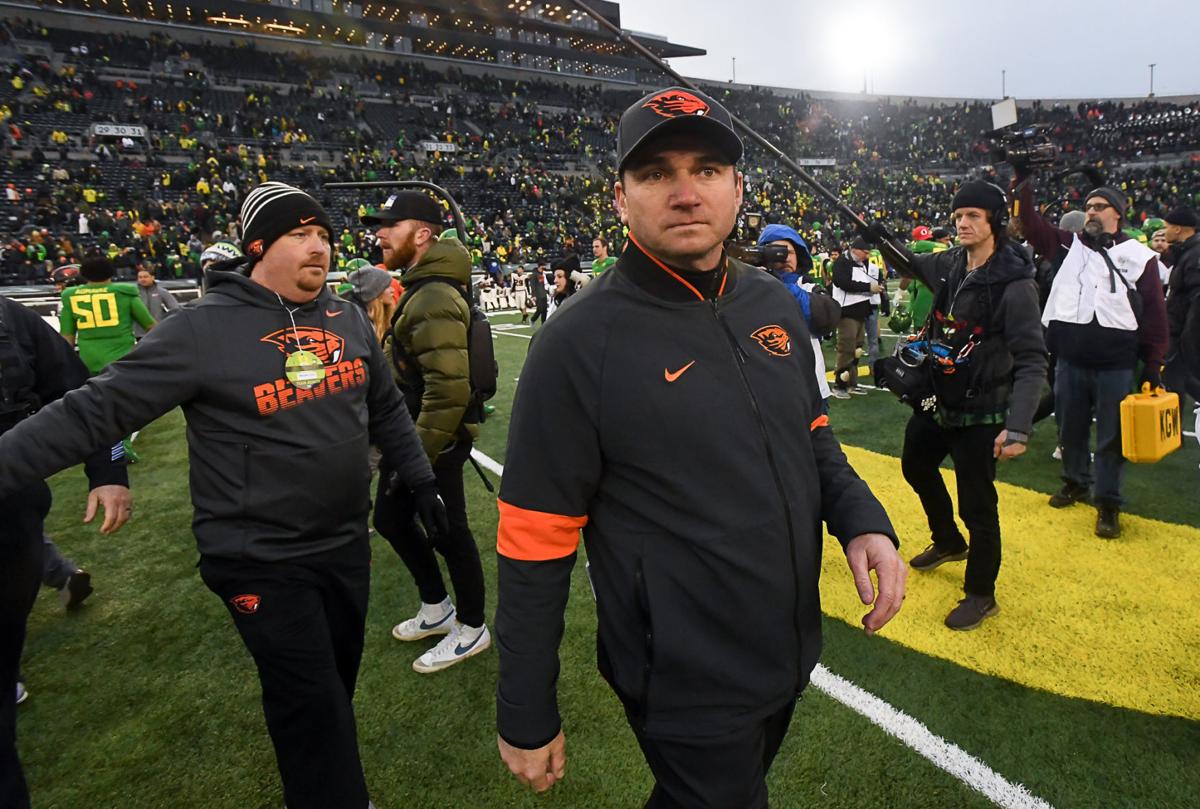 ROSE (roz) n. One of the most beautiful of all flowers, a symbol of fragrance and loveliness. Often given as a sign of appreciation.
RASPBERRY (raz'ber'e) n. A sharp, scornful comment, criticism or rebuke; a derisive, splatting noise, often called the Bronx cheer.
• ROSES to the Oregon State football team. While Beaver Nation was undoubtedly disappointed when this year's squad fell short of the sixth win needed to earn a bowl game invitation, OSU's long-suffering fan base has to be heartened by the team's growth this season.
Second-year coach Jonathan Smith led the Beavs to a 5-7 record, a three-win improvement over last season's 2-10 mark and better than many prognosticators expected. Even though the team let some winnable games slip away, several of those losses were tantalizingly close – none more so than the 54-53 loss to the Washington State Cougars, a game the Beavers were leading with just 4 seconds to play.
Even in the final game of the season, Saturday's 24-10 loss to Oregon in the Civil War, the Beavers had a chance to upset the Ducks until a fumble late in the game sealed their fate. When the season started, few observers would have predicted that Oregon State would be able to go toe to toe with UO.
It's frustrating to come so close to earning what would have been OSU's first bowl berth in six years and still not get the job done, but Beaver believers can take comfort in the fact that the team appears to be moving in the right direction.
• RASPBERRIES to norovirus, the nasty little bug that sickened hundreds of children in Albany. The outbreak started at Periwinkle Elementary School, where 109 students stayed home sick on Nov. 22.
A highly contagious gastrointestinal infection, norovirus causes a host of unpleasant symptoms including vomiting, diarrhea, fever, chills, body aches, coughing and a stuffed-up or runny nose.
Sometimes referred to as the stomach flu, norovirus is readily spread through exposure to body fluids from an infected person. The illness is most contagious when symptoms are present, but people who have had the virus can still pass it on to others for two weeks or more after they recover, according to the Centers for Disease Control and Prevention. And because there are many different strains of norovirus, it's difficult to build up immunity even after you've been sick.
You have free articles remaining.
Faced with the possibility of a rapidly spreading outbreak, Greater Albany Public Schools officials were forced to close first Periwinkle and then every other school in the district so the buildings could be thoroughly disinfected.
The Mid-Willamette Valley YMCA and Boys & Girls Club of Albany also closed some programs after children went home sick.
• ROSES to Greater Albany Public Schools. District officials responded quickly and decisively to protect children after more than 100 kids came down with norovirus at Periwinkle Elementary School.
After consulting with Linn County public health officials, district administrators made the difficult but correct decision to shut down all its schools during Thanksgiving week to protect students (not to mention teachers, staff and parents) from further exposure.
And an extra-large bouquet goes to the custodial staff who did the hard work of sanitizing all the district's buildings to make sure the virus wouldn't sicken anybody else when schools reopened this week.
Their efforts seem to have paid off: Only 12 students called in sick at Periwinkle on Monday.
• ROSES to the cast and crew of the annual Christmas pageant at Suburban Christian Church in Corvallis.
In a holiday tradition that dates back more than four decades, members of the local disabled community come together every year to tell the story of Christmas (the event was hosted for many years at First Presbyterian Church before relocating to Suburban Christian in 2017).
About 40 actors and singers with disabilities combine their talents and rehearse for weeks to put on a spirited and moving performance that comes straight from the heart.
This year's pageant took place Wednesday night. As always, the performance was free and open to the public.
"It's just a gift to the community from the folks who are performing," longtime organizer Judy Winkler said. "They love to have people come and enjoy the show."
And roses are also due to Winkler and the small army of dedicated volunteers who pitch in to ensure this heartwarming holiday tradition endures.