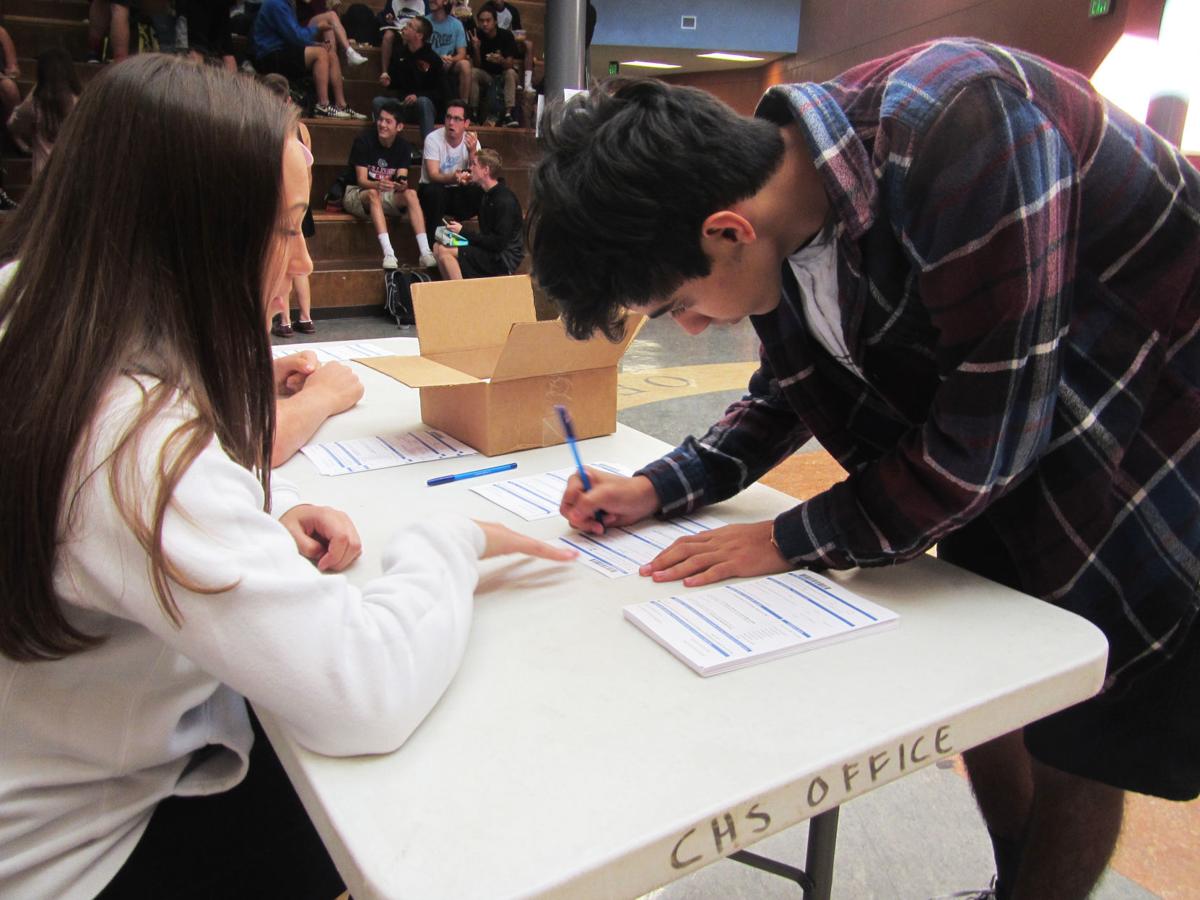 Oregon voters may get a chance to decide whether to amend the state constitution to lower the voting age from 18 to 16. If the measure passes the Legislature, and if voters approve it, Oregon would be the first state in the nation to lower the voting age to 16. 
Democratic state Sen. Shemia Fagan's Senate Joint Resolution 22 would refer the question to voters in 2020; voters have to approve any constitutional change. At a press conference, Fagan said, "It's time to lower the voting age in Oregon and to give our young people a chance to participate in the ballot, about their decisions that affect their homes, their clean air, their future, their schools and as we've seen, their very lives." 
According to a news story from Oregon Public Broadcasting, Fagan referenced the young Florida activists who became politically engaged after the Parkland school shooting, in which 17 people died. She said that proves that young people are politically active and should have the right to vote.
There's no doubt that young people can be politically active, and that's wonderful. But it doesn't necessarily follow that they should have the right to vote. 
This proposal in Oregon is part of a nationwide surge in efforts to lower the voting age. Since 2003, the Statesman-Journal newspaper reported, proposals to lower the voting age have been floated in 13 states, but none has passed. A few weeks ago, a California legislator introduced a measure to drop the voting age in that state to 17. Berkeley allows 16-year-olds to vote in school board elections. Some states allow 17-year-olds to vote in party primaries, if those young voters turn 18 before the general election.
Oregon is among 14 states that allow 16-year-olds to register to vote, in preparation for the day when they turn 18 and can legally exercise the franchise.
Nationally, the voting age dropped from 21 to 18 in 1971, when the 26th Amendment to the U.S. Constitution was ratified. At the time, the Vietnam War was raging, and it seemed ludicrous that American youths not old enough to vote were old enough to die in combat.
(The state of Oregon played a big role in the federal action: In 1970, Congress passed the Voting Rights Act Amendments, which required states to register citizens between the age of 18 and 21 as voters. Oregon objected to the lower voting age, and filed suit. In a 1970 decision, a 5-4 majority of the Supreme Court ruled that Congress could set requirements for voter qualifications in federal elections — but a different 5-4 majority ruled that Congress could not set those requirements in state and local elections. The push for the 26th Amendment followed, and in March 1971, Congress passed it. By July 1971, the required 38 states — facing the hassles and expense of maintaining separate voter rolls — had ratified the amendment.)
A countervailing trend has been at work since then: On some fronts, we have rolled back the rights that 18-year-olds used to have in the United States. They can no longer buy cigarettes or legally purchase or consume alcohol. They cannot use a tanning bed without medical and parental approval. The reasoning behind some of these decisions is that the teenage brain sometimes makes foolish decisions.
But those brains are old enough to vote? You can see the tension here. 
Consider this as well: By and large, 16-year-olds in Oregon don't pay property taxes. If they have a job, of course, they're paying some income tax, but in terms of taxation, they don't yet have a lot of skin in the game.
Despite the growing ranks of political activism among some teenagers, we have yet to see much evidence to suggest that most young people are particularly engaged in the local and state races that are so important. And our political system already allows plenty of opportunities for engagement for even the youngest participants. We don't see a compelling case yet to lower the voting age to 16. (mm)