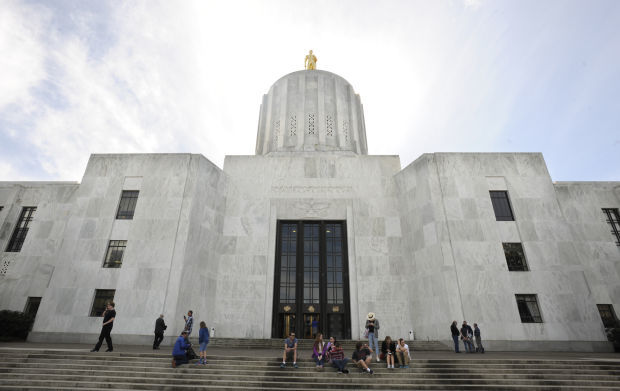 Here are excerpts from selected editorials that have appeared recently in other Oregon newspapers:
The Medford Mail Tribune, Sept. 25, on death penalty legislation:
A potentially flawed law passed by the 2019 Legislature that limits application of the death penalty took effect Sunday without a fix, potentially allowing already convicted death-row inmates to avoid execution if they are retried or resentenced after appeals. That's not what the Legislature intended, and it's unfortunate that lawmakers could not agree to amend the bill in a special session. Ultimately, Oregon voters should be asked to revisit the death penalty for all cases.
Gov. Kate Brown had said she would call a special session to amend the bill if lawmakers could agree on a fix that could be enacted in a single day. Bill supporter Sen. Floyd Prozanski, D-Eugene, said he had agreement in the Senate, but House leaders could not line up enough votes.
Abolishing the death penalty entirely would require a vote of the people. Oregon voters reinstated capital punishment by constitutional amendment in 1984 after the state Supreme Court declared it unconstitutional.
In 2011, Gov. John Kitzhaber declared a moratorium on executions, and Brown continued it. Only two people have been executed in Oregon in the past 50 years, and both of those defendants withdrew all appeals and asked that their death sentences be carried out. As of Jan. 1, there were 30 people on death row, according to the Oregon Department of Corrections.
Rather than put the matter to a vote again, majority Democrats this year narrowed the definition of aggravated murder — the only crime punishable by death in this state — to include only terrorist acts that kill two or more people, killing police officers or children younger than 14. Previously, killing more than one person or killing someone during a rape or robbery were also included. The 2019 bill reclassified those crimes as first-degree murder with a maximum sentence of life without parole.
Supporters of the bill intended it to apply only to new cases going forward, but the state Justice Department issued an opinion saying the new law could apply to previously convicted defendants who were granted a new trial or re-sentencing.
District attorneys and lawmakers who opposed the bill pushed for a special session to clarify the intent. Some House Democrats, however, argued that the bill didn't need to be fixed, including Rep. Jennifer Williamson, the bill's other chief supporter.
Contributing to the failure to agree, according to Prozanski, was a lack of trust between members, between the House and Senate, and between outside groups such as the District Attorneys Association.
The poisonous atmosphere lingering after two walkouts by Senate Republicans surely didn't help matters.
Brown was right to call off the special session without assurances it would succeed. But the overall issue of the death penalty in general remains unresolved.
There are compelling reasons to abolish the death penalty entirely. The most persuasive of all is the real possibility that the state could wind up executing an innocent person. But that debate needs to involve all Oregon voters, not just lawmakers. Trying to restrict the death penalty by redefining aggravated murder is fraught with problems, as this mess illustrates.
Death penalty opponents should put the matter to the people, and make the case to voters.
Vocational education
The Astorian, Sept. 17, on the education system:
Setting educational policy should follow the old adage, "It takes all sorts of people to make a world."
The leadership philosophy of administrators and governing boards essentially determines how much priority our public schools give to vocational education.
Some want to push as many students as possible toward higher-level academics-focused education, ideally at four-year institutions.
More enlightened ones, however, have already concluded that is not the path for everyone.
Thus it is pleasing to see that North Coast school districts are realizing that society needs to make vocational education a priority.
Thanks in large part to funding from the voter-approved Measure 98, career-technical classes are becoming more and more a feature of curricula.
As Edward Stratton recently reported, this has meant construction in Jewell, welding in Knappa, automotive in Warrenton, agriculture in Astoria and culinary arts in Seaside.
Warrenton's automotive and metal fabrication classes are a particularly good example — moving ahead in a new career-technical building being constructed next to the high school.
In Astoria, we lamented the loss of the agricultural program some years ago and are delighted that the class and its accompanying Future Farmers of America chapter is being revived.
Seaside's approach is, in large part, an acknowledgement that its community is focused on maintaining a strong hospitality industry and its course offerings should reflect that.
Educational policy tends to swing back and forth as leaders seek the right mix. Decades ago, an illogical stigma developed for the practice in which high school students were sorted into "A," ''B" and "C'' groupings to reflect the subject matter or level of academic rigor in their class offerings.
This practice, sometimes labeled "streaming," fostered the inevitable belief among some observers that students labeled "C'' must be less smart. It led critics to argue that these students were being written off rather early in life. And that created pressure to switch gears and place all students together — an inevitable recipe for failure.
Later, more enlightened educational researchers concluded the opposite. Not all students demonstrate the same aptitudes, so why not acknowledge that and fashion courses differently? Those destined to work with their hands as well as their minds clearly need a different path. Such efforts can begin in public schools then continue with apprenticeships and technical classes.
All this effort is sparked by a desire to improve Oregon's appalling graduation rates — too often among the worst in the nation.
While we are still lagging, the approach has seen some noted improvements.
Measure 5 in 1990 essentially hobbled educational funding when it capped property taxes and made Oregon schools more reliant on income tax revenue, which fluctuates considerably. The state has been suffering ever since.
As Stratton reported, North Coast school districts have invested Measure 98 funds on easing the transition into high school, adding tutoring while increasing staff efforts to track students' progress. Research shows that a successful freshman year is crucial to smoothing the route to graduation. We dream of the day when the graduation rate is 100% — and commend all efforts to make that happen.
Across the river in Washington state, community leaders are pressing for similar approaches. Some months ago, Long Beach Peninsula builders supply store Oman's presented the Ilwaco High School shop teacher with thousands of dollars of tools to boost his program. Year-round, company leaders serve with others on a vocational liaison committee to help guide thinking on this strategy.
The neighboring Naselle-Grays River Valley School District is a fine example of a district with high expectations for every individual student.
Among the two dozen graduates of the Class of 2019 at Naselle High School, some were destined for college degrees, while others were looking at training in nursing or graphic arts. Still more were signing up to train to become power company linemen or entering the workforce.
At graduation, their accomplishments and chosen paths were applauded with equal vigor because in Naselle the belief is that every Comet should soar.
It is a philosophy the best educational leaders all embrace.