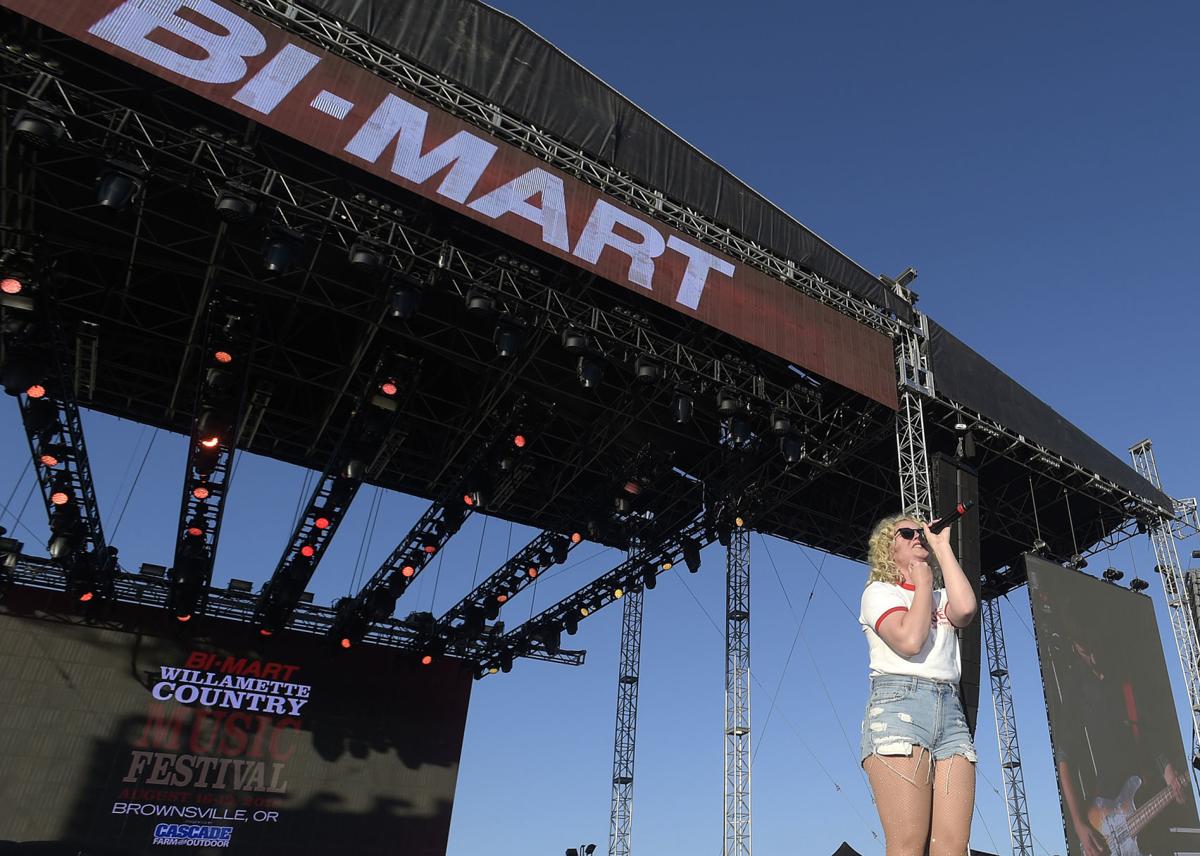 A growing number of vendors say they haven't been paid by the Bi-Mart Willamette Country Music Festival, which was held in mid-August. On the list of unpaid vendors: the Linn County Sheriff's Office, which is waiting on $77,000 in reimbursements, according to Sheriff Jim Yon.
The nonpayment issue also extends to the festival's sister event, the Country Crossings Music Festival, held in July near Central Point in southern Oregon. Unhappy vendors from that event have created a Facebook group, "Country Crossings/Bi-Mart Country Music Festival Vendor Communications," to voice their concerns.
According to Medford-area television station KDRV, Bi-Mart is no longer the main sponsor of the Country Crossings Music Festival, and the company's name and logos have been removed from both events' websites.
Bi-Mart officials did not respond to a call for comments from the Democrat-Herald. Nor did a representative of IMG, an arm of William Morris Endeavors, which owns both festivals.
Sue Ravera, owner of Susie Q's Sweet Things Mini Donuts from Bend, said the Brownsville festival owes her $8,000.
Ravera said her company has worked the Brownsville festival for several years with a net-30-day payment contract. This year's festival was held in mid-August and Ravera has not received any remuneration.
"It used to work pretty well," she said. "We would settle up every night. Last year they went to their own point-of-sale system and there have been problems since. They got greedy."
Festival patrons receive wristbands that allow them entrance, but they also contain computer chips that allows them to charge purchases via the wristband.
Ravera said her business, which she has owned since 2011, "is not a hobby."
"It's our livelihood," Ravera said. "We work the State Fair, the Sisters Rodeo and high-end catering."
Rivera said there were about 40 vendors at the Brownsville festival and if none was paid, the losses could amount to hundreds of thousands of dollars.
The owners of Chop Chop Chicken Sundaes of Portland told the Linn County Sheriff's Office told the festival owes them $4,000. Calls to the company from the newspaper were not returned.
The events come a week after Linn County Commissioners Roger Nyquist, John Lindsey and Will Tucker were notified that former event director Anne Hankins was no longer in charge. The commissioners also heard from Sheriff's Office staff that the 2018 event was the worst since the festival began more than a decade ago, in terms of altercations and intoxication of some patrons. At times, extra deputies had to be called to the event, Lt. Michelle Duncan said.
Calls for service at the festival have tripled from 2013 to 2018, she said, increasing from 55 calls to 136 calls this year.
The event has a five-year mass gathering permit, but must meet annual reviews. Festival organizers also hope to move the event from Brownsville to a farm near Harrisburg.
"It's disappointing," Sheriff Yon said. "We entered into a contract to provide services and we did our job. We submitted a bill right after the festival ended and we didn't hear anything."
Yon said deputies hand-delivered another bill two weeks ago and he still hasn't received payment.
"We're going to wait and see what they do," Yon said. "We will continue to put pressure on them to get our money. This is a reimbursement for staff services. We do not want our local taxpayers to foot this. If need be, we will take this to county counsel. We're confident they will pay this bill."
Commissioner Nyquist said he's been contacted by two vendors, reporting they are owed nearly $100,000.
"We haven't heard from anyone from IMG (International Management Group) yet," he said. "Our role, focus and code speaks to health, safety and welfare, and although we amended the county code a couple years ago to include some financial responsibility components, we don't require any kind of bond."
Nyquist added that "at this point, we don't know what we have. We have a permit for an event that is directed by Anne Hankins, who is no longer with the festival and it is for property that no longer plans to host it. We have an incomplete application to hold the event near Harrisburg and we have to act on that permit within 150 days. We've been waiting to hear from someone and we haven't."
Nyquist said he is "very concerned about this situation for the communities and the small business owners involved. From day one, I have had reservations about the nature of this event, the whole business model, but for me, what was persuasive was the positive financial impact for the small business owners and the community organizations."
Nyquist called it a "hard and disappointing situation."
Contact Linn County reporter Alex Paul at 541-812-6114.
Be the first to know
Get local news delivered to your inbox!