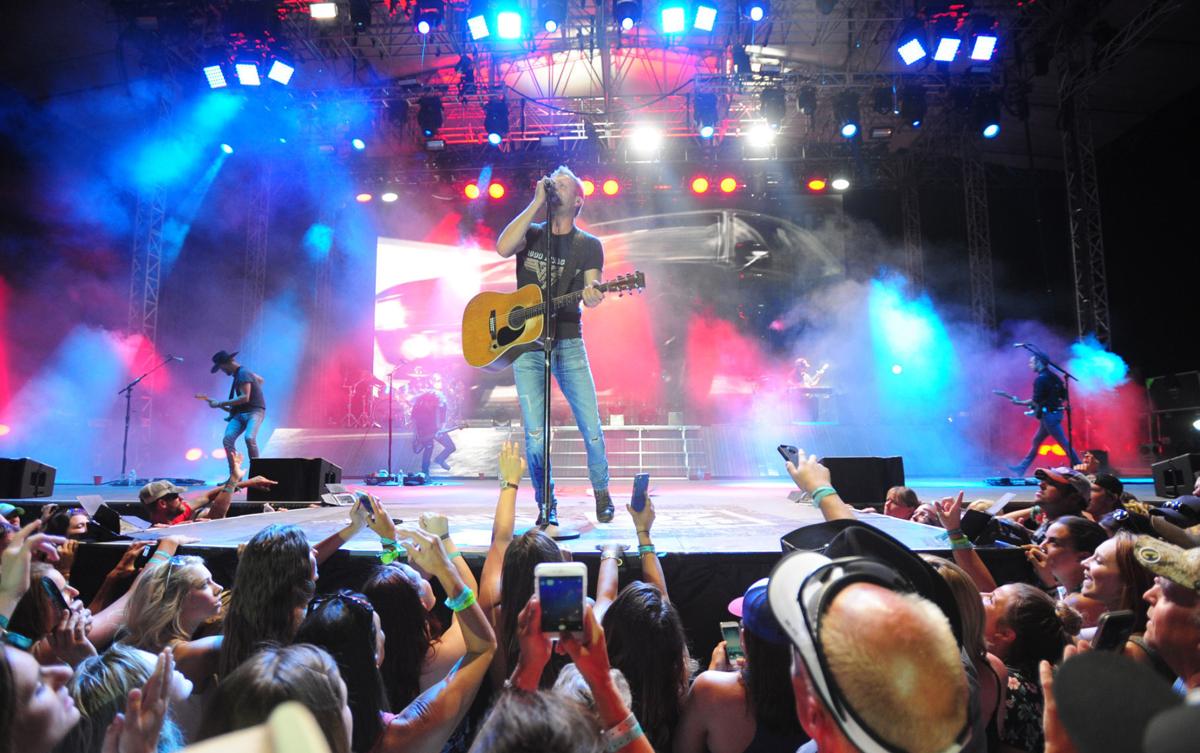 SWEET HOME — It has been nearly two decades since Robert Shamek could take his family camping on the last weekend of July.
For the last five years he has been the director of the Oregon Jamboree music festival held this time of year and he was a volunteer for 14 years before that.
But Thursday morning — due to the cancellation of the festival because of the COVID-19 pandemic — Shamek and his family were packing their RV and heading out of town.
"It's surreal," Shamek said. "For the last 19 years this has been a crazy time for us. We are usually very busy with the Jamboree."
In "normal" years, Sweet Home's streets would be festooned with signs directing traffic toward and away from the sports fields behind the high school, where more than 15,000 country music fans would gather.
Those signs are missing, as are the myriad hand-written yard sale signs that usually pop up for the three-day event.
Highway 20 would be jammed with cars, trucks and RVs as country music fans made their way into town to find their camping spots.
Jack Legg Jr. and his wife, Lisa, own Dan Dee Sales, a sporting goods store in Sweet Home.
Usually, they would be selling outdoor chairs, plastic swimming pools and sunglasses to Jamboree fans.
"It's going to be a quiet weekend," Jack Legg said. "There will be several businesses affected. We will focus on people coming to town to enjoy our beautiful lakes. They have been full on weekends all summer."
Legg said some Jamboree fans decided to come to town even though the festival was cancelled.
"They had their camping reservations already made and decided to come anyway, get together with friends and have fun, which is nice," he said.
Before the festival's cancellation, ticket sales were brisk.
"We had a good year in 2019 and it looked like 2020 was going to be even better," Shamek said.
Shamek said cancelling the event means school district programs will see $30,000 to $40,000 in lost revenue. Students earn money for their high school activities delivering water and ice and arranging for shower facilities.
This year's headline acts were going to be Dierks Bentley, Dustin Lynch and Old Dominion.
Shamek said he keeps in touch with several of the performers, such as Cloverdayle.
"They are going to put a virtual show on our Facebook page," Shamek said.
Festival fans who want to stay in touch with their favorite summer show can also view a series of short videos that feature local people who helped launch the Jamboree and music fans who offer stories about events over the years.
McFarland Productions worked with the Jamboree's Katie Schrock to produce the short videos that will run through Sunday.
"This is a lot of fun and a lot of people don't know the history of the Jamboree," Shamek said. "A bunch of people came into our office and told their stories. There are many heartfelt memories told on these videos. It's something different. We wanted to do something to keep the Jamboree family engaged."
Shamek said he is already finalizing contracts for the 2021 entertainment lineup.
Police Chief Jeff Lynn said that his staff is usually in full swing this time of year.
"We usually have spent a lot of hours planning, and it's all hands on deck over the weekend," Lynn said. "We block out the dates, and no one takes vacation. Everyone works together, and we get a lot of help from our neighbors in Lebanon, Linn County Sheriff's Office and Oregon State Police."
Even though it is a lot of work, the Jamboree is missed.
"The Jamboree is a fantastic event for our community," Lynn said. "It's good for local businesses and it's a positive thing for our town. I hope it comes back next year even bigger and better."
Public Works Director Greg Springman said his crew's work is usually done by this time during Jamboree week.
"We assist by placing barricades and cones, and that's usually done by Thursday afternoon or Friday morning," Springman said. "We also assist if there is a problem with the water system on the Jamboree grounds or if there is an accident somewhere that affects the Jamboree."
Springman said Sankey Park is usually filled with people for the Jamboree and installation of new playground equipment there might have complicated the issues this year.