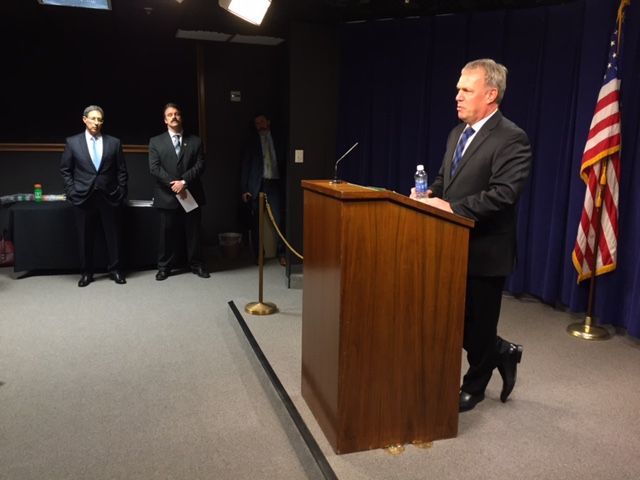 The State of Oregon on Monday filed a Motion to Dismiss in Linn County Circuit Court, hoping to derail a $1.4 billion breach of contract lawsuit filed in March by the Linn County Board of Commissioners.
The state's motion was enjoined by the Wild Salmon Center, Pacific Rivers, Association of Northwest Steelheaders and Northwest Guides and the Northwest Guides and Anglers Association.
In early March, commissioners Roger Nyquist, John Lindsey and Will Tucker filed a lawsuit naming the State of Oregon, specifically the Oregon Department of Forestry, with failing to maintain adequate timber harvests on nearly 700,000 acres of State Forest lands. Therefore the state failed to provide counties with adequate annual payments for timber sales within their boundaries.
Linn County's lawsuit is based on the contention that when the state took over the lands starting in the 1930s — much of it cut-over timber properties in tax default — they were to be managed in a way that provides the greatest permanent value to the counties.
The interveners contend that this value means for the state as a whole and not just the individual counties. They add that a 2006 opinion by the Oregon Attorney General concluded the "state does not have a contractual duty to elevate timber payments above other priorities, when managing state forests."
But over the years, especially since 1998, those lands have been managed with growing emphasis on other issues such as environmental health and recreation.
Ralph Bloemers, staff attorney with the Crag Law Center, is representing the conservation and fishing interests in the case.
"There are huge gaps in Linn County's complaint, which fails to even mention that for over 50 years state law has noted the importance of fisheries, wildlife and watershed protection, erosion control and recreation," Bloemers said in a prepared statement. "There is no sound legal basis for Linn County to seek $1.4 billion in additional payments from the people of Oregon and for this reason the groups have moved to dismiss the case."     
Ian Fergusson, who serves on the board of directors of the Association of Northwest Steelheaders, said the lawsuit threatened to undermine years of effort to find a balanced approach to forest management.
"Our group has been working with the citizen-members of the Board of Forestry to balance timber interests with fish conservation and other values.  This lawsuit threatens to derail efforts to find collaborative solutions that protect the salmon and steelhead that spawn and rear in state forest waters," Fergusson said. "The main reason coho salmon are still on the threatened species list is because freshwater habitat on the North Coast is badly degraded. More logging, more roads, and more herbicide spraying will only make it worse."
John DiLorenzo of the Portland-based law firm of Davis Wright Tremaine represents Linn County and challenges the environmental groups.
"Bob VanDyke, the Wild Salmon Center and other proposed interveners are wrong," DiLorenzo said. "We are not challenging the GPV rule or the state's timber policy that follows that rule. That is a choice that the state made at the urging of special interests, which included the proposed interveners. This case does not seek an order from any court to force the state to do anything.  Therefore, the interveners have no role here."
DiLorenzo said the crux of the lawsuit is that the state's decision breached its contract with 15 counties and almost 150 special districts. 
"That, in turn, imposed incredible social costs on the residents of rural Oregon — costs like loss of employment, family disruption, strains on public safety systems, economic and social costs felt by schools, community colleges, recreation programs, emergency response and loss of opportunities for kids," DiLorenzo said.
"This case is all about those costs. Those who control our state government can make whatever choices they wish. They can listen to whichever special interest groups they want," he continued. "But if they breach our contract, they owe us the money. This case seeks to address the incredible economic costs which urban centric decision makers have visited solely upon the shoulders of rural communities.
"It does so by seeking $1.45 billion in damages for the benefit of rural schools, public safety, local governments and rural residents, to make up for the costs which should be shared by everyone, not just rural Oregon."
Contact Linn County reporter Alex Paul at 541-812-6114.