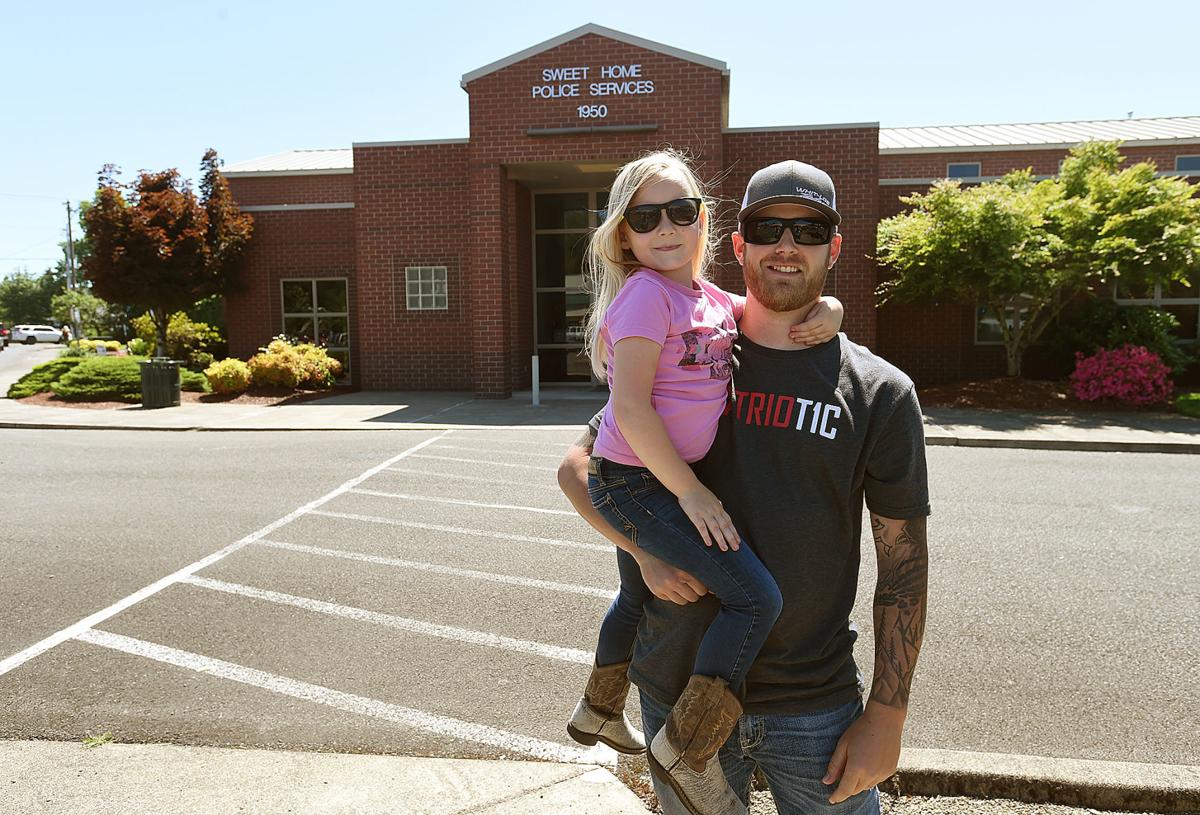 SWEET HOME — A 30-year-old Sweet Home man said he was charged with contempt of court and arrested for refusing to wear a mask in the Sweet Home Municipal Court Wednesday morning.
John "J.T." Kulbeth said that in March, he received a traffic citation for failure to stop for a school bus and a citation for harassment. Due to the the closure of local government offices in response to the COVID-19 pandemic, his court date was pushed out several months.
People taking care of court business are cautioned to wear masks by signs posted at the police department, where court is held.
Kulbeth said that when he checked in with Municipal Court staff, he was advised he would need a face mask. There were also free masks on a table.
Kulbeth, who has lived in the Lebanon and Sweet Home area for about 10 years, said he is susceptible to pneumonia and does not like wearing a mask due to the potential for carbon dioxide retention.
Kulbeth said he arrived at the court about 9 a.m. His scheduled court time was 10 a.m.
He had his 6-year-old daughter, Baylee, with him.
Kulbert said he sat about 10 feet from the closest other person in the large room, which had about eight people in it.
When Judge Larry Blake entered the courtroom, the judge noticed that everyone had a face mask on except Kulbeth.
"He asked me why I didn't have a mask on," Kulbeth said.
Kulbeth said he told the judge about his health issue and was told that unless he put a mask on, he would be charged with contempt of court.
Kulbeth said he decided to leave the courtroom and said he would come back another day or take part in a video conference.
As he was putting his daughter in the car, he saw Police Chief Jeff Lynn's reflection in a vehicle window.
Lynn informed him that the judge had issued a warrant for his arrest and advised him that he should call someone to pick up his daughter.
Kulbeth said he called his wife, who was working in Lebanon, and Chief Lynn waited with him until she arrived.
Kulbeth was not handcuffed in front of his daughter and was walked into the police department by an officer. Once inside, Kulbeth was handcuffed to a bench and underwent a routine intake procedure before being placed in a cell.
He remained in the cell for about 90 minutes and was then released by the judge after setting a new court date of July 22.
Kulbeth said the judge told him if he wasn't wearing a mask and didn't have a note from his doctor as to why he should not wear a mask on July 22, he would again be charged with contempt of court and could spend up to 30 days in the Linn County Jail.
Kulbeth has contacted an attorney and contends the city of Sweet Home does not have the authority to require face masks.
But City Manager Ray Towry said the warrant was not issued because Kulbeth failed to wear a face mask.
"You can't just walk out of court," Towry said. "He needed to get permission from the judge. He just walked out and failed to make arrangements with the staff or talk to the prosecuting attorney. The way he acted was inappropriate in any court."
The Municipal Court is operated by the city of Sweet Home.
Towry met with Kulbeth Thursday.
"It was a good, productive meeting," Towry said. "Mr. Kulbeth questions the judge's authority to hold him in contempt of court, and we respectfully disagree. If he can show me legal authority that differs from our understanding of the law, we will be happy to review it with an open mind."
Be the first to know
Get local news delivered to your inbox!