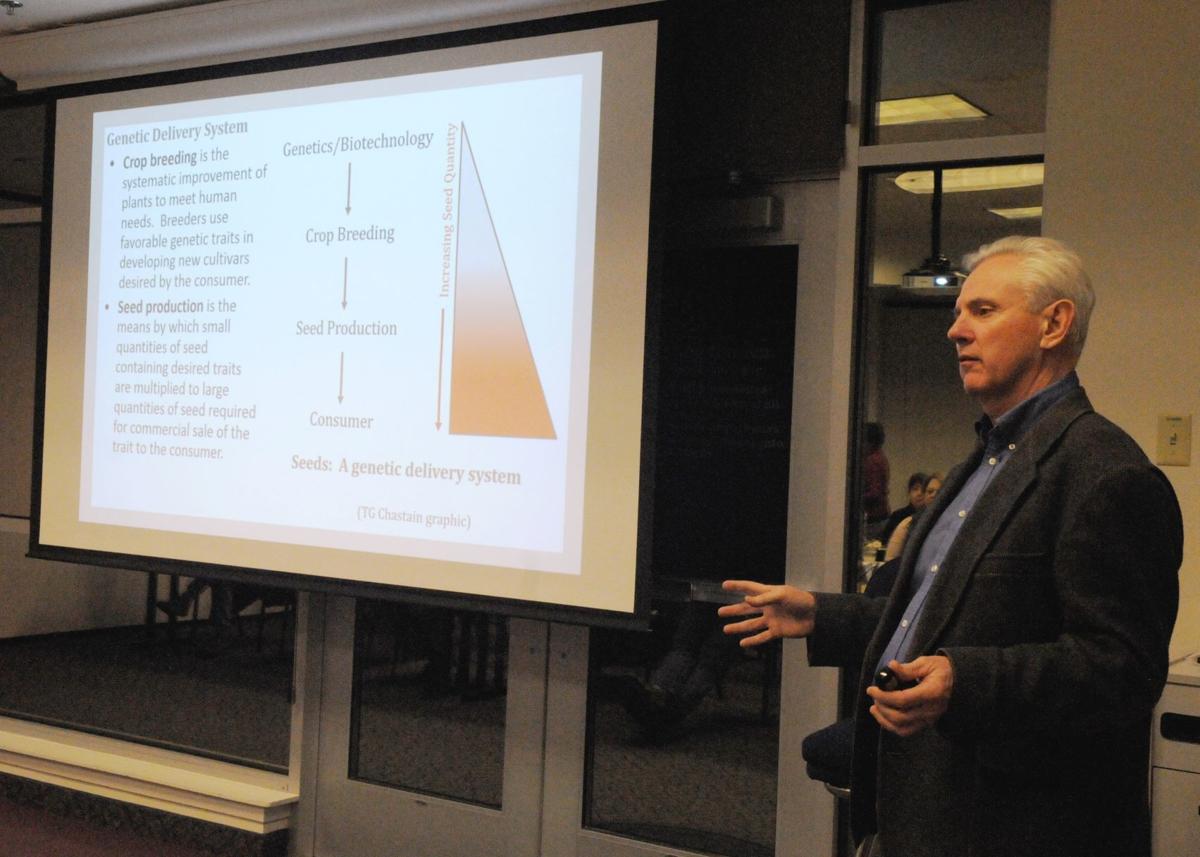 LEBANON — Tom Chastain, associate professor in the crop and soil science department at Oregon State University, received the Educator of the Year Award Tuesday evening from the Linn Soil & Water Conservation District during the group's annual meeting at Samaritan Lebanon Community Hospital.
Chastain was honored for his decades of classroom service — he has taught more than 1,700 students — as well as for his research efforts and collaborative work with OSU Extension agents and mid-valley farmers. He has spent 30 years at OSU and is an associate department head in addition to his teaching and research duties.
He said he is especially proud of the students he has mentored, many of whom who have studied abroad and returned to the mid-valley to share their knowledge.
Although he has no Extension Service appointment, Chastain has worked closely over the years with Extension Service staff members — including former Linn County crops specialist Mark Mellbye — and has authored or co-authored 109 university Extension publications. He also has participated in numerous area field days and grower meetings. At one time, he said, he and Extension staff were working on 17 5-acre research plots.
Chastain was also the night's keynote speaker and focused on why the mid-valley is a world leader in grass seed production.
"Why grass seed?" Chastain asked his audience. "Because seeds are the primary way of delivering crops with favorable traits. Seeds are small and hardy, are convenient to store and transport and are a repository for heritable traits."
Seeds from a relatively small number of plants can be used to multiply inheritable traits worldwide, he said.
Chastain said that Oregon ryegrass farmers have created a $1.6 billion industry in the state.
"Oregon is also the sole producer of sugar beet crops in the United States," Chastain said.
Research has helped Oregon farmers more than double the production yields of perennial ryegrass, tall fescue and chewings fescue over the last 40 years.
The use of plant growth regulators has increased yields of perennial ryegrass by 45 percent, tall fescue by 38 percent and crimson clover by 36 percent, Chastain said.
Chastain said other areas of the country and in fact, other countries, have tried to emulate grass seed production like that found in the mid-valley, but have failed to develop the strong, long-term infrastructure and support systems that will support it.
Mid-valley farmers have fine-tuned not only the production, but the delivery system and marketing of grass seed worldwide over many decades, he said.
Chastain added that one of his current research projects is using 3D optical imaging to study traits associated with seed shattering — the loss of seeds before they can be successfully captured by harvest.
The study is looking at seed growth rate, length of the seed filling period, seed set and progress toward seed maturity.
His work is also using electronic seed moisture content equipment to determine the most optimum harvest timing that will help reduce shatter and increase yields.
Chastain said the increasing number of hazelnut orchards in the mid-valley is a sign that local farmers are diversifying their crops. There are about 80,000 acres of hazelnuts in the mid-valley, but about 600,000 acres devoted to grass seed production, which is more than double the amount of grass seed acreage from just a few decades ago.
David and Lisa Goracke were named Cooperators of the Year, but could not attend Tuesday's meeting.
District technician Kevin Seifert said the Gorackes are always willing to help out with district projects, especially those involving kids.
"They are tremendous cooperators," Seifert said. "They always want to know how they can help. We have held our annual FFA Soils Judging contest on their property and they are involved with OSU joint projects."
Seifert said the Gorackes, "make my job easier."
He said they are also strong supporters of no-till farming and conservationists.
2018 has been a strong year for the Linn Soil & Water Conservation District, said administrator Debra Paul.
The district was founded 72 years ago and is charged with educating the public about water quality issues; advising the Oregon Department of Agriculture about programs; assisting landowners with grant programs and providing technical assistance for conservation practices.
The 62nd annual FFA Soils Judging Contest was held at Marcola High School and had 300 contestants from six schools.
Paul said income was up about $45,000 and the number of projects remains strong.
In the last year, the district has administered 15 contracts for soil and water quality improvement projects and 50 practices on some 500 acres.
The district is working with the Oregon Department of Agriculture on a 20-year monitoring program on Bear Branch Creek near Stayton.
The district's Forest Resiliency program completed 127 acres of brush management; 32 acres of conservation cover; 148 acres of forest stand improvements; 105 acres of weed control; 65 acres of tree and shrub pruning; and 148 acres of residue treatment.