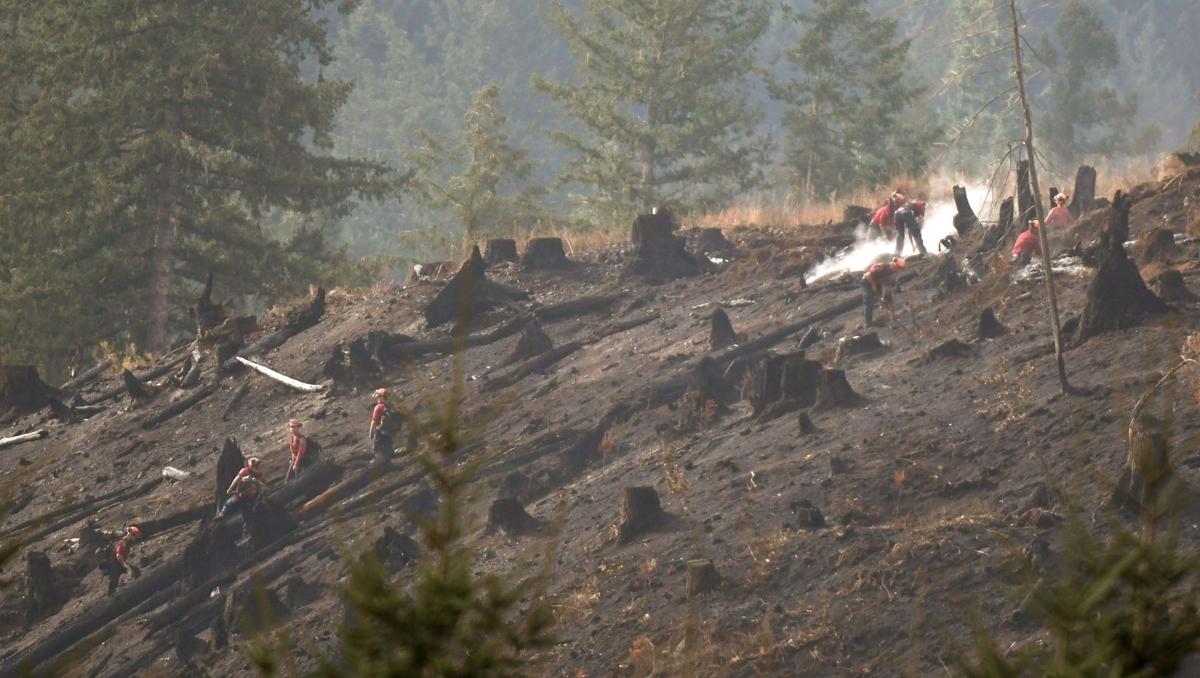 The rebuilding of communities hit hard by recent wildfires — from affluent and urban Napa, California, to rural and economically challenged Detroit, Oregon — will be as varied as the communities themselves, a panel of wildfire experts at Oregon State University told journalists from around the state Tuesday morning via videoconference.
That variety will provide researchers with a broad range of new data from which programs such as fire behavior predictions can be enhanced, members of the panel noted.
OSU participants were John Bailey, who specializes in fuels management for fire risk reduction; David Blunck, who studies the physics of ember transport; Chris Dunn, who studies large fire management; Erica Fischer, who studies how building systems and materials behave in fires; Lisa Ellsworth, who studies how rangeland ecosystems respond to fire; and Jeff Hatten, who studies the effect of fire on soils.
"There are so many unknowns," Fischer said of how long it may take for communities to recover. "Possibly 10 years on average. It's not going to be overnight and it will come in waves and at different speeds. Some towns may not recover, but it will take a really long time."
Fischer said this is an opportunity for communities to use modern planning techniques to reduce the potential of devastating fires in the future. That would include location of homes, landscaping and types of materials used in replacement homes and structures.
She said that in some communities in California, homes were rebuilt in the same areas as those destroyed by fire a few years ago and have burned again in current fires.
"Trying to stop wildfires is like trying to stop hurricanes," Fischer said. "They are natural hazards and will continue to occur."
Fischer said communities can benefit by adopting the international wildland-urban interface code when it comes time for redevelopment.
"Tons of research already exists," Fischer said.
Bailey said some people are trying to pinpoint a single cause of the massive fires, especially in Oregon.
But Bailey said it's not just one thing. It wasn't just the Beachie Creek Fire that was being watched for weeks in the Opal Creek Wilderness Area.
"We get east winds, we get high winds," Bailey said. "We have had a lengthy fire season and, with a longer fire season, fuels become drier."
Bailey said all of the factors likely contributed in some way to the massive fires.
The panelists agreed that when houses and other structures play a significant role in a wildland fire, they can cause a shift in fire behavior because a home and its contents burn differently than trees or underbrush.
Blunck said it will be important to educate people as quickly as possible, while the fires are fresh in their memories.
He said his parents were in a Level 2 evacuation zone, and while they did a good job using hoses to spray their home with water, they didn't think about cleaning gutters, which might be filled with dry needles and could be ignited with flying embers.
Wildfires aren't something most families experience, he said.
Ellsworth said that while fires can be devastating to humans, they can be beneficial from an ecological perspective. Plus, two-thirds of Oregon is not forested but is rangeland, she said.
In the short term, the fires can be harmful to fish habitat, but in the long term, if trees fall into streams, those large woody structures can be beneficial to salmon and other species.
She said it is important to keep fire working within the ecosystem.
Dunn said his brother's home was destroyed by fire in California and, while his home was insured, insurance will only cover about $30,000 of an estimated $75,000 for property cleanup.
Fischer added that there may also be a time lag between when the disaster occurs and when financial aid may arrive from the Federal Emergency Management Agency. Families that are more economically well off may be able to begin rebuilding more quickly than those who have to rely on government assistance.
Fischer said she has been studying the Camp Fire that devastated the community of Paradise, California, two years ago. The community is rebuilding, but property owners are required to remove two feet of topsoil and to complete soil testing.
New urban interface codes are in place there as well.
Hatten said that the fires may contribute to increased winter soil erosion, since soils that have been burned usually don't allow water to pass through them. The water rolls over the top of the soil until the soil heals and becomes permeable again.
He said erosion could increase from 10- to 100-fold depending on soil types, degree of slope and how badly the land was burned.
Be the first to know
Get local news delivered to your inbox!