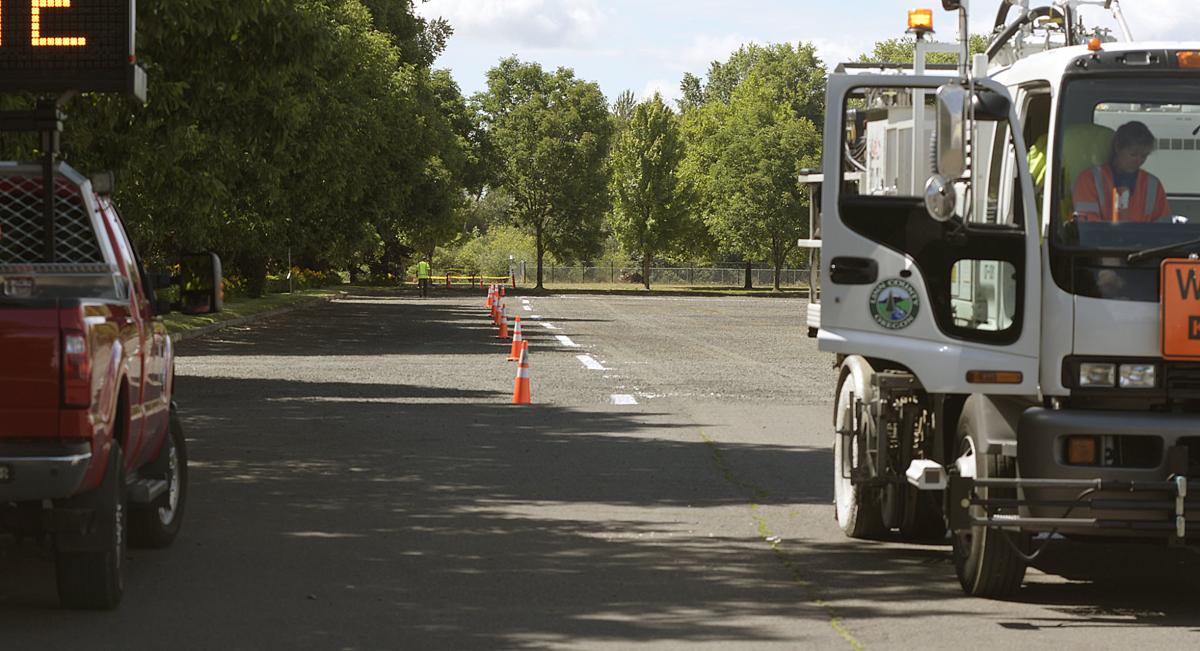 Unless you're going to ride your favorite mule or pony or ox cart to the upcoming Linn County Fair this week, don't try to enter the fairgrounds anywhere but from Knox Butte Road, advises Randy Porter, Linn County Fair & Expo Center director.
In response to overloaded crowds on concert nights, fair officials have changed the traditional traffic patterns, both coming into the fairgrounds and exiting them.
"Livestock trailers will still be allowed to come in from the south, but all other traffic will have to come in from Knox Butte Road," Porter said. "We have been working with Linn County Roadmaster Darrin Lane and believe that the use of three lanes on Expo Parkway will reduce congestion."
Porter said traffic flow would also be greatly enhanced if people who want to watch the four evening concerts could arrive a bit early.
"We usually still have cars rolling in at 9 p.m. for an 8:30 concert," Porter said.
Temporary ramps have been constructed at the south end of the fairgrounds and on the north curb of Price Road/Dogwood that abuts Timber Linn Park, where overflow vehicles will park.
There will be no traffic allowed on Timber Street Southeast. 
Porter said concert reserve seating sales have been solid. He said all of the reserved seats for .38 Special on Friday night are sold, but added, "There is plenty of general admission space available."
This year's concert lineup includes the Artimus Pyle Band, Wednesday; Joe Nichols, Thursday; .38 Special, Friday; and Maddie and Tae, Saturday. Main concerts start at 8:30 p.m. and reserved tickets start at $15, which includes fair admission.
Porter said total attendance last year topped 30,000 and he said the weather forecast calls for no rain and daily high temperatures below 80 degrees.
You have free articles remaining.
"That would be great," Porter said.
A highlight of the 4-H and FFA fair is the annual livestock auction that will begin at 1 p.m. Saturday in the Cascade Livestock Pavilion. A buyers' lunch and registration begins at 11:30 a.m. in the Santiam Building.
Last year's auction set a record with 307 animals, up from 288 in 2017 which also had been a record.
Beef superintendent Kari Holt said about 43 steers will hit the auction ring this year, about the same number as last year.
"The animals will move in Monday and weigh-ins will run from 8 a.m. to 8 p.m.," Holt said. "It's going to be a great fair. We hope lot of people come out and support all of the 4-H and FFA kids who have worked so hard to get their animals and other projects to this point."
Roger Nyquist, chairman of the Linn County Board of Commissioners, said this year's entertainment lineup and the large number of 4-H and FFA projects should offer a lot of fun for area families.
"The weather should be great," Nyquist said. "'Sunny and 75' is one of Joe Nichols' hits and we think it's going to fit."
Nyquist said another highlight of this year's fair is that three major area employers are going to have booths near the fair entrance, looking for employees.
"It is unique to have a number of employers looking to hire people at the fair," Nyquist said. "It's neat to see our local economy revving up. It's a great opportunity for young people to not only enjoy the fair, but also possibly find a job."
Wednesday is military day. All current and past service men and women with military ID admitted free. Thursday is Senior Day 62 and over admitted free, with bingo at 11 a.m. and an ice cream social at 2 p.m.
The Cowboy Blender will start at 6:30 p.m. Wednesday in the Calapooia Arena and barrel racing will start at 6 p.m. Thursday.
Kids Wild and Wooly events will fill the arena starting at 6 p.m. Saturday. Events include mutton bustin', a stick horse barrel race, goat tail tying, calf riding and steer riding. Ages 3-10. 
Contact Linn County reporter Alex Paul at 541-812-6114.