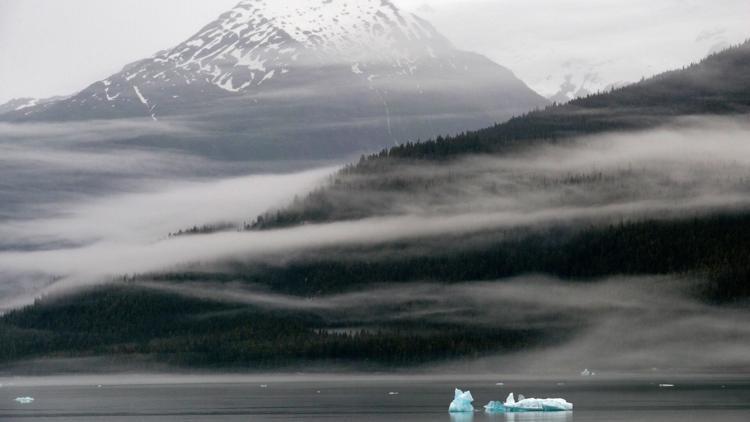 "As of Thursday, it will be legal for logging companies to build roads and cut and remove timber throughout more than 9.3 million acres of forest," The Washington Post reported Wednesday.
Conservation groups vowed to fight the decision.
The U.S. Department of Agriculture said it has decided to exempt the Tongass National Forest, the country's largest national forest, from the so-called roadless rule, protections that ban road construction and timber harvests with limited exceptions. It applies to nearly one-quarter of all U.S. Forest Service lands.
The rule, dating to 2001, has long been a focus of litigation.
The Post, which noted that the federal protections were put in place in 2001 during the waning days of Bill Clinton's presidency, said the rollback by President Donald Trump represents "one of the most sweeping public lands rollbacks" Trump has made during his tenure. The president previously removed acreage from two national monuments and worked to open more federal lands and waters to oil drilling and mining.
The forest, about the size of West Virginia, and region form the world's largest intact temperate rainforest. The area is a vibrant habitat for bear, eagle and salmon, plus towering old-growth cedar, hemlock and spruce. It includes Alaska's capital, Juneau, and 31 other communities.
The area also features "old-growth stands of red and yellow cedar, Sitka spruce and Western hemlock," according to the Post, which said some of the trees "are between 300 and 1,000 years old (and) absorb at least 8 percent of all the carbon stored in the entire Lower 48′s forests combined."
Dominick DellaSala, the chief scientist with the Earth Island Institute's Wild Heritage project, told the Post that although "tropical rainforests are the lungs of the planet, the Tongass is the lungs of North America," adding that the forest is "America's last climate sanctuary."
Here are scenes of Alaska's Tongass National Forest:
Stunning fall drives in every state
Alabama: Fall Color Trail
Alaska: Seward Highway
Arizona: Red Rock Scenic Byway
Arkansas: Pig Trail Scenic Byway
California: Everitt Memorial Highway
Colorado: Guanella Pass
Connecticut: Merritt Parkway
Delaware: Brandywine Valley National Scenic Byway
Florida: Highway 30A
Georgia: Russell-Brasstown Scenic Byway
Hawaii: Honoapiilani Highway
Idaho: City of Rocks Backcountry Byway
Illinois: Illinois River Road National Scenic Byway
Indiana: Ohio River Scenic Byway
Iowa: Loess Hills National Scenic Byway
Kansas: Flint Hills National Scenic Byway
Kentucky: Wilderness Road Heritage Highway
Louisiana: Creole Nature Trail All-American Road
Maine: Acadia Byway
Maryland: Green Ridge State Forest's Scenic Driving Tour
Massachusetts: Mohawk Trail
Michigan: M-22
Minnesota: North Shore All-American Scenic Drive
Mississippi: Highway 90
Missouri: Highway 19
Montana: Loop around Flathead Lake
Nebraska: Heritage Highway
Nevada: Mt. Rose Scenic Drive
New Hampshire: Kancamagus Highway
New Jersey: Pinelands Tour
New Mexico: Sunspot Scenic Byway
New York: Upper Delaware Scenic Byway
North Dakota: Sheyenne River Valley National Scenic Byway
Ohio: Amish Country Byway
Oklahoma: Talimena National Scenic Byway
Oregon: Mt. Hood Scenic Loop
Pennsylvania: Route 6
Rhode Island: Scituate Loop
South Carolina: Cherokee Foothills Scenic Highway
South Dakota: Vanocker Canyon
Tennessee: Cades Cove Loop Road
Texas: Pineywoods Autumn Trail
Utah: Highway 12 Scenic Byway
Vermont: Stone Valley Scenic Byway
Virginia: Skyline Drive
Washington: Cascade Loop Scenic Highway
West Virginia: The Highland Scenic Highway
Wisconsin: Scenic Highway 60
Wyoming: Flaming Gorge-Green River Basin Scenic Byway
The-CNN-Wire
™ & © 2020 Cable News Network, Inc., a WarnerMedia Company. All rights reserved.
Be the first to know
Get local news delivered to your inbox!