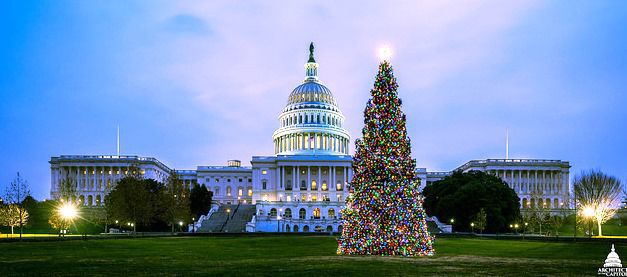 SWEET HOME — The public is invited to help select the 2018 National Christmas Tree, which will be harvested from the Sweet Home Ranger District, Willamette National Forest officials said Friday morning at Sankey Park.
Forest officials called the large tree, along with 70 smaller trees that will decorate other government offices and thousands of ornaments made by Oregonians, "A gift from the Willamette National Forest and the state of Oregon to the people of the United States."
The perfect tree is 65 to 85 feet in height with a conical shape that is visually pleasing from all angles. The tree must be on U.S. Forest Service land in the Sweet Home Ranger District, preferably close to a road that will allow for access for a semi-truck and cranes to harvest the tree.
To submit a potential candidate tree, GPS the location, snap a photo, and send the submission to capitolchristmastree2018@gmail.com, or drop your information off at the Sweet Home Ranger District Office.
Submission deadline is May 2018.
The tree will be displayed on the west lawn of the Capitol Building in Washington, D.C., with a public tree-lighting ceremony in early December.
Every year since 1970, the U.S. Forest Service has provided the Capitol Christmas Tree. The last time a tree from Oregon was chosen was in 2002, from the Umpqua National Forest.
The theme for the 2018 Capitol Christmas Tree is "Find Your Trail!," in recognition of two 2018 anniversaries: the 50th anniversary of the National Trails System Act, and the 175th commemoration of the Oregon Trail.
"We are thrilled to be delivering the 2018 U.S. Capitol Christmas Tree, and we invite all Oregonians to be a part of this special experience throughout 2018 — from making an ornament to exploring the Willamette National Forest with family and friends — in search of the perfect tree to send to Washington, D.C.," said District Ranger Nikki Swanson.
Swanson added that she hopes this year-long Christmas tree event encourages the public to explore the Willamette National Forest.
The tree will leave Sweet Home in November and make stops across Oregon en route to Washington, D.C. The public will be able to follow its journey at www.capitolchristmastree.com.
The public is also invited to participate in an ornament-making event or to make arrangements to host their own event.
Some 10,000 handmade ornaments will adorn the Capitol Christmas Tree and the 70 smaller companion trees. There will be ornament-making events throughout Oregon in 2018.
The first event will take place at 1 p.m. Saturday at the Sweet Home Boys & Girls Club, 890 18th Ave.
The Willamette National Forest invites schools, churches and community groups to contribute ornaments. Templates and instructions will be posted on the forest's website and social media.
Contact Linn County reporter Alex Paul at 541-812-6114.
Be the first to know
Get local news delivered to your inbox!