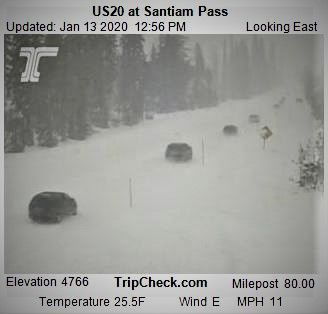 The National Weather Service has issued a winter storm advisory for much of western Oregon that may include measurable snow on the valley floor and "significant" accumulations above 1,500 feet.
Overnight temperatures may dip to the mid-20s, causing some icy road surfaces for Tuesday morning commuters.
"Were cautious and we want to be ready," Linn County Roadmaster Darrin Lane said. "Even if we get snow on the valley floor, it doesn't appear it is going to last a long time. But we are concerned that with temperatures maybe dropping below freezing, there may be some icy patches and it has been too wet for us to apply de-icer."
The best advice for drivers, he added, would be to allow for extra commute time and to slow down.
You have free articles remaining.
The weather advisory is expected to last through late Tuesday evening.
The mid-valley forecast is calling for rain daily until Friday and Saturday, with highs in the low- to mid-40s and lows in the mid-30s. Sunday's high could climb to 51 with a low of 38.
Snow was already accumulating in the Santiam Pass area Monday morning with possible accumulations of up to 16 inches. Travelers are also advised of possible wind gusts up to 40 miles per hour, creating near whiteout conditions.
Drivers are encouraged to visit www.tripcheck.com for live road conditions. They should also ensure their vehicles are prepared for winter travel, their fuel tanks full before leaving home and antifreeze levels and potency checked. Windshield wiper fluid levels should also be checked in addition to the wipers themselves, as well as brakes, emergency lights and heating systems.
Emergency kits are also recommended. Items to place in a 5-gallon bucket or backpack include a cellphone, portable charger and batteries; extra clothing such as hats, coats and gloves; a windshield scraper; a small shovel;  a battery-powered radio; flashlight and extra batteries; first-aid kit; tow chains, rope and tire chains; water and snack food; a tin can, candles and matches; booster/jumper cables; and brightly colored (orange) flag or help signs.