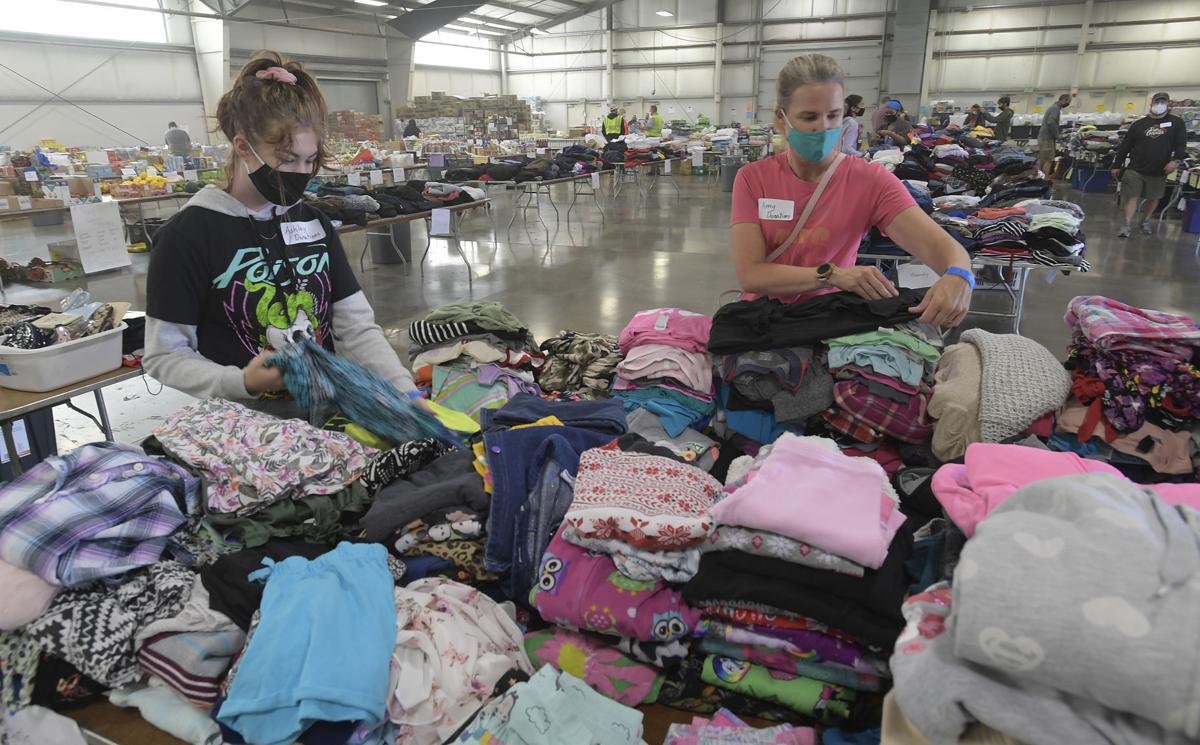 Here is a list of resources for people who have been displaced by wildfires in our area and people who want to donate money, goods or services to help:
AARP Relief Fund: The AARP Foundation has announced a disaster relief fund to support victims of the wildfires across the Western states. The foundation will match contributions dollar for dollar up to $500,000. All funds raised will be directed to organizations providing relief and assistance to those in need. Tax-deductible donations are being accepted through the foundation's secure website, www.aarpfoundation.org/disasterrelief.
American Red Cross and Federal Emergency Management Agency support for fire evacuees: Linn County Expo Center, 3700 Knox Butte Road E., Albany. Anyone impacted by the wildfires and in need of support can call 1-800-RED-CROSS.
Appeal a federal disaster assistance decision: If you believe the decision by the Federal Emergency Management Agency regarding your claim was incorrect, visit FEMA's website disasterassistance.gov.
Apply for a low-interest disaster loan: Wildfire survivors in Oregon who apply for assistance from the Federal Emergency Management Agency can also apply to the U.S. Small Business Administration for a loan. Available are Business Physical Disaster Loans, Economic Injury Disaster Loans and Home Disaster Loans. The deadline to apply for property damage is Dec. 21; the deadline for economic injury is July 20. The application form is available at disasterloan.sba./gov/ela. Information: 800-659-2955, focwassistance@sba.gov or sba.gov/disaster.
Apply for Emergency Forest Restoration Program grants: Linn County owners of nonindustrial private forestland can apply to receive payments to help them carry out emergency measures to restore land damaged by disaster. The signup deadline is Dec. 31. Information: farmers.gov/recover.
Apply for federal disaster assistance: State and federal officials are encouraging Oregon residents affected by the wildfires and straight-line winds to register for disaster assistance with the Federal Emergency Management Agency as soon as possible, even if they have insurance. FEMA's Individual Assistance program for survivors has been made available in Linn, Marion and other counties. Assistance may include grants for temporary housing and home repairs, low-cost loans to cover uninsured property losses and other programs to help individuals and business owners recover from the effects of the disaster. Register at 800-621-3362, disasterassistance.gov or the FEMA app. Low-interest disaster loans from the U.S. Small Business Administration are available to homeowners, renters and businesses. Information: 800-659-2955 or www.sba.gov/services/disasterassistance. Public assistance for emergency work and repair of replacement of disaster-damaged facilities has been made available to counties including Benton, Linn and Marion. All areas are eligible to apply for Hazard Mitigation assistance. The deadline to apply is Nov. 16. Visit FEMA.gov for more information.
Behavioral health helpline: The Oregon Health Authority has announced the launch of a behavioral health outreach and education effort and a new helpline for Oregonians. Portland-based nonprofit agency Lines for Life and OHA have launched the Safe + Strong Helpline at 800-923-4357 (800-923-HELP). The line offers free, 24-7 emotional support and resource referral to anyone who needs it — not only those experiencing a mental health crisis. OHA has also expanded its Safe + Strong education and outreach campaign to include behavioral health resources. Safe + Strong is a statewide outreach effort in 12 languages aimed at reaching communities most impacted by health disparities with culturally relevant, linguistically responsive resources. A behavioral health landing page at https://www.safestrongoregon.org offers mental and emotional support information and resources as well as guidance for how to have conversations with loved ones who may be struggling. OHA has also launched digital, print, radio and community outreach to ensure as many Oregonians as possible know that help is available for them. Target audiences for the campaign include Black, Indigenous and People of Color communities, LGBTQIA+ communities and families with young children, with messaging and materials developed in partnership with community-based organizations. OHA plans to add a community care resource guide, providing information about a variety of mental health resources that are responsive to community needs.
Copies of past tax records: Affected taxpayers who need to obtain copies of Oregon tax records will be able to receive replacements free of charge. To obtain copies of critical tax records on file with the Oregon Department of Revenue, call 800-356-4222. These records may include copies of prior tax returns filed with the department, information returns such as W-2s and 1099s, and notices.
Crisis counseling: The Substance Abuse and Mental Health Services Administration's Disaster Distress Helpline provides 24/7, 365-day-a-year crisis counseling and support to people experiencing emotional distress related to natural or human-caused disasters. Call the Helpline at 1-800-985-5990 or text TalkWithUs to 66746 to speak to a trained crisis counselor.
Disaster Assistance Discovery Tool: Producers and landowners can use the online Disaster Assistance Discovery Tool, answering five questions to identify U.S. Department of Agriculture programs that will help meet disaster recovery needs. Customers can also download a copy of the new "Disaster at a Glance" brochure. For more information on all USDA disaster assistance programs, visit farmers.gov/recover, or contact your local USDA Service Center, which can be found at farmers.gov/service-center-locator. For assistance with a crop insurance claim, please contact your crop insurance agent.
Disaster relief supplies: Hill Street Church of Christ, 1805 Hill St. SE in Albany, is working with the Church of Christ Disaster Relief Effort, Inc., to offer disaster relief supplies to those directly affected by the wildfires. Supplies will be distributed 4 to 7 p.m. Thursdays and 2 to 6 p.m. Saturdays. Eligibility will be determined by validation of residency via a photo ID card, such as a driver's license, that has the bearer's address. While supplies last, the church will offer food boxes with enough for a family of four for four or five days, personal care boxes, infant care boxes and diapers, cleaning supplies, garbage bags, water bottles, tarps, shovels, rakes, mops, box fans and laundry detergent.
Displaced animal database: Thousands of Oregonians, their livestock and their other animals are displaced following the devastating wildfires. Many shelters, private groups and citizens are now housing these animals, some of which do not have known owners. While some of these groups are advertising lost animals on their websites or social media, it can be difficult for the public to know where to look. The Oregon Department of Agriculture has created an online database and website to help. The ODA Animal Tracker, https://oda.direct/AnimalTrack, is meant to assist Oregonians looking for animals displaced during the wildfires. This tracker is not intended to replace existing systems already in place at county animal shelters. In order to make the database work, animal shelters, private citizens and groups caring for animals without known owners can email ODA with information and photos. That information will be added to the database and continuously updated. Therefore, owners are asked to visit often if they don't see their animals listed. If you are caring for animals without a known owner, you can have the animals listed by emailing ODA at animaltrack@oda.state.or.us. The email must include the following information: shelter name and location; shelter phone number; shelter email address; location where animal was found (as much detail as known); species; color; sex; and picture(s) of animals. Livestock photos should show left side, right side, face/head and identifying marks such as brands, scars or ear tags. Pet photos should show the left side, right, face/head and back. If the shelter, citizen or group does not have the means to collect and email this information, call ODA's Brand Inspection program at 503-986-4685 to request help. It is important to remember that it against the law to keep found livestock. If assistance is needed to verify ownership of livestock, call ODA to request the assistance of the local brand inspector (503-986-4685). County shelter links can also be found on the ODA Animal Tracker for owners to search. County shelters will be responsible for ensuring ownership of animals discharged from their shelter.
Donations for victims: One way way to support fire-stricken communities is to provide financial donations to relief organizations actively responding to these disasters. For verified disaster relief organizations, refer to Oregon Voluntary Organizations Active in Disaster at www.orvoad.org.
Donations for victims: Those interested in helping those who have been displaced and severely impacted by the recent fires can contribute to the Linn County Wildland Fire Victims Fund. Contributions will be used for hotel vouchers and medical needs. Checks can be mailed to the fund in care of the Linn County Fair and Expo Center, 3700 Knox Butte Road E., Albany, OR 97322, or in care of the Linn County Treasurer, PO Box 100, Albany, OR 97321. Checks also can be dropped off at the expo center. Checks must include the words "Linn County."
Emotional support resources: The Oregon Behavioral Health Support Line is a free and confidential resource for all Oregonians who are looking for emotional support. Call 1-800-923-HELP (4357). You do not need to be in a mental health crisis to call this line. If you need or want help beyond what the line can provide, you will be connected to those services. This can include community-based services such as housing, food assistance or clinical services. Certified interpreters are also available for those who speak a language other than English. Through this number, you can also connect with Lines for Life (linesforlife.org), a suicide prevention organization with specific resources for youth, military personnel and their families, and those affected by substance abuse problems.
Enroll in health coverage: Oregonians affected by the wildfires can use the federal emergency declaration by the Federal Emergency Management Agency to take advantage of an exceptional circumstances special enrollment period. Applications are being accepted at 800-318-2596 and healthcare.gov. The enrollment period could expire as early as Nov. 15.
Federal Emergency Management Agency Individuals and Households Program Other Needs Assistance: FEMA's ONA program may be able to provide residents with financial help after a disaster after they apply for FEMA assistance. The program provides money for those who qualify for necessary expenses and serious needs caused by the disaster and not covered by insurance. These needs could include transportation, personal property losses, child care, medical and dental expenses, funeral and burial costs, moving and storage, carbon monoxide detectors, smoke detectors and other expenses. If you have already applied with FEMA for Housing Assistance, you don't need to apply separately for ONA. To apply for disaster assistance, call 800-621-3362 or go to disasterassistance.gov.
Find and reunite loved ones: Oregon Emergency Management urges the public to update information on their status with the American Red Cross. Let loved ones know you are safe at the American Red Cross Safe and Well Website. State emergency managers encourage people affected by the fires, whether or not they have evacuated, to register on the site. It is a helpful tool that can bring relief to people looking for loved ones during these fires, and help inform search efforts. Visit https://safeandwell.communityos.org/cms/index.php.
Food and water for wildfire victims: To donate food, water and other items, reach out to your local food pantry to see if they are able to receive donations. Find food pantries at https://foodfinder.oregonfoodbank.org/.
Food options expanded: Supplemental Nutrition Assistance Program and Disaster SNAP recipients can purchase hot or prepared foods from authorized SNAP retailers until Nov. 20. Restaurant purchases are still prohibited.
Free home repair advice: Federal Emergency Management Agency mitigation specialists are available via fema-r10-mit@fema.dhs.gov to answer home repair, rebuilding and hazard mitigation questions, and offer tips and techniques to make homes more hazard-resistant, using proven methods that will prevent or reduce damage from future disasters. Specialists can also assist homeowners with identifying new hazard risks, such as flash flooding, following a wildfire; and suggest actions homeowners can take to minimize damage caused by other natural disasters.
Free telehealth appointment: SAMI-Aid, a telemedicine platform and health care concierge company, is offering free telehealth appointments to those who have been affected by the wildfires across Oregon. Those who have been affected can call SAMI-Aid at 844-726-4243 to redeem a code for a free consultation through a telehealth platform. Information: samiaid.com.
GoFundMe fundraisers for wildfire victims: More than 60 verified fundraisers have been started for Oregon residents affected by the fires. All of them have been added to GoFundMe's centralized hub: https://www.gofundme.com/c/act/oregon-fires.
Health and social services: Call 211 or visit 211info.org to connect with health and social service organizations. These include child care resources, utility assistance, food resources, housing and shelter information and more.
Health Care Heroes Relief Fund: This fund supports Oregon hospital workers who are or become victims of the wildfires. All donations to the fund will be tax-deductible as allowed under law. To donate, visit www.orhealthfund.org.
Immediate foreclosure relief: The Department of Housing and Urban Development's automatic 90-day moratorium on foreclosures of Federal Housing Administration-insured home mortgages commenced for the Oregon counties covered under the presidential declaration on the date of the declaration. For assistance, call your loan servicer or FHA's Resource Center at 1-800-CALL FHA (1-800-225-5342).
Information about donating, volunteering, packing and emergency response agency websites: Visit wildfire.oregon.gov.
Locate manufactured home ownership documents: The Oregon Building Codes Division's online system can provide manufactured home owners with information including the record of ownership, if the documents were destroyed in the wildfires. The Oregon Manufactured Home Ownership Document system is available at https://aca-oregon.accela.com/or_mhods. The system allows people to search for their documents and, once they find them, print or email them. If customers need an existing ownership document mailed to them but are displaced from their home, they can call 800-442-7456 or email mhods.bed@oregon.gov and the division can send it to any address the customer wants. The MHOD system also has forms, application forms and other resources. People can access the records without logging in.
Meals for evacuees: It's On Us Corvallis is partnering with local restaurants, farmers and other producers to provide meals to displaced Oregon residents. Several local restaurant owners are showing community support to neighbors displaced by the fires. IOU is dedicated to reimbursing expenses to whatever extent possible, in an effort to help recoup some lost revenue from yet another economic blow. IOU is asking for donations to support the businesses and producers that participate in donating these meals to evacuees. Donations can be made at https://charity.gofundme.com/o/en/campaign/itsonuscorvallis. To stay up to date on meal distributions, follow It's On Us Corvallis on social media.
Medical equipment and supplies replacements: The Centers for Medicare & Medicaid Services will assist Medicare beneficiaries who have lost or realized damage to their durable medical equipment, prosthetics, orthotics and supplies as a result of the public health emergency. This will help make sure beneficiaries can continue to access the medical equipment and supplies they rely on each day. Medicare beneficiaries can call 1-800-MEDICARE (1-800-633-4227) for assistance.
Oregon Health Plan members: If you have health insurance under OHP and had to leave home quickly due to wildfires, leaving behind important medical equipment or prescriptions, there is a way to get those items replaced. If you have any trouble replacing things like medical equipment, supplies or prescriptions, your coordinated care organization can help. You can find your CCO contact information at http://ow.ly/jprH50BoEAi. If you're an OHP member with an open card, call Member Services at 800-273-0557.
Replacing lost credit cards: Contact your credit card company directly.
Replacing lost credit reports: Equifax, Experian and TransUnion are offering free weekly online reports through April. Information: 877-322-8228 or www.annualcreditreport.com.
Replacing lost driver's license, auto titles and registration, ID cards: 503-945-5000 or www.oregon.gov/odot.
Replacing lost insurance documents: Check with your insurance agent.
Replacing lost medical records: Call your doctor or your medical insurance company; medical and prescription records are tracked electronically.
Replacing lost real estate and property documents: Contact your county government.
Replacing lost Social Security cards: 800-772-1213 or www.ssa.gov.
Replacing lost U.S. tax returns: 800-829-1040 or www.irs.gov.
Special enrollment opportunities for wildfire victims: The centers for Medicare & Medicaid Services will make available special enrollment periods for certain Medicare beneficiaries and certain individuals seeking health plans offered through the Federal Health Insurance Exchange. This gives people impacted by the wildfires the opportunity to change their Medicare health and prescription drug plans or gain access to health coverage on the Exchange if eligible for the special enrollment period. For more information on the Exchange, visit https://www.cms.gov/CCIIO/Resources/Regulations-and-Guidance/Downloads/8-9-natural-disaster-SEP.pdf.
Tax relief for victims of wildfires: If you are a victim of the wildfires and straight-line winds, any penalty and interest imposed for late filing or late payment related to due dates that fall on or after Sept. 7 and before Jan. 15 will be waived if you file and pay by Jan. 15. Information: https://www.oregon.gov/dor/Documents/Wildfire_Relief_FAQ.pdf.
Technical and financial assistance for farmers, livestock producers and private forest landowners: The U.S. Department of Agriculture has technical and financial assistance available to help farmers, livestock producers, and private forest landowners recover from the impact of the recent wildfires. As agricultural producers move into recovery mode and assess damages, they should contact their local USDA Service Center to report losses and learn more about program options available to assist in their recovery from crop, land, infrastructure and livestock losses and damages. The USDA encourages farmers and livestock producers to contact the Farm Service Agency county office at the local USDA Service Center to learn which documents should be provided to help the local office expedite assistance, such as farm records, receipts and pictures of damages or losses. Depending on the operation, the FSA offers a number of disaster assistance programs to help offset eligible losses, including the Livestock Indemnity Program; Emergency Assistance for Livestock, Honeybees and Farm-Raised Fish Program; Emergency Conservation Program; Emergency Forest Restoration Program; Non-Insured Crop Disaster Assistance Program; Tree Assistance Program; and Livestock Forage Disaster Program. Additionally, producers in counties with a primary or contiguous disaster designation may be eligible for low-interest emergency loans to help them recover from production and physical losses. The USDA's Natural Resources Conservation Service also offers programs to help in the recovery process. The Environmental Quality Incentives Program can be used to provide resource protection for areas burned by catastrophic fires. Benefits include preventing soil erosion, minimizing the spread of noxious and invasive plants, revegetating burned areas, removing excess dead vegetation, protecting water quality and restoring livestock infrastructure necessary for grazing management. Producers with Federal crop insurance coverage should contact their crop insurance agent for assistance. Producers should report crop damage to their agent within 72 hours of damage discovery and follow up in writing within 15 days.
U.S. Department of Agriculture assistance for farmers: Oregon agricultural and forestry operations have been significantly impacted by the wildfires, and the USDA has technical and financial assistance available to help farmers, livestock producers and private forest landowners recover. As agricultural producers move into recovery mode and assess damages, they should contact their local USDA Service Center to report losses and learn more about program options available to assist in their recovery from crop, land, infrastructure and livestock losses and damages.
Umpqua Bank relief and support: Umpqua Bank has announced a package of relief and support for communities, customers and associates impacted by the wildfires raging across the West Coast. The bank has committed $750,000 in relief funding to impacted communities. This includes $100,000 for response and recovery efforts. An additional $650,000 is allocated for community organizations helping small businesses and local economies recover. The bank also has activated a 3:1 corporate match for associates donating to nonprofit agencies supporting those impacted by the wildfires, as well as expanded its Virtual Volunteer program to support the Umpqua associates volunteering time and resources to recovery efforts. The bank has activated its Disaster Relief Loan Program to provide impacted customers with quick access to cash as needed, as well as to help them recover financially. Mortgage relief options for homeowners impacted by natural disasters are also being made available, and the bank will work with all impacted customers to defer or waive any costs associated with their Umpqua accounts incurred as a direct result of the wildfires. For Umpqua associates directly impacted by the wildfires, the bank has initiated an emergency assistance fund. In addition to providing direct financial support to these associates, the bank is also providing impacted associates access to a wide variety of services to meet their immediate and long-term needs.
Vital records: The Oregon Center for Health Statistics — Vital Records has issued a temporary rule intended to provide relief from the requirement to pay certain fees for copies of some vital records for Oregonians who have had loss of property or life associated with the wildfires burning in Oregon. The temporary rules are effective through March 1. OAR 333-011-0900 is a new temporary rule that waives the fees for searches, up to three certified copies of vital records, and for "no record" letters if requested by individuals effected by wildfires under Executive Order No. 20-35. Information: 971-673-1185 or Jennifer.A.Woodward@dhsoha.state.or.us.
Get local news delivered to your inbox!
Subscribe to our Daily Headlines newsletter.