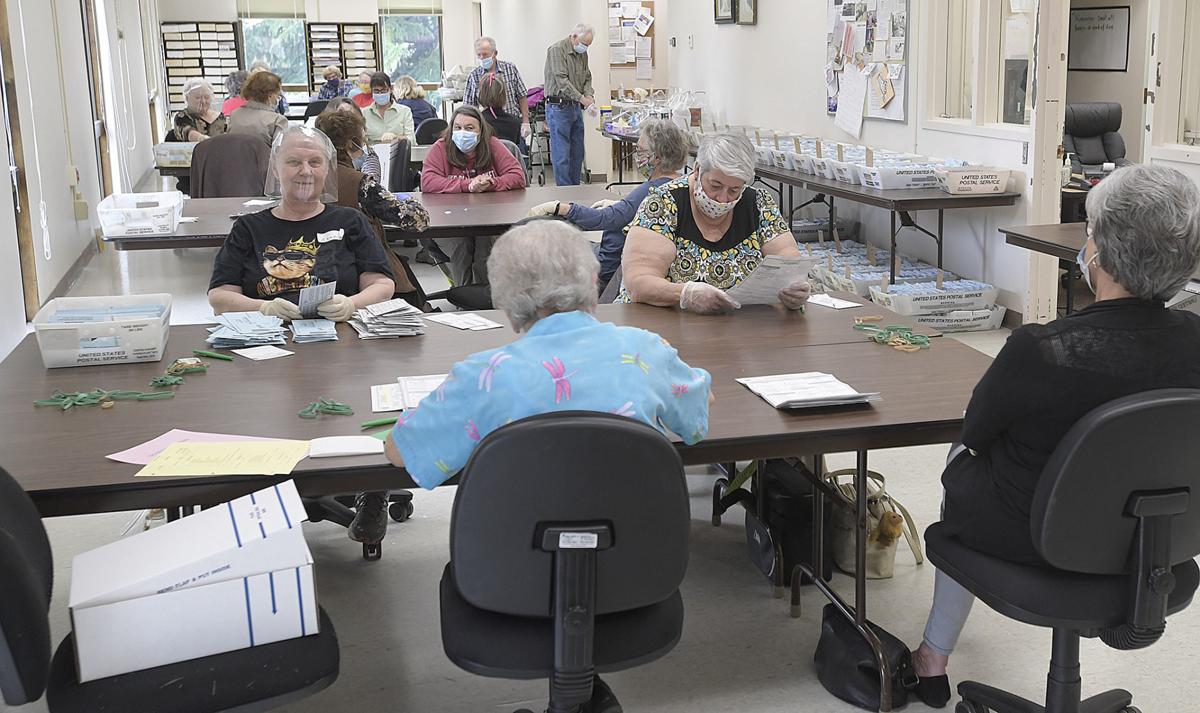 Tuesday is Election Day in Oregon, which means residents have a few more  hours to find a ballot drop box. 
It's too late to mail in ballots, but drop boxes and ballot sites throughout the state remain open on Tuesday, accepting ballots that will determine safety levies, county commission positions and the very last chance at having a say in the presidential primary. 
As of Monday afternoon, the Oregon Secretary of State's Office elections website noted that 30.2% of ballots that had gone out to eligible voters had been returned. That's down from the 2018 election that saw a voter participation rate of 33.91%. 
In Linn County, 24% of voters have returned their ballots, while Benton has seen 26.6% of ballots returned so far. 
Participation statewide is down from a decade ago, when 41.62% of voters returned their ballots, and miles away from the 72.79% participation rate back in 1968. 
This year voters will have the chance to weigh in on the Linn County Commission race, where four Republicans and on Democrat are seeking their party's nomination to compete for Commissioner Will Tucker's seat on the three-member board. They'll also decide whether or not to continue supporting a $1.15 per $1,000 of assessed value levy to support Albany's public safety services. 
The Linn County assessor and surveyor are also on the ballot, along with the justice of the peace position. 
Benton County residents can cast their votes in nonpartisan races for two judge positions and the district attorney, while Adair Village will decide whether to change its charter and create four city wards. 
Party nominations for House Districts 11 and 17 as well as Senate District 12 are also set to be decided on Tuesday. 
A list of ballot drop sites follows, although some buildings where drop boxes are located may be closed due to current COVID-19 restrictions. Additional information on where to drop off ballots can be found at sos.oregon.gov/voting/Pages/drop-box-locator.aspx.
Courthouse lawn on Fourth Street
120 NW Fourth St., Corvallis 
Accessible entrance on Fifth Street
120 NW Fourth St., Corvallis 
180 NW Fifth St, Corvallis 
Timberhill Shopping Center
2543 NW Kings Blvd., Corvallis 
Benton County Sunset Building
4077 SW Research Way, Corvallis 
Drop box in front of City Hall parking lot
6030 NE William R. Carr Ave., Adair Village 
121 SE Viewmont Ave., Corvallis 
North Albany Shopping Center
Drop box in front of IGA Supermarket
621 Hickory Ave. NW, Albany 
Drop box near main entrance
1050 Applegate St, Philomath 
Linn County Sheriff's Office Substation