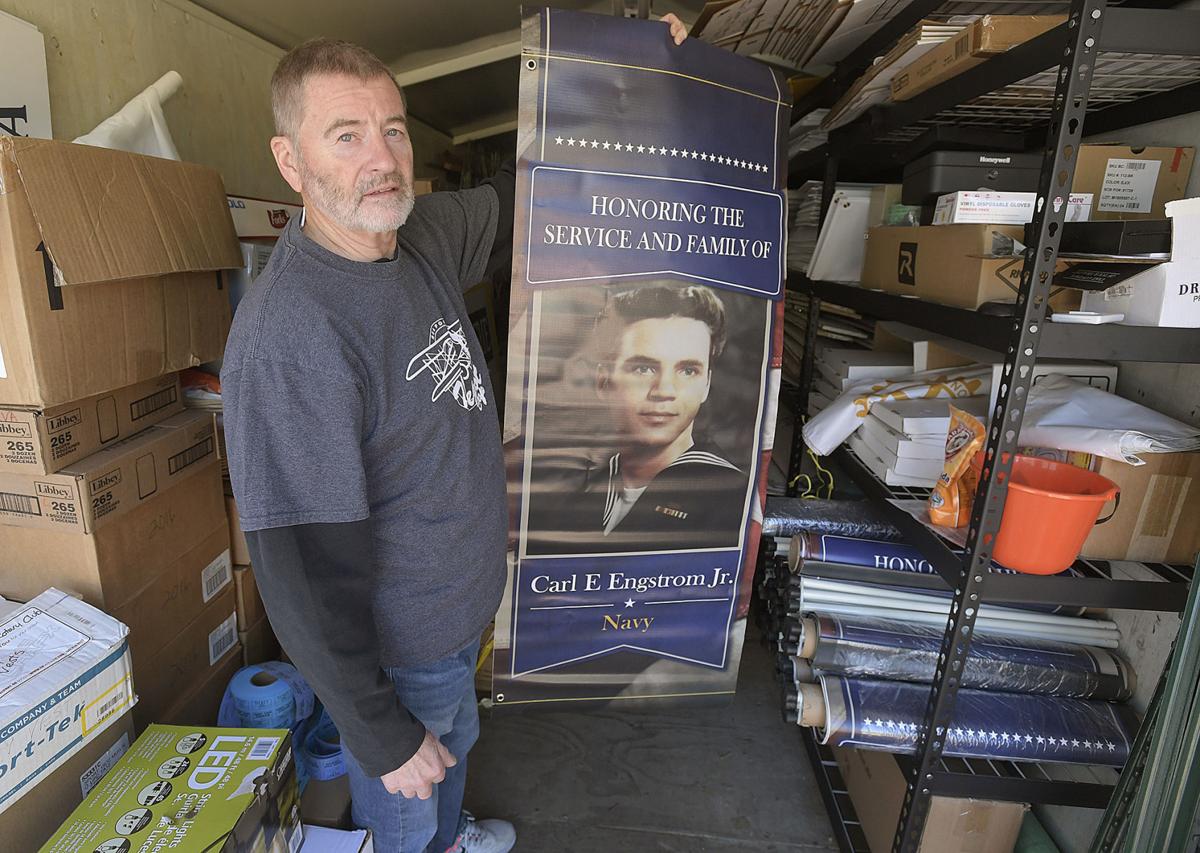 Thanks to the efforts of local volunteers and committees, a Veterans Day ceremony will be held at Timber Linn Memorial Park, banners honoring veterans and first responders will flutter around town, and the Veterans Day Parade will return — albeit in a reverse parade format for the second year in a row.
Honor banners
The banners are a newer celebration, born out of a similar practice that's happened for years in Sweet Home. The displays in Albany are put up by the two local Rotary Clubs and cost $100 each.
They are meant to commemorate honored loved ones who served in the military or as first responders like police officers, firefighters and paramedics, said Mike Martin, a retired Army Security Agency flight crew chief who chaired the effort last fall. 
"These banners are intended to honor Albany Area Veterans, alive or deceased, and first responders who have died in the line of duty," said Martin in an email.
The first responder component was missing from last year's banners, since they went up late and it was tougher to spread the word at the last minute. Even still, 70 banners went up in downtown Albany last year in honor of local veterans. All of those will go up this year, too, with more to be added as folks pay for new 2-foot-by-4-foot banners to be installed along Lyon and Ellsworth streets.
Martin stated that the money all goes toward the upkeep and installation of the banners. It's not a fundraiser for any other Rotary projects or activities.
"Most of it goes to buy the banner and the bracket," said Martin. "There is a small percentage, maybe $20 or less, that goes into a foundation restricted fund specifically designed for maintenance and repair … there may be some banner that gets torn or something, that's what that funding goes toward."
He estimates that each banner lasts about eight years. They go up at the end of September and are taken down just before Thanksgiving, so they will line downtown Albany for about two months.
Physical applications for a banner can be found at various businesses, including Loafer's Station, Vets Helping Vets, Les Schwab Tires, Coastal Farm & Ranch, Staples, Johnny Carino's, Beggs Tire & Wheel, the American Legion, Veterans of Foreign Wars (VFW), and Burcham's Metals.
Parade returns
While they borrow on the idea from Sweet Home, the banners really went up downtown last year as a way to still do something for veterans in the absence of a traditional Veterans Day parade in 2020 due to the pandemic.
"We wanted to do something to keep the movement of honoring veterans alive," Martin said. "This is a way to kind of keep the momentum."
While it won't take the normal parade format for the second straight year, volunteers are determined to see that this annual tradition returns to Albany.
"We want to ensure Albany's greatest tradition doesn't die … and with this committee, there's no chance that this will die," said Chris Reese, director of the Mid-Valley YMCA and retired Army colonel. He's taken over a lot of the organization of this year's parade after the previous chairman, Al Severson, had a stroke about a month ago.
That's also why the parade committee has focused on creating an operations order, basically a living document that details all the roles, responsibilities and number of volunteers needed to make all aspects of the Veterans Day celebration happen. This will help ensure that illnesses or retirements among committee members won't derail future parades.
Reese said it's especially important to hold a parade and ceremony this year "when we're pulling out of Afghanistan, because our Sailors, Soldiers, Airmen and Marines" can start to feel a disappointment in the ways our military operations seem to fail to live up to their sacrifice.
It will be a reverse parade this year, where the public drives around to various locations where floats are already erected. Participating businesses and organizations include West Albany and South Albany high schools, the Boys & Girls Club, and the local posts of the American Legion and the Veterans of Foreign Wars.
Classic ceremony
While the parade will look different again, some other components will happen just the way folks remember. There will still be a ceremony at Timber Linn Memorial Park, where three 105mm Howitzer artillery guns will fire into the air and a fighter jet flyover will thunder by. The parade dignitaries will drive the route to all the various floats in fancy and classic cars.
There will also be a Veteran of the Year named, chosen by the public at-large. Folks need to vote, and then a committee run by the local VFW will announce the winner. In order for all these components to go off without a hitch, though, the parade committee needs volunteers to step up from the community.
Reese said there are still details to be ironed out, specifically that there is a need for someone to help with designing the map of the reverse parade route and "we want to get people to build their floats," he said.
The parade also needs sponsors, which will help pay for insuring the event and advertising it.
Those looking to volunteer or become a sponsor should attend the next meeting of the Veterans Day parade committee, which will be held 7 p.m. Monday, Sept. 27 at the Mid-Willamette Family YMCA.
Troy Shinn covers healthcare, natural resources and Linn County government. He can be reached at 541-812-6114 or troy.shinn@lee.net. He can be found on Twitter at @troydshinn.