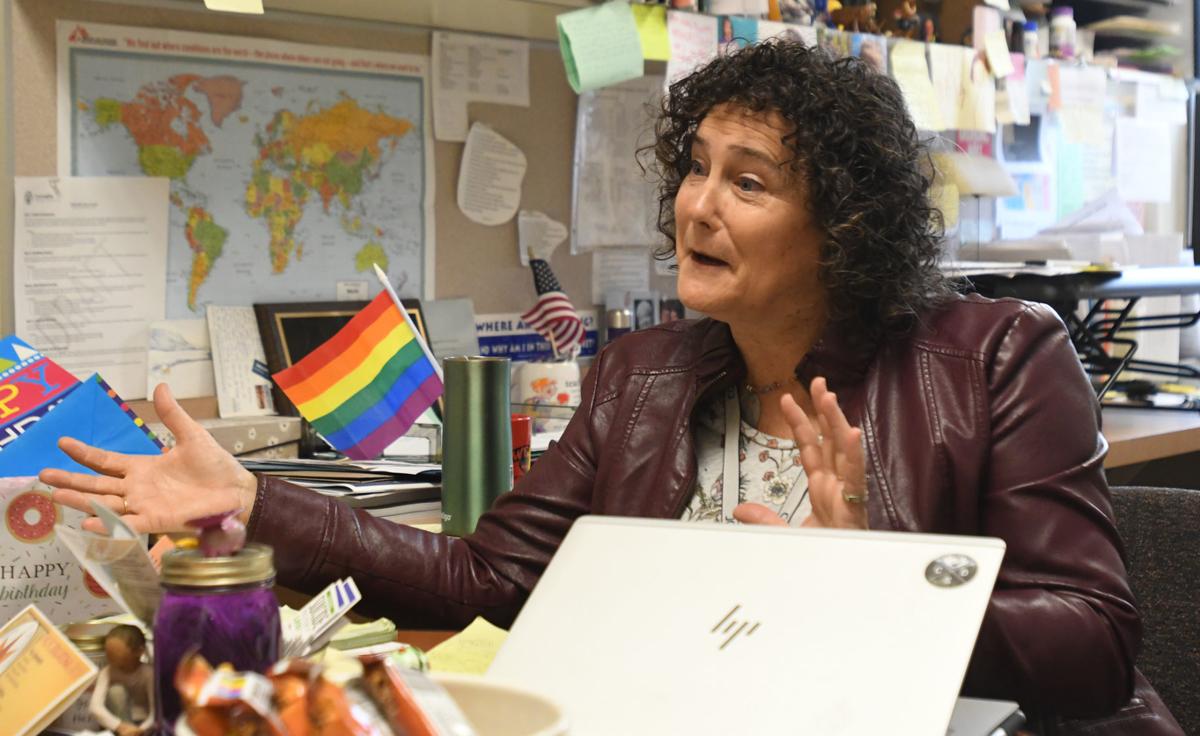 One week before Halloween, Lebanon High School students spent a Saturday night volunteering at the district's Land Lab Haunted House, a fundraiser held annually for the Future Farmers of America program. Seven of those students were assigned to jump out of the darkness to scare people.
In a selfie that would later become the subject of a school district investigation, the students wore black clothing and painted their faces black. One posted the photo to Snapchat, a social media platform that allows users to post videos and images that will disappear, and added a caption: "N***** gang."
By the following Monday, it had gone viral. Parents shared the photo on social media, news media descended on the school, and the community wrestled with where it should draw the line between acceptable and racist.
The incident also sparked questions of intent and education. If a student felt empowered to label the photo with a pejorative and the group of teens, as a whole, did not consider the historical connotation and optics of appearing in blackface, are local school districts doing enough — and should they do anything — to teach race?
In 1857, as Oregon readied to become a state, it included the following in its Constitution: "No free negro or mulatto not residing in this state at the time of the adoption of this constitution shall ever come, reside or be within this state … "
The exclusion clause followed an avalanche of laws in the years leading up to Oregon's bid for statehood that attempted to ban people of color from living in the state and established harsh penalties, such as lashings, for those who did not abide by the law.
The state continued to lag behind in support for racial progress into the 20th century, failing to ratify the 15th amendment — granting black men the right to vote — until 1959. Oregon did not ratify the 14th Amendment granting citizenship to all people born or naturalized in the country until 1973.
Teaching challenge
The sum of the state's origins is part of the broader list of topics that raises questions surrounding how to teach history through a culturally sensitive — and accurate — lens.
"It's something that needs to be taught," said Corvallis High School assistant principal Colleen Works.
Works' office is a reflection of her past life as a social studies teacher, a position she held for more than 30 years. There's a poster featuring a Native American woman adorned in a headdress, a rainbow flag hanging just overhead and on the table, a deck of playing cards each detailing an important figure in American history who happened to be black.
"We live in a predominately white area with a history that explains why we live in a predominately white area and we need to teach that," she said. "Community-wide, because we don't have as many families of color in our area, I think conversations around race are less prevalent than in other places in the United States. So, it does place a heavier burden on schools in the state of Oregon to address that history."
Conversations surrounding race trigger heated debate between adults with equal authority, and so shifting those discussions to the classroom where the power dynamic is different ... compounds the complexity.
"It's tricky," Works said of addressing moments in the country's history ripe with racism when there may be only a handful of students of color in the room. "It's tricky territory for teachers because so many of our teachers are white, and it creates a need to acknowledge that you're coming from a primarily white culture perspective."
In the Corvallis School District, 87% of teachers and 67% of students identify as white. In Albany, those numbers are even higher, with 92% of teachers and 70% of students in Greater Albany Public Schools identifying as white.
GAPS Superintendent Melissa Goff, who came on board in July, recalled during her first few days in the district, an experience during her time in Portland Public Schools that changed the way she viewed education and the world around her. During an exercise on equity, she was given a list of experiences and asked to check off the ones she had encountered.
"I'd never called about an apartment only to go there and be told it was no longer available. I had never been followed around a store," Goff said. "I called my friend who is a person of color and she said, 'Yes, I've had that happen, let me tell you how often that's happened.' I was stunned."
The moment reshaped how Goff thought about race and the way by which educators are shaped by their personal experiences — and the experiences they have never had.
"We recognize that we have an increasingly diverse population of students and families," said assistant superintendent Lisa Harlan. "We also realize that it is our responsibility to present events through multiple perspectives and to be transparent about the effect of those historical events on multiple groups of people.
"It is important for children to understand the intersectionality of events and their impacts as well as learn that there is not only one history worth knowing. It's important for students to learn from a curriculum that reinforces their own histories and their own identities."
New materials
The state of Oregon mandates that curriculum be updated every seven years. Last year, new social studies curriculum was due to be adopted and local districts had to create a process to undergo that change. GAPS went through the process and adopted new curriculum at the end of 2018.
"The perspective of history and the way we teach it is different," Harlan said of the new curriculum. "So instead of a single perspective of an event there is more emphasis on multiple perspectives to the same event and how it impacted different groups of people. American History, for example, is taught through the context of recognizing that American History has been impacted by global events and conditions."
The new textbook chronicling American History from 1877 to the present includes entries for slavery, reconstruction, the Trail of Tears, indigenous oppression and genocide, as well as other points in history. However, the text also includes statements such as "Some plantation owners mistreated their slaves" and, "In the Chesapeake Bay area, most field hands worked 12-14 hours a day and had little free time to attend to family needs."
Jason Dorsette is the vice president of the Corvallis/Albany chapter of the NAACP.
"Language like that is extremely insulting and creates an illusion that there were plantation owners who were nice," he said. "It creates a false narrative. Slavery in itself is mistreatment."
Dorsette said the NAACP is exploring ways to support altering how the state recruits teachers, creating a broader diversity in the pool of educators.
"When we think about history in the context of storytelling, it provides the truth," he said. "The good, the bad and the ugly."
Marleen Wallingford is the president of the Portland Japanese American Citizens League, a nonprofit founded in 1929 focused on upholding civil rights and preserving Japanese culture and values.
She said the organization works to promote inclusive curriculum and that while the state has mandated the inclusion of subjects such as the Holocaust and Native American history, sometimes it comes down to funding to create that curriculum. When the funds aren't there, an inclusive approach to teaching that history becomes a classroom-by-classroom situation.
"It is dependent on teachers and that's not consistent," Wallingford said. "When you talk about race, it's not easy because no one wants to be called racist."
Difficult challenge
Finding curriculum that addresses the ugly points in American history is hard, Works said.
"I think it's very difficult," she said of finding curriculum. "I think it's even more difficult as a majority white group to even zoom out enough from our own background to see that's even an issue," she said of some of the language in modern textbooks. "Selecting materials that truly integrate perspectives is very difficult at any level."
In 2015, a 15-member board in Texas approved curriculum that noted slavery was a "side issue" to the Civil War and did not require that the Ku Klux Klan or Jim Crow laws be mentioned. In GAPS, Jim Crow is covered in the textbook, marking the text's only mention of blackface, noting: "Jim Crow was an African-American character in minstrel shows of the day — a dim-witted comic fellow, portrayed by a white actor in blackface, who was the target of ridicule and the butt of jokes. That the name of this character became associated with segregation laws is just one more affront to those to whom the laws applied."
The exclusion of racist incidents from history in Texas curriculum sparked conversations around how white students are affected by lessons surrounding slavery and civil rights.
Works said it's important to frame the discussions as a team effort.
"In the classroom, we're all in this together," she said. "It's never my intention to be racially insensitive, but I do walk through this world with my backpack of white privilege and it leaves me in that situation sometimes."
After the photo of Lebanon High students went viral, Superintendent Bo Yates issued an apology to the school's students of color and assured the community that the district was reexamining its curriculum.
"We want to take a responsible look at what's being taught," he said.
Responsibility is key for Dorsette.
"It's imperative," he said when asked if high school students should have had an understanding of the historical connotation of blackface. "Social media has provided anyone with access to the internet with plenty of examples of why this cultural appropriation is inappropriate. I don't want to take the responsibility from the teachers but these young learners also hold some responsibility.
"Wrong is wrong," he said. "And as individuals we should know this. It's 2019."