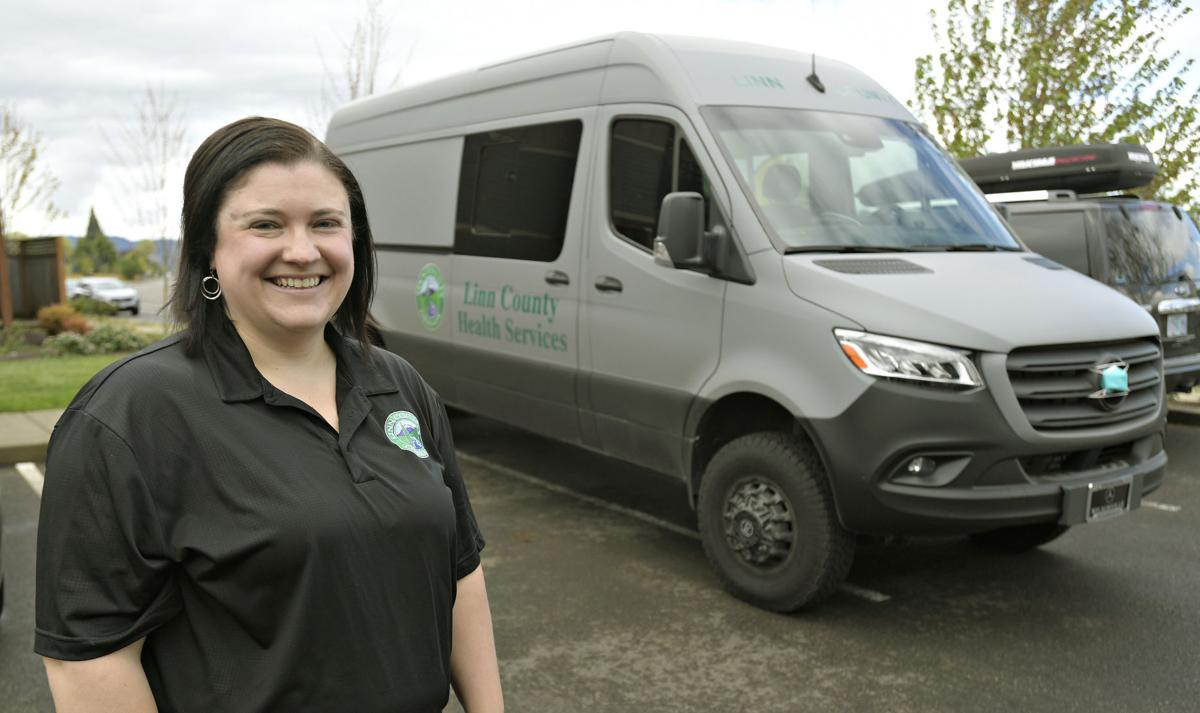 Many counties in Oregon have a team of organizers that have overseen their vaccination campaigns and other areas of response to the COVID-19 pandemic. In Linn County, much of it has come down to one tireless employee and a rotation of medical volunteers.
The employee's name is Neva Anderson, and between working 12-to-16-hour days and trying to keep up with the ever-changing landscape of pandemic response, she's managed to oversee efforts that have led to about 42,000 people being vaccinated in Linn County (at the time of writing this story).
During the earliest months of the pandemic, Anderson also oversaw the early efforts to get masks and other personal protective equipment to those who need it most — coordinating with schools, hospitals and assisted living facilities to deliver PPE to at-risk locals.
She expanded Linn County's Medical Reserve Corps from 25 active volunteers to about 900. Thanks to her outreach, more than 3,000 people have volunteered to help run the mass vaccination clinics held at the Linn County Fairgrounds in Albany.
Part of the medical volunteer effort has centered on staffing Linn County's mobile command emergency response van, which has driven to locations all over the county in order to get shots into the arms of people who either can't leave their homes or otherwise cannot make it to the Albany vaccination site.
The idea for the mobile vaccination van came from Anderson and her husband, Erik, another Linn County employee who used to work at Marion County's emergency preparedness office — the same department Anderson herself interned with before she began her current role in 2018.
Support local news coverage and the people who report it by subscribing to the Albany Democrat-Herald.
"We saw a need with Linn County being fairly rural … we literally pulled it together on a whim," Anderson said of the van.
The coordinators got approval from the Board of Commissioners and then, that week, Public Health Director Todd Noble purchased the van using grant funds from the Oregon Health Authority. Because of the source of the funding, the van is technically in OHA's name, but the agreement states that the van is for use by Linn County and the lease reverts to local control after five years, according to Linn County spokesman Alex Paul.
Not only has the van doled out vaccines to rural parts of the county, Anderson says it will help mobilize the volunteer medical corps in the future, such as when they're on standby at large local events like River Rhythms in Albany.
Anderson said that one of the most gratifying things about her job so far has been being able to get that mobile unit to populations in need, such as the unhoused folks at Albany Helping Hands who received the vaccine in late March.
"It was really humbling to be able to serve the unsheltered population where they were at the time," Anderson said. "They were extremely grateful that we were able to help them."
Amid all of the pandemic coordination, the worst wildfires in a generation forced the evacuation of thousands in Linn County. Anderson helped coordinate the emergency shelters in the county then, too.
All of these efforts earned her — and her husband, who has a background as an EMT and often accompanies the van to its destinations — recognition from the Albany Fire Department, which granted "Team Anderson" the Chief's Award during the Linn County Board of Commissioners meeting on April 6.
"We're blessed to have Team Anderson working in our county," said Albany Fire Chief Shane Wooten before presenting the annual award that recognizes efforts to make the community safer.
Wooten wasn't the only person with nice things to say about Anderson.
"She's outstanding," said Linn County Public Health Director Todd Noble. "She works seven days a week and has basically not had a day off in a year … I couldn't be prouder and luckier to have such an outstanding emergency manager on my team."
One example he gave of Anderson showing ingenuity and pragmatism was from this past Wednesday, when there were 27 extra doses of COVID-19 vaccine on hand that had to go into arms by 11 p.m. so as not to go to waste.
Anderson personally called up local restaurants until she'd found enough employees who wanted to claim the doses. Using Linn County's mobile vaccination van, the small team drove to each business and got shots directly to those food workers.
"We've been working crazy hours throughout this (pandemic) in order to make sure our community is safe and healthy," Noble said. "I know when this is all said and done this is going to be the highlight of my career, and to me she is the cherry on top."
Noble, and Anderson herself, said that while they coordinate the county's efforts on the organizational level, the medical reserve corps members who staff the vaccine clinics and get shots into arms are "the unsung heroes of this pandemic."
Of the recognition she's received for her work, Anderson said that she's humbled, but that she's just doing her part to see Linn County through a difficult period of history.
"I'm here to help my county," she said. "I'm just trying to do the best job I can."
Got an idea for a Story Next Door profile? Email your suggestions to news@gtconnect.com with STORY NEXT DOOR in the subject line.