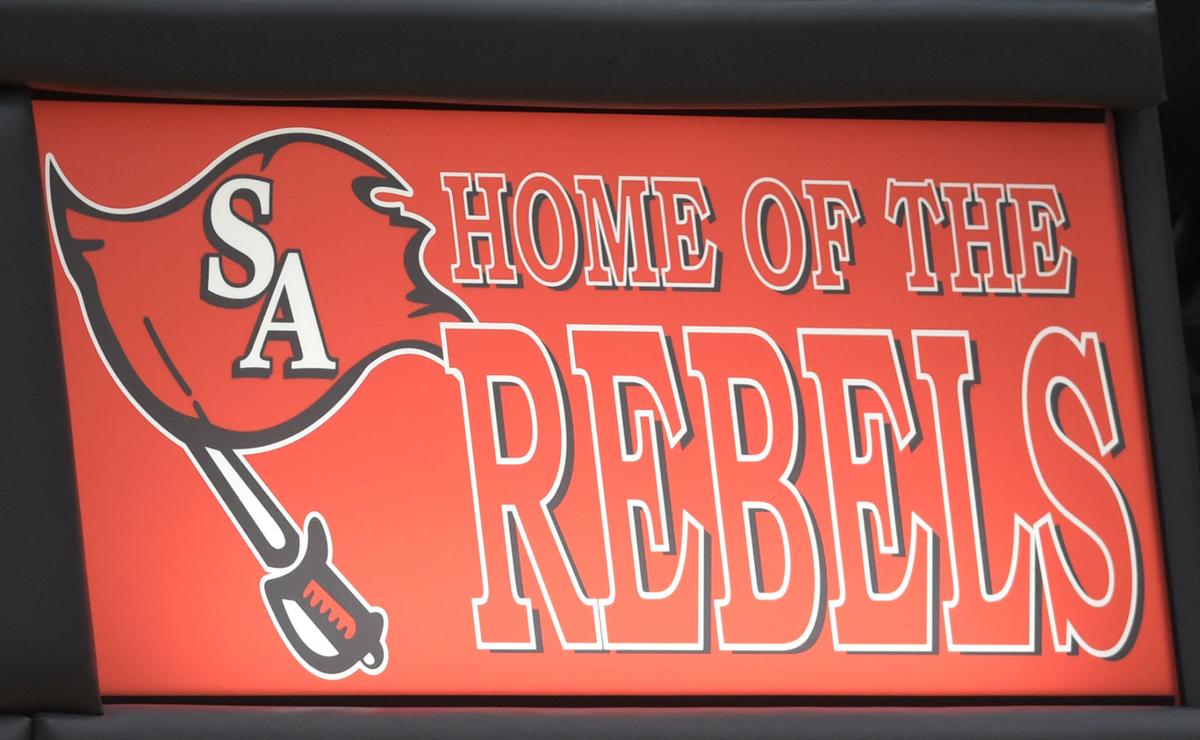 South Albany High School's "Rebel" name and logo will be eliminated in favor of a new name and mascot to be selected by its students, Greater Albany Public Schools has decided.
Tonja Everest, acting superintendent for the district, made the announcement Monday at a meeting of the Albany School Board. The decision is an operational one and does not require board approval.
The change is estimated to cost about $114,200 to replace the logo in the school's most visible areas: the gyms, football field, stadium, wrestling mats, varsity uniforms, office supplies and various signs. Junior varsity uniforms will be phased out on a replacement schedule.
Everest said she and Principal Brent Belveal will talk about the process to change, with a new mascot recommendation to be announced by late May.
Everest said she knows the issue has been contentious and the decision will please some and anger others.
"I always am conscious of the impact my decisions have on people," she said in an earlier interview. However, she added: "The community should be proud of their students and the process, absolutely."
Board members praised that process and thanked Belveal for taking it on.
"This took an enormous amount of courage for South Albany High School to even undertake," Vice Chair Jennifer Ward said.
Frank Bricker noted Belveal's impending retirement and said he could have "taken the easy way out and done nothing. ... I appreciate that you took your last year and did one of the hardest jobs South Albany's principal has ever done."
South Albany High School was constructed in 1971. Albany Union High School students who were to transfer there were called "Rebels" because they were essentially "breaking away" from the Union. The school chose a red-and-gray color scheme and other logos with Civil War themes, including Confederate "Stars and Bars" flags and a cartoon soldier with a saber.
The school distanced itself from much of the imagery over the years, removing the Confederate symbols and stressing the idea of "positive rebels." Currently, the main symbol is the letters "SA" on a flag stuck on a saber.
But an outbreak of racial violence in Virginia last summer prompted Belveal to start what he called "a thoughtful and inclusive process to consider a different mascot name that more closely aligns with the many great things going on at South Albany High School."
That process began even before students returned to classes this past fall, and continued through much of the school year.
The district held three community forums; gathered hundreds of community comments, some of which came in on petitions both for and against the Rebel name; sought student input through discussions held in each Language Arts class; and organized a student visit to Parkrose High School in Portland to gauge the effect of their imagery on a community outside their own.
Superintendent Jim Golden had been working with Belveal on the process until being placed on paid leave March 27 pending the outcome of an investigation into unspecified complaints.
Everest took on the task from there, spending much of last week reviewing and summarizing all input received.
Discussion coalesced around two strong, but differing, central themes: Keep the name, because traditions and history are important; change it, because it carries negative connotations and a mascot should unify rather than divide.
Throughout the process, Everest said students made it clear this issue was of great importance to them and they wanted to make sure their voices were heard.
Those who were interested in a change said they were excited about having a "real mascot," she added. "They don't see the flag as a real mascot."
Belveal read a lengthy statement Monday, saying his personal beliefs had been challenged many times during the process.
After hundreds of conversations, he said, "I hope that we can make the hard decision and allow our school to move away from the divisiveness of the current mascot and to create a whole new positive chapter in the history of South Albany."
Get local news delivered to your inbox!
Subscribe to our Daily Headlines newsletter.