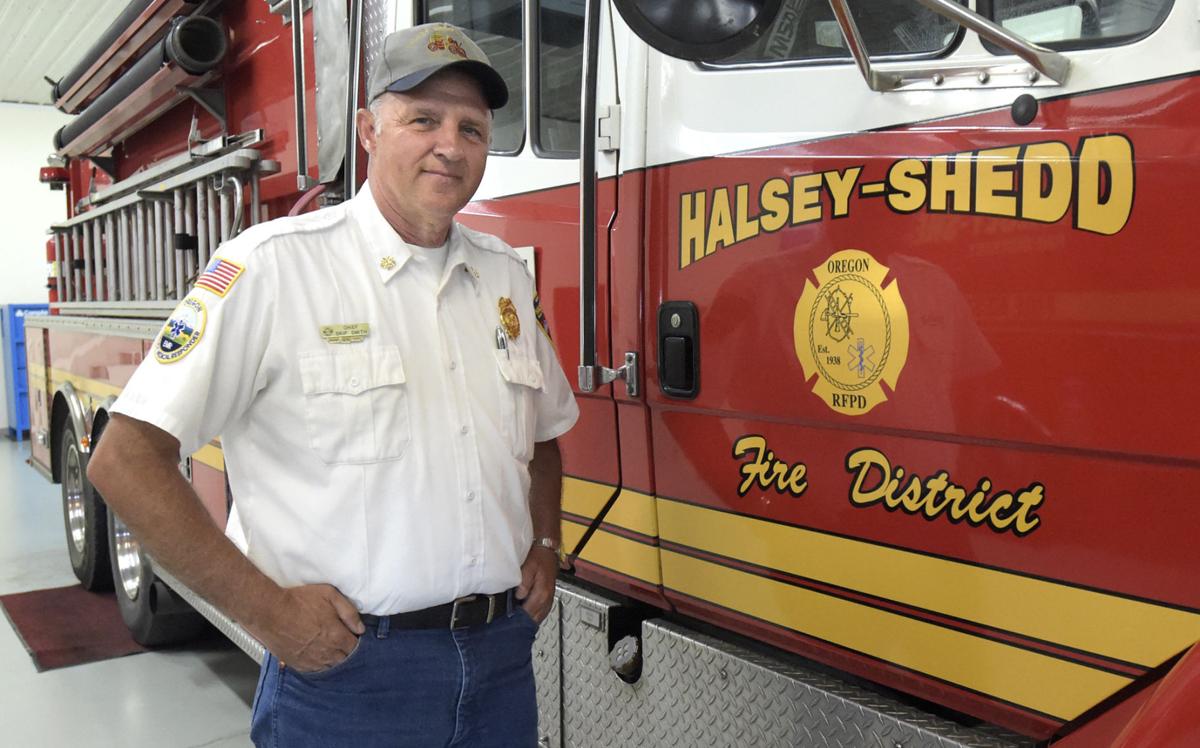 HALSEY — Skip Smith said being chief of the Halsey-Shedd Rural Fire Protection District for the last 27 years has been a "dream job," but the end of June is the perfect time to retire.
The district's stations and finances are in great shape, and he trusts the leaders of the next generation of firefighters.
"I feel like I've left it in good hands and it's going to keep going," he said.
Travis Hewitt, Halsey-Shedd's staff captain, will become the new fire chief as of July 1.
Sean Johnson, Tangent's current fire prevention specialist and a Halsey-Shedd volunteer, will move into the district's staff captain position.
The Halsey-Shedd Rural Fire Protection District encompasses 110 square miles, including sections of Interstate 5 and 70,000 acres of grass fields. Naturally, field fires are a major concern in the area, and Smith has worked extensively with local farmers to help prevent and fight blazes.
"We tend to get on field fires really quick," Smith said, adding that it was important to limit the amount of crop damage.
Smith started his firefighting career in Brownsville at age 19, and volunteered there for 11 years, becoming assistant chief.
He joined partially thanks to a buddy who already was with the district. There also was the allure on riding on the back of a fire engine, he acknowledged.
Smith, whose family owned a gravel business, never thought he would make a career out of public safety. But when Halsey-Shedd had trouble keeping chiefs, he decided to apply.
"I thought, 'How hard could it be to run a little fire department like this?'" Smith said. Thanks to his experience in nearby Brownsville, Halsey-Shedd was a natural fit.
Smith quickly increased the volunteer ranks from 15 to 30, and the district has stayed near that level ever since.
"The caliber of volunteers, this is a good group of folks we have here," Smith.
The district also passed a one-year bond to rebuild the Shedd fire station in Smith's first year. That structure was so run-down that bricks could be pulled out of the wall by hand.
In Smith's second year, the district passed an increased tax base. He's proud that Halsey-Shedd property owners are now only paying 98 cents per $1,000 of assessed value, one of the lowest rates for fire protection in the Willamette Valley.
For the last few years, fighting fires and responding to other emergency calls has been a family activity for Smith. His son, Wyatt Smith, 30, and daughter, Elizabeth Smith, 27, both volunteer for the district.
Smith acknowledged that it could be "unnerving" to see his children enter a burning house in their turnouts. But he said that many of the firefighters for Halsey-Shedd are like family.
He's seen volunteers grow up, some alongside his own kids, and maybe they even excel at sports for Central Linn High School. And then they save lives in the community, sometimes even their friends or neighbors.
"We can show up, give them a helping hand. That's really rewarding," Smith said.
"What I'm going to miss the most are my volunteers and my patrons. They're good homegrown folks who are appreciative and know how to work hard," Smith said.
He'll be staying busy in retirement. Smith has 30 acres on the east side of I-5 and a sawmill on the property.
Get local news delivered to your inbox!
Subscribe to our Daily Headlines newsletter.