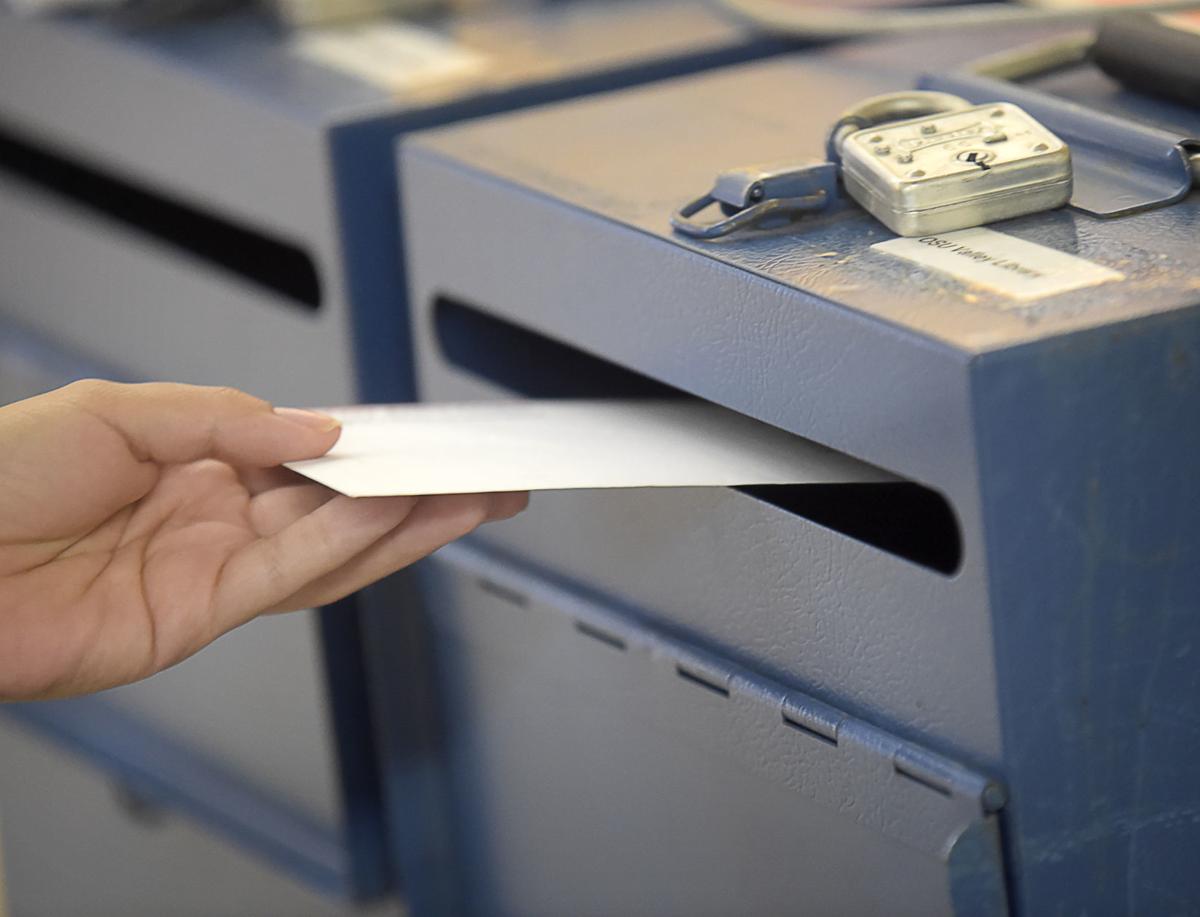 The May primary for Oregon House of Representatives District 17 isn't so much a race as a battle royale.
Republican Sherrie Sprenger of Scio has held the legislative seat since she was appointed in 2008, but she isn't seeking reelection as she has launched a bid to become a Linn County Commissioner.
Six GOP candidates, some of them well-known for public service in their communities, are trying to become Sprenger's successor in the Oregon House.
Those Republicans are Jamie Cate of Lebanon, Susan Coleman of Sweet Home, Bruce Cuff of Mehama, Tim Kirsch of Mill City, Dylan Richards of Sweet Home, and Scott Sword of Sublimity.
Cate is a farmer who has served as the chairwoman of the Lebanon Strawberry Festival Board of Directors, among other volunteer work.
Coleman is a Sweet Home City Council member and the legislative assistant to Sprenger, who has endorsed Coleman.
Cuff is a real estate broker and property agent who has tried to become Oregon's governor three times.
Kirsch has been the mayor of Mill City for 16 years and has a long record of public service in the Santiam Canyon area.
Richards, once an assistant to Secretary of State Dennis Richardson, is studying political science at Oregon State University.
Sword owned and operated Sword Logging and has helped lead the cities of Vernonia and Silverton.
The winner of the Republican primary will square off in the November general election against Democrat Paige Hook, who is unopposed in the primary.
House District 17 includes the communities of Lebanon, Sweet Home, Scio, Lyons, Mill City and other towns in Linn and Marion counties.
Here's a look at the candidates.
Education: B.S. in crop and soil science, Oregon State University
Public service: Lebanon Strawberry Festival board chairwoman, Lebanon Strawberry Festival Association treasurer, Lebanon Museum Foundation secretary, Oregon Tall Fescue Commission treasurer/secretary, Lebanon Community Foundation secretary, Lebanon Soup Kitchen volunteer, Oregon Farm Bureau member.
Candidate statement: As a fifth generation Oregon farmer, my family's future depends on the future of our state. Running for state representative is a chance to fight for the success of rural-Oregon and push back against the overwhelming liberal voice of Portland eroding our way of life. Legislative priorities are hard to narrow down during such uncertain times, but this crisis has shown a need to expand our transportation grid – allowing us to move products efficiently throughout the state to keep our economy going. We have also seen an exasperated need for developing reliable access to internet and cell-phone coverage throughout the rural areas of Oregon – which will increase economic development by expanding business opportunities. The coronavirus has also shown a need to take a hard look at our senior health care, and ways to improve our facilities, access, and controls to keep our seniors as safe as possible.
Occupation: Legislative assistant to Representative Sherrie Sprenger; Sweet Home City Councilor
Education: MA-Intercultural Studies, Alliance Theological Seminary; BA-Christian Education, Simpson College
Family: Married to Matt Coleman for 25 years, with four children together
Public service: Sweet Home City Councilor, Sweet Home Traffic/Public Safety Committee chairwoman, Sweet Home Legislative Committee chairwoman, Sweet Home Capitol Christmas Tree Committee chairwoman, Mayor-appointed Sweet Home Chamber of Commerce Board Member, secretary/treasurer Oregon Sportsmen's Caucus Foundation, Sweet Home Emergency Ministries board member, Leadership Council Oregon Free Methodist.
Candidate statement: I'm running as your next state representative because we need someone who is strong, honest and has experience in the Legislature. My priorities will be to fight for our businesses and our workforce, fight for our constitutional rights and against government overreach. With my experience as legislative assistant to Rep. Sherrie Sprenger, I am in the battle daily, connecting with constituents, reaching out to agencies and representing your interests. I am strong and uncompromising in my commitment to the Second Amendment, veterans, first responders, and to agriculture and natural resource businesses. I will push for governmental transparency and accountability to the taxpayer. I will fight to get our share of services and to keep more of your paycheck in your pocket. I care deeply about our district. Caring means not compromising on what matters.
Occupation: Principal real estate broker, property agent 
Education: B.S. in political science, Willamette University
Family: Married 38 Years to Vonna Cuff with four grown children and four granddaughters
Public service: U.S. Army Signal Corps, contractor with U.S. Army, Oregon National Guard, Marion County Precinct Committee Person, former director of Salem Association of Realtors, Liaison for Government Affairs Committee for Willamette Valley Government Affairs Committee, former board member Marion County Board of Property Tax Appeals, Republican candidate for governor 2014, 2016, 2018, Deacon/treasurer/adult Sunday school teacher at Santiam Chapel Assembly of God, volunteer with Joseph Storehouse of Hope, a food distribution ministry in the Mehama/Lyons area, and volunteer with Santiam Gleaners.
Candidate statement: I believe my core values and priorities align more closely with the voters in this district.
I am a Christian, constitutional, conservative Republican.
My Christian values are why I am pro-life, pro-Family, pro-parents rights and opposed to the climate change agenda which is built on fear.
My constitutional values are why I am pro-Second Amendment and opposed to Oregon being an unconstitutional sanctuary state.
My conservative values are why I am pro-school choice and pro-business pushing to get the government "out of the way" so our trucking, manufacturing and natural resource business, which include logging, farming, ranching, mining, fishing and tourism, can thrive.
My Republican values are why I am pro-Trump and why I believe it time to get Oregon back from the liberal extremist controlling our state.
Occupation: General manager, Brooks True Value 
Education: Santiam High School
Family: Wife Theresa Kirsch, four grown children
Public Service: Mayor of Mill City for 16 years, North Santiam Canyon Economic Development Corporation board of directors for 20 years, Santiam Canyon School District budget committee for 20 years, Marion County Economic Development Advisory Board, Mari-Linn School Board, Opal Creek Scenic Recreation Advisory Council, and North Santiam Joint Sewer Task Force.
Candidate statement: I have been involved in many areas of government and community service for thirty years.  I currently own two businesses and have owned or managed others successfully for many years.  I want to take that unequaled experience to our State Capitol and fight against all new taxes and regulations that are an affront to our liberty.  School budget, Economic development and infrastructure maintenance and development have always been priorities for me.  After covid-19, economic recovery will be the top priority for me.  Our state budget is likely to have severe shortfalls and my experience in local government and school budgets will give me a better perspective than that of my competition.  
Education: Political science at Oregon State University, expected graduation in June 2021
Public service: Citizen engagement/data analysis for Oregon Secretary of State Dennis Richardson, deputy field director for Richardson's campaign for Secretary of State
Candidate statement: Rural, conservative and ultimately Oregonians of all walks of life are being harmed by the status quo. I bring the fresh, bold and strong leadership needed to steer our state in a more prosperous and equitable direction. I am unashamed of my pro-Trump, pro-life, pro-timber, pro-Second Amendment values and I will stand up to political interests and the failed leadership that has tanked our state. The data is there to prove that Oregon needs leaders who are unafraid to rock the boat, shine a light into the government and fight for families and workers. I have strong endorsements from Milt Moran to Oregon Right to Life to securing top marks with Oregon Firearms Federation and the NRA. We not only must, but absolutely can, reform PERS, improve education, rescue children from the clutches of trafficking and a broken state custody system. I believe in freedom, the Constitution and the values of sovereignty and individualism that made not only our nation great, but made Oregon the beacon of light on the West Coast. We must restore the splendor and magnificence of our state.
Occupation:  President Sword Logging (retired)
Education: Vernonia High School, U.S. Air Force Missile Electronics and Guidance Systems
Family: Married to wife Holli for 40 years, three children, four grandchildren
Public service: Vernonia City Council member and mayor, two terms on the Silverton City Council, Vernonia School District budget committee and advisory boards, Silverton School District budget committee and advisory boards, Silverton Library budget committee, Willamette Education Service (WESD) board, Silverton Fire Department advisory board, Banks/Vernonia Linear Trail planning committee, Columbia 911 Communications District board, Silverton area 911 communications board, Vernonia Planning Commission, Silverton Planning Commission, Silverton Y2K preparedness committee, Associated Oregon Loggers PAC.
Candidate statement: I have been riding back and forth to work for forty years with great blue collar Oregonians and listened to them talk about hunting, fishing, family, and what they did over the weekend, etc. Last summer for the first time ever they were talking politics and were excited about Timber Unity! I got to thinking a bit and thought maybe I could take my newly found extra time and the experiences I had gained as a small town politician to the Oregon capitol and help prevent the ultra-urban supermajority from destroying the livelihoods of the rural people I know and love. My top priorities are: addressing climate change and environmental issues responsibly; defending small businesses from unreasonable taxes and regulations; and providing dignity and care to our seniors.
Occupation: Office manager, House Majority Office
Education: B.S. in Social Science with a concentration in Criminal Justice from Western Oregon University, Scio High School. 
Family: Single working mother with three children
Public Service: Stayton City Councilor, former member of Stayton Planning Commission, Precinct Committee Person, Marion County Democrats 
Candidate Statement: I am running for office because this district is my past, my present, and my future. I grew up here, am raising my children here, and plan to retire here. House District 17 has been forgotten by the Oregon Legislature for too long. As State Representative, my top priority is to make sure leaders at the decision-making table hear us and take our voices seriously. We are rural Oregon, and after being left in the dust for too long, we need urban-rural equity to be considered at every step in the legislative process. To that end, I will advocate for expanded funding for and access to utilities and emergency services such as broadband internet and first responders in rural areas. Finally, I plan to introduce legislation that expands access to affordable healthcare for all Oregonians. 
Get local news delivered to your inbox!
Subscribe to our Daily Headlines newsletter.