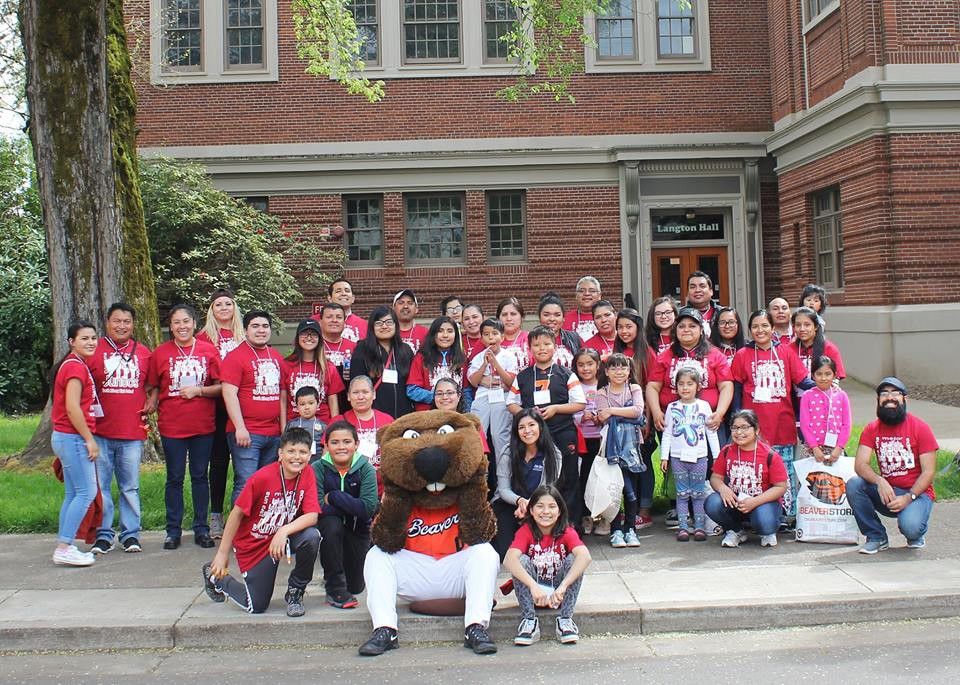 Josh Davalos' first reaction to learning he'd been nominated for the 2018-19 national LifeChanger of the Year award was confusion.
"Honestly, when they nominated me, I was kind of thrown off by it," said Davalos, just starting his third year as bilingual family liaison at South Albany High School. "I didn't expect it." 
Davalos said he's just one part of a large team at South Albany that is working hard to ensure students with a Hispanic or Latino background make the transition easily from middle to high school, do well while at South and have a clear path for college success.
That said, he's pleased the organizers of the award see how well South students are doing under the team's efforts. 
"I'm just a reflection of the students and how good they're doing," he said.
The LifeChanger Award is sponsored by the National Life Group Foundation. It's meant to recognize and reward educators and district employees who work with students in kindergarten through 12th grade and who are making a difference in their lives by exemplifying excellence, positive influence and leadership.
Davalos won't know for several months whether he actually receives the award, which comes with a cash prize ranging from $3,000 to $10,000, depending on the award level. But he already knows how he'll use it, if it comes through.
South Albany has established four main programs aimed at boosting the chances for success for Latino and Hispanic students. The first is an in-house parent-teacher group meant to help strengthen family connections with the school. The second, under the direction of Oregon State University, is Juntos, a college prep program. 
The third, just established this summer, is another OSU-based program called Somos Latinx — essentially, "We are Latin," or of Latino/Latina heritage — and will be active mostly during the second semester of the coming school year, Davalos said.
That will be a four-week series of workshops, games and activities all centered around the importance of family, background and heritage. "They all wrap around your family story," he said. "Family history is important to who you are, and to your future." 
The fourth program, so new it doesn't yet have a name, is where Davalos said he'll target his winnings, should he receive them. It will be an in-house program designed to improve college retention by easing students' transition to higher education and cope with challenges they find there.
Overall, Davalos said, he'd like to help build a seamless educational path for students of Hispanic and Latino backgrounds, from before they enter South to well after they leave. 
"That's kind of my dream," he said.
Davalos said the effort to build that path involves the work of several people, from Interim Principal Nate Munoz's leadership to Rose Zoellner's after-school enrichment program to Melissa Carrillo's dual language immersion program to Juan Vasquez' English Language Learner efforts.
"All I'm doing here is kind of coordinating all the efforts so it's more efficient and providing students with a one-on-one sort of focus," Davalos said.
The combination is producing results. This past spring, South Albany students with Hispanic or Latino heritage earned 16 of the 30 community scholarships awarded to graduates, the highest total for Latino students to date. And graduation rates for Latino students at South Albany High School were at 92 percent for 2016-17, beating both the school and state's overall graduation rates and the state's average rate for Latino students.
Interim Principal Nate Muñoz gives Davalos the credit, particularly for the graduation rates, which jumped 5 percent in one year. "He's a huge reason for that," Muñoz said.
Overall, Muñoz said, Davalos "has been a game-change for our school. .. Josh has done an unbelievable job."
South social studies teacher Tony Vandermeer nominated his colleague for the LifeChanger award, saying Davalos deserves the recognition for his commitment and dedication to his students and their families. 
"He is an amazing human being who loves life and the students who are in his life," Vandermeer said in his nomination. "His work for others never strays from his heart and passion to make a difference for those around him."
Davalos said he sees himself more as a window: the piece of glass through which the organization is looking to see the student achievement going on behind him.
"When people say they're seeing what I'm doing, I just see what the students are doing," he said. "They're seeing through me to the students."
Get local news delivered to your inbox!
Subscribe to our Daily Headlines newsletter.