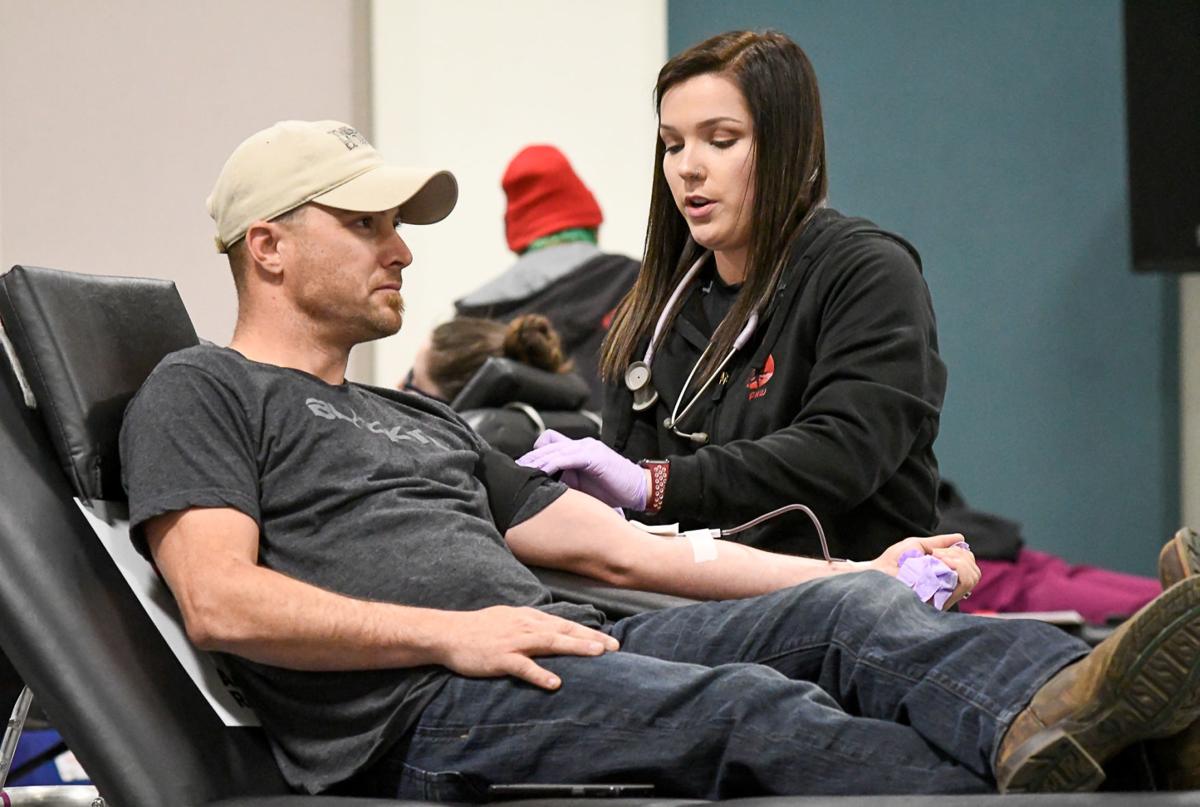 Like a lot of Americans in the age of coronavirus, Monte Sauer is spending a lot of time at home these days.
But he didn't want to just sit on his hands. So when he heard about a shortage in the national blood supply due to the pandemic, he decided to do something about it.
Last Saturday, the 36-year-old Albany resident put out a challenge on his Facebook page urging people to donate blood to the American Red Cross. And on Thursday evening, he rolled up his sleeve to give his first pint.
"I am terrified of needles," he confessed, lying on a padded table as a Red Cross technician prepped his arm during a community blood drive at Albany's Hope Church. "So I'm pretty sure if I can do it, everybody else can do it, too."
The American Red Cross can use all the help it can get right now. Historically, the organization has held its most productive blood drives at workplaces, schools and college campuses, but many of those locations have been shuttered in an effort to slow the spread of the coronavirus. As a result, nearly 9,000 blood drives around the country — including almost 400 in Oregon and Washington — have been canceled so far, according to Red Cross data.
"It looks like this health crisis is going to last at least a few more weeks, and we still need blood for our hospital patients," said Christine Welch, a spokesperson for the organization.
To combat the looming shortfall in the nation's blood supply, the Red Cross has been ramping up its efforts to schedule blood drives in other locations and is encouraging Americans to donate.
"A blood drive is not a mass gathering," Welch pointed out, so it doesn't run afoul of Gov. Kate Brown's ban.
The Red Cross has also implemented a number of coronavirus-specific precautions in addition to its usual safety measures to reduce the risk of contracting COVID-19. Those include taking donors' temperatures at the door, spacing donation tables farther apart, disinfecting surfaces between donations and asking people to make appointments for specific times to reduce crowding.
"We've reduced their wait times, and we're maximizing social distancing for all involved," Welch said.
The added precautions were evident on Thursday during the blood drive at Hope Church in Albany, where everyone kept a respectful distance and a number of donors, volunteers and Red Cross staffers wore facemasks.
When it was Sauer's turn to give blood, he grimaced a bit when the needle went in but said afterward that the process was not as unpleasant as he feared.
Sauer's initial Facebook post, which he tagged #CoronavirusBloodDriveChallenge, has drawn more than 1,200 views so far and has been shared by others, including a Portland TV station. He's hoping to help spread the word and inspire others to help.
"If I can go out and give blood, the 3 million Americans who are jobless right now (could do the same thing). There's a lot of negativity right now, and this would be something positive," he said.
"I'm just hoping through all this they can get more than enough blood for what the Red Cross needs."
Concerned about COVID-19?
Sign up now to get the most recent coronavirus headlines and other important local and national news sent to your email inbox daily.